Rutgers Day 2019 Attracts Large Crowd
Nearly 94,000 visit Rutgers to learn what New Jersey's largest public research university offers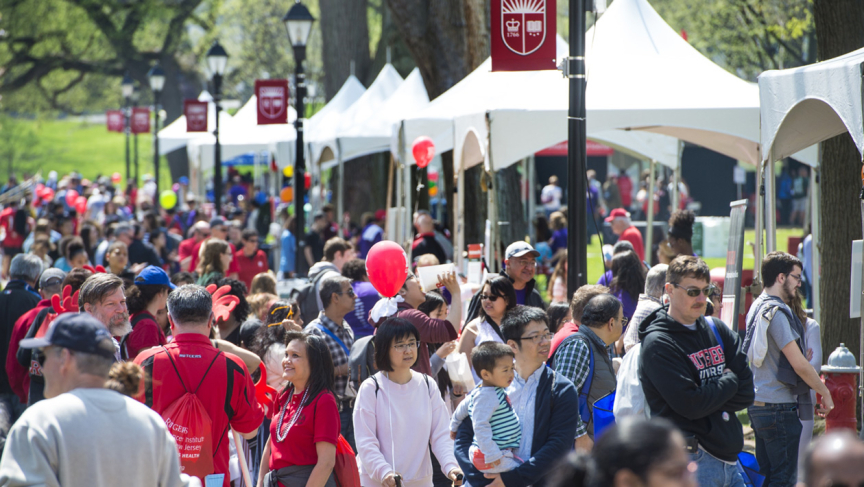 "It's a chance to experience what college is like, to see how things run. I think it's amazing. It's a fun way to get to know how Rutgers works and get to know about the world."

 

- Niaja Troutman, 10, of Newark
The 11th annual Rutgers Day was celebrated under sunny yet breezy skies by an estimated 94,000 people – providing visitors the opportunity to learn about New Jersey's largest public research university.
This popular spring event, which began at Rutgers University-New Brunswick in 2009, is also now held at Rutgers University-Newark and Rutgers University-Camden, giving those who spent the day a snapshot view of the research, service and education offered at the state's largest university.
In New Brunswick, the kickoff began on College Avenue with a parade led by the sword-wielding Scarlet Knight mascot followed by students and alumni, including William Caracci, Rutgers College Class of 1955 and Graduate School of Education Class of 1957. The New Brunswick resident, who for more than half a century has participated in the Alumni Weekend festivities that now coincide with Rutgers Day, carried his class banner in the parade as it wound through Voorhees Mall past a sea of crowded tents and tables.
"The only time I missed it was when I was away in the Army," said the veteran who served in Korea.
What brings him back every year? "Rutgers pride! And the chance to see old friends."
Rutgers Day, the university's annual show-and-tell, offered festivalgoers more than 600 free performances, demonstrations and interactive activities. Those who attended the daylong gathering at any one of the three sites could choose from a bevy of activities – from science, technology and sports to crafts and animals to history, English, theology, theater arts and politics. There were also demonstrations including belly dancing, hip-hop, virtual reality and drones. Children checked the health of their stuffed animals, performed surgery on a Jell-O brain, learned about the legacy of famous alumnus Paul Robeson and climbed a Rutgers red oak.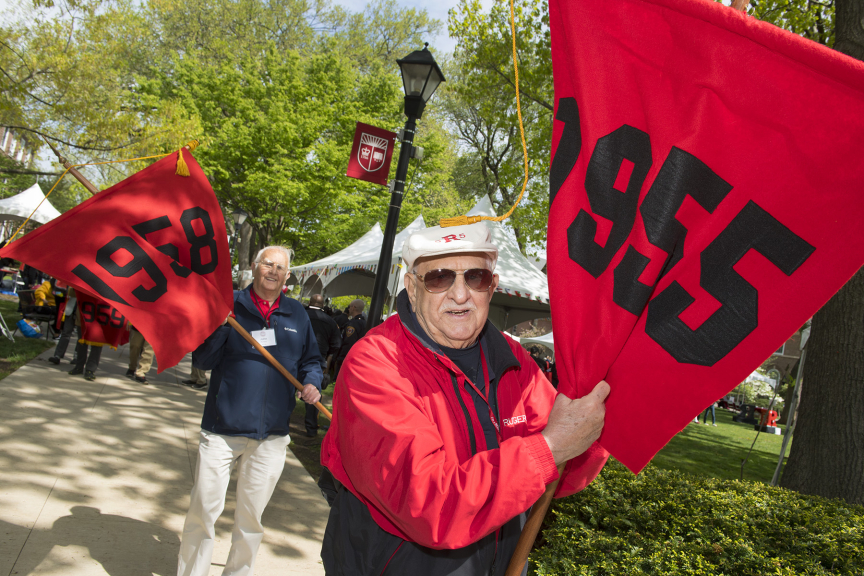 At the Eric B. Chandler Health Center table on College Avenue, registered dietitian Evelyn Garcia talked with elementary school students about how to make smart beverage choices. Many were surprised by the sugar content of their favorite juices and sodas.
"You know what doesn't have any sugar in it? Water," Garcia said. "How many of you started your day with water?"
A group of girls from KIPP NJ Rise Academy in Newark started the day among the health care tables at Rutgers-New Brunswick and planned to finish at an anime activity at Rutgers-Newark.
"It's a chance to experience what college is like, to see how things run. I think it's amazing," said Niaja Troutman, 10, of Newark. "It's a fun way to get to know how Rutgers works and get to know about the world."
In Piscataway, visitors toured two of the university's new state-of-the-art facilities – the Richard Weeks Hall of Engineering and the Chemistry and Chemical Biology buildings.  Franklin resident Justin Haber spent his first Rutgers Day touring the life sciences area on Busch campus, where the glassblowers in the School of Engineering area were a crowd favorite.
"This is incredible. This event shows the true spirit of Rutgers and our nearby community," Haber said. "I can't believe it took me this long to attend. I'm already looking forward to next year."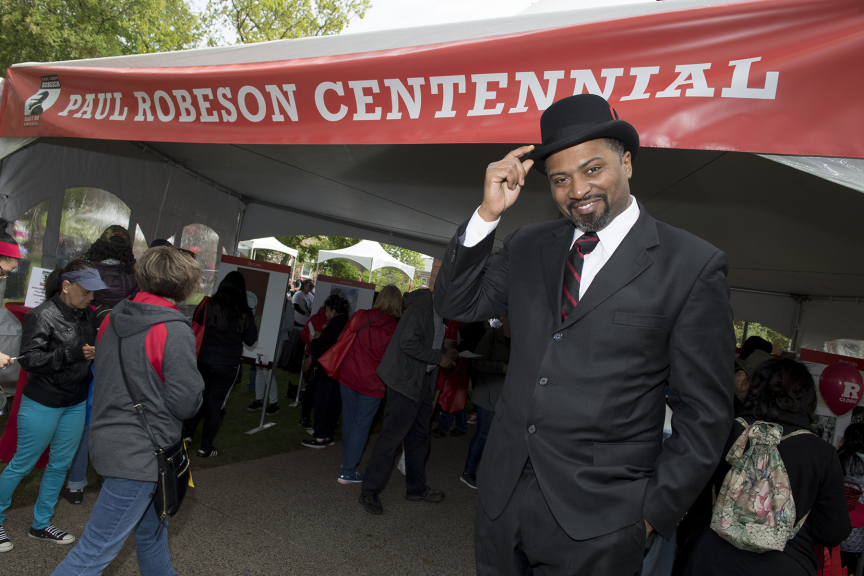 The plant sale draws some of the earliest visitors to Rutgers Day and the chilly temperature and windy morning did not put on damper on the tradition. By late morning, some of the most popular varieties of peppers had already sold out at the Rutgers Cooperative Extension Master Gardener Plant Sale, including the Trinidad scorpion and the pumpkin habanero pepper.
"This is the place to get your plants,'' said Linda Cortinas who came from West Orange with her fiancé, Jeff Arendt, to snatch up some lemon drop peppers. "There is a lot of stuff here you can't get in other places.''
At Rutgers-Newark there was an activity for everyone, from Legos, face painting, raffles and performances at Norman Samuels Plaza to panel discussions, cosplay, 3-D and T-shirt printing. The second annual Newark Culture Con at Express Newark on Halsey Street was a popular stop.
"I heard about Culture Con online and it sounded interesting to me, so I decided to check it out. So far, man, I like everything," said Newark resident Rafael Husbentz. "I like how Newark is so artsy."
Thank you to B&R from B.E.R of Teen Titans Go! for an acoustic performance on #RutgersDay @NewarkCultureC #NewarkCultureCon #Rutgers-#Newark pic.twitter.com/WQqNhvgnb1

— Rutgers-Newark (@Rutgers_Newark) April 27, 2019
Camden celebrated its sixth annual Comic Con with a convention that linked the community to comic creators, writers, artists, dealers and fellow enthusiasts at the Athletic and Fitness Center.
"There are a lot of cool costumes, a lot of really cool vendors, and there's a really good variety of things that you can get there," said first-time attendee Beatrice Fraga, 13.
Cosplay fans brought their A game to @CamdenComicCon at #RutgersDay in Camden today! #RutgersCamden #CamdenComicCon pic.twitter.com/ji1eO6EBNI

— Rutgers–Camden (@Rutgers_Camden) April 27, 2019
Visitors to Rutgers-Camden also participated in a rock/paper/scissors tournament, learned about probability and statistics, dressed up like a judge at the Rutgers Law School booth and observed self-defense demonstrations. For Fraga, the chance to enjoy Comic Con and Rutgers Day at once was a win-win.
"I think it's exciting because you get to see two different sides of Rutgers," she said. "You get to see the 'geeked out' side, and you also get an overall view of college."
Meanwhile on Rutgers-New Brunswick's Cook-Douglass campus, the New Jersey Folk Festival, considered one of the largest student-run events of its kind in the United States, marked two milestones on Saturday: its 45th anniversary and the last year overseen by its founder, Angus Kress Gillespie.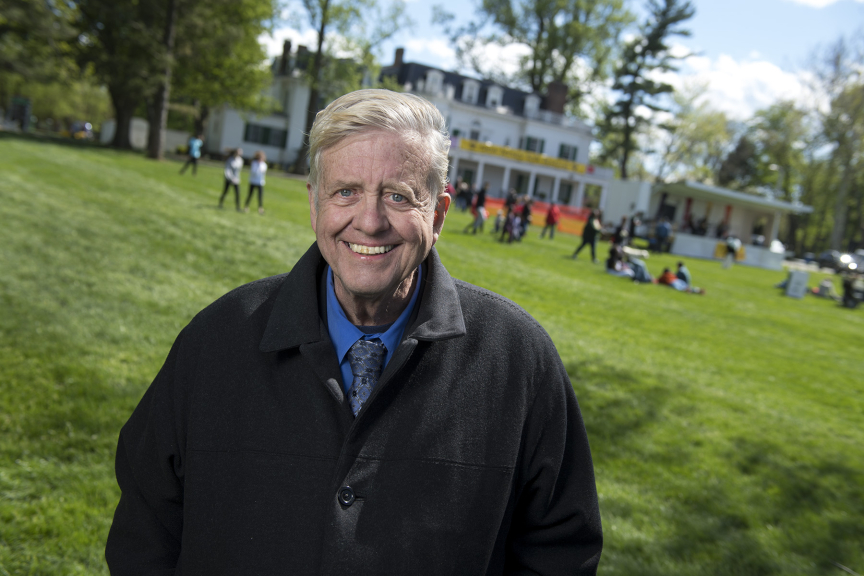 The Folk Festival Board of Trustees gave Gillespie an award recognizing his years of service during the festival and presented him with a quilt made out of folk festival T-shirts from throughout the years. The board also renamed one of the stages at the folk festival in honor of Gillespie, a folklorist and American Studies professor in the School of Arts and Sciences.
"We wanted all of our attendees to know this would not have been possible without his hard work and dedication throughout the years,'' said Matthew Hueston, a Rutgers graduate who was part of the festival when he was a student and returned to work as the associate director.
Gillespie, 77, said running his last festival was a "bittersweet" moment. He will continue to teach at Rutgers, but turns over the administration of the festival to two faculty members. Students run the event – which Gillespie says "is a real job with a real budget'' – as part of a 3-credit class in festival management.
"I tell students this is a lot more work than a regular course but they continue signing up for it,'' Gillespie said. "It's very gratifying.''