Rutgers' Cultural Center Collaborative Hosts #BlackLivesMatter Vigil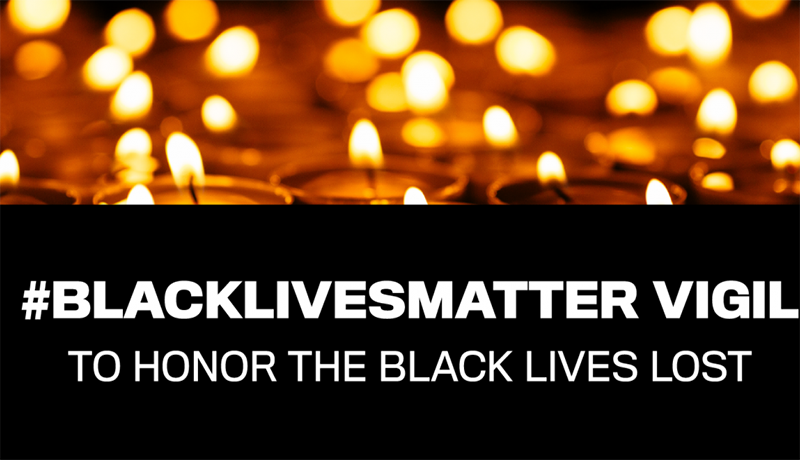 About 400 students, faculty, staff and others came together in a call for justice and an end to racial violence in a virtual vigil that brought the Rutgers community together to show solidarity with protests nationwide sparked by the death of George Floyd in police custody.
The program, organized by Rutgers University-New Brunswick's Cultural Center Collaborative, included a moving tribute and reading of the names of more than 100 black lives lost to violence. Those remembered ranged in ages from 7-year-old Aiyana Jones who was shot and killed in Detroit during a police raid, Tamir Rice, a 12-year-old boy shot and killed by a police officer in Cleveland while playing with a toy gun, and many others who have filled the headlines over the years including Eric Garner, Ahmaud Arbery, Breonna Taylor, Michael Brown and Trayvon Martin.
"As we mourn the continual violence against black bodies at the hands of the police, we cry out for justice, for our humanity and for change,'' said Felicia McGinty, executive vice chancellor of administration and planning at Rutgers–New Brunswick, who offered a call to action. "In the work of structural change that dismantles systems of oppression, we all have a role to play. Our administration, faculty, staff and students must come with a renewed commitment to end anti-blackness and racism. I call on each of you to be an active part of creating that change. Dismantling the system of oppression calls for collective work but we cannot get weary. We stand with you, we are in this struggle together and we cannot be silent."
The Cultural Center Collaborative, within the Division of Student Affairs, which includes the campus's Paul Robeson Cultural Center, Center for Social Justice Education & LGBT Communities, Center for Latino Arts & Culture and Asian American Cultural Center, invited the community to come together Wednesday night to share messages of solidarity, prayers of hope and healing, and stories of resilience.
"It's important that we provide opportunities for our students and campus community to come together to reflect on the tragedy of George Floyd's death and to honor the many lives that have been lost because of racial violence and police brutality in our country," said Salvador B. Mena, vice chancellor of student affairs at Rutgers-New Brunswick. "Our community has to be part of the healing process and the virtual vigil is one way to begin that process together."
Tyron Tucker, a rising junior and incoming treasurer for the Black Lives Matter Rutgers student group, said, "We must remember and honor those that we have lost at the hands of police brutality and to the unjust system in our country."
Joan Collier, director of diversity education and outreach at the Office of Diversity, Inclusion and Community Engagement, and Keywuan Caulk, interim director of the Rutgers-New Brunswick's Center for Social Justice Education & LGBT Communities, delivered messages of solidarity and resilience.
"As we gather in moments like these to care for ourselves as a community, in community with one another and to center black folks' collective and individual healing, we gather to remember those who are no longer here in flesh but remain with us in spirit," said Collier. "In our living, because we do live, may we remember the wisdom, resistance strategies, fortitude and dreams of our ancestors who serve as our cloud witnesses and those who remain with us in the constant struggle for freedom."
Caulk added: "Let us not be mistaken. These lives we may have not known prior to their killing, but there is a reality that they mirror us. They mirror our family members, our friends and our neighbors. The injustices against them have spurred protests, rallies, written statements, blackouts, vigils and memorials. That is a sense of hope. While we remember them, refuel, rejuvenate and re-envision a world of justice and peace for black bodies, be encouraged to continue to resist anti-blackness and oppression for all people."
Rabbi Victor Appell, senior Jewish educator at Rutgers Hillel, offered an interfaith message of hope.
"How do we find hope when we are broken?" he asked. "What words can we find to offer hope when our hearts are heavy from the feelings of anger, fear and frustration? Out of our brokenness must come our hope. Prayer comes to us in many forms, some of us will find our hope in words. For others, healing will come from action."
The program included a moving tribute and reading of the names of a selection of black lives lost to violence and injustice led by Darnell Thompson, diversity education and outreach coordinator at Residence Life. Thompson also led a moment of silence to reflect on the lives lost.
Campus chaplains Kaiser Aslam, Fr. Scott Russell, Rabbi Esther Reed and Br. Joseph Donovan, representing the Muslim, Christian and Jewish communities, led a passionate interfaith prayer of healing. The prayer was loosely based on the "Prayer of the Oppressed" in Islamic traditions, said Aslam.
Throughout the hour-long event, participants shared messages of healing, support and grief within the chat feature of the program. As the program ended, many words of gratitude poured in to thank the organizers for creating a space to heal and come together.
Jakora Holman, interim director of Rutgers-New Brunswick's Paul Robeson Cultural Center, concluded the event with, "What do we do with the anger we feel? I encourage you to use it to confront what is before us. I encourage you to be okay with recognizing your anger and not to fear it; to find ways to express that anger that can be used to make the change you wish to see not only in your Rutgers community but at home and elsewhere in life. Find your role in the social change ecosystem, whether as an activist, a storyteller, a caregiver or a frontline responder – we need all of you. Those who are no longer here need you the most." 
Following the vigil, Rutgers Counseling Services and community faith leaders provided attendees with virtual spaces, both faith-based and non-faith based, to process and heal. 
The full event can be viewed here.