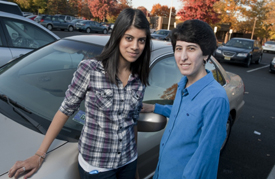 During his first two years at Rutgers, John Malchow would drive to campus each morning and stay until his last class ended late in the day. Then, unlike thousands of other students, he would commute back to his parents' house 30 minutes away in Watchung, never stopping at a campus party or event.
But halfway through his junior year, Malchow joined his first campus organization — the Off-Campus Students' Association (OCSA). After attending every event held by the group, including  a paintball trip, a teddy bear-building workshop, and several commuter connection tables, Malchow made the OCSA office on the fourth floor of the Rutgers Student Center his home base where he quickly found a network of friends.
"I was there almost constantly," says Malchow, who is now the group's treasurer and still commutes from Watchung. "I would come in the morning, stay through my classes, and stay there through meetings at night — as long as the student center was open. It was a great help in meeting a lot of people."
This fall, the Off-Campus Students' Association moved to new quarters in the Busch Campus Center. Filled with couches and love seats, the glass-paneled office and lounge has become a more welcoming place for students not living in university housing.
With the number of commuting students at Rutgers growing, OCSA is playing a more visible role serving as a social, information, and support center for students who often feel disconnected from campus life. This fall, OCSA moved to a larger space in the Busch Campus Center. Filled with couches and love seats, the new glass-paneled office and lounge — twice as large as its previous location — has become a more welcoming place for students not living in university housing.
"It's definitely more inviting, and more students have been visiting on a regular basis," says Susan Romano, assistant director of Student Involvement & Commuter Life. The group's previous office, she says, had become too small to meet its needs. "Instead of students feeling they were welcome, they would peek in, see too many students and walk away because there wasn't any room."
The population of commuting students has risen at Rutgers in the past four years as the economy has languished, leading some students to move out of residence halls and back home. In New Brunswick alone, 17,663 undergraduates commute, representing more than 56 percent of the undergraduate population. In 2007, when the four colleges merged into the School of Arts and Sciences, 13,973 undergraduates commuted to the New Brunswick Campus, representing 52 percent of all undergraduates.
To accommodate this growing segment of the student population, Commuter Life, a division of Student Life, installed a total of 33 lockers for commuters at the Douglass Campus Center and the Rutgers Student Center. Students living off campus began requesting lockers two years ago because their cars were parked far away or they commuted by mass transit and didn't have a place on campus to store their books..
In the spring 2011 commuter survey of 2,226 students, 59 percent said they would use lockers. The Commuter Life Office will assign the free lockers in February, and depending on demand, will determine how to proceed in the future.
Based on the survey, Commuter Life is researching commuter peer mentor programs at other universities to determine if something similar could be created at Rutgers. In the survey, 51 percent of the students said they would benefit from having a commuter peer mentor.
Tiffany DaSilva, a first-year student from Old Bridge, commutes from home because her parents wanted to pay for her college education without forcing her to take out student loans. At first, Tiffany was worried she would miss out on making friends if she didn't live on campus.
But she soon found a circle of friends after frequenting the new OCSA lounge at least twice a week. "Commuting helps save money," DaSilva says, "and it's not as bad as everyone thinks, especially since I've already met many friends from OCSA."
The lounge has also become a base for Akshat Saggar, a junior psychology and biology major who commutes from Iselin. Before joining OCSA, Saggar admits he would often eat and nap in his car between classes.
"The lounge is a place where we can hang out, eat, study, play games, and we're all on the same page," says Saggar, who has found his place at Rutgers as OCSA's recruitment chair. It's his job to sign commuters up for OCSA's weekly listserv that informs them of upcoming activities.
One new activity offered this fall is a monthly happy hour, based on themes such as Harry Potter and a Halloween masquerade, from 5 p.m. to 7 p.m. on Thursdays. Other events OCSA held this fall included a trip to Six Flags in Jackson, a Career Services lunch program at the Douglass Campus Center, and an ice skating trip to the ProtecHockey Ponds Arena in Somerset.
Megha Desai, a sophomore from Clifton, lived in a residence hall her first year but moved to an off-campus apartment in New Brunswick with some roommates to save money this year. An intern with the Student Involvement & Commuter Life Office, Desai attended her first OCSA event — a welcome barbecue — this fall and often stops by the lounge.
"It has made a difference in my life because I have all these different events that I can attend that I didn't have before," she says, "and I'm constantly meeting new people."
For more information on commuter life at Rutgers, visit: www.ocsa.rutgers.edu or www.commuters.rutgers.edu.