Rutgers Commits to Greater Degree Accessibility and Affordability via Garden State Guarantee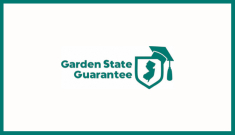 Rutgers students will soon benefit from New Jersey's Garden State Guarantee (GSG), which makes a college degree more accessible and affordable for New Jersey residents who attend in-state, public four-year institutions.
Under the GSG program, New Jersey residents who have an adjusted gross income (AGI) between $0 and $65,000 will pay a net price of $0 for tuition and mandatory fees in their third and fourth years of study working toward a bachelor's degree at Rutgers in the 2022-2023 academic year. The net price of tuition and mandatory fees for students with an AGI between $65,001 and $80,000 will not exceed $7,500.
"Access to affordable higher education is fundamental to success and Rutgers is happy to partner with N.J. Secretary of Higher Education Brian Bridges and others to help make this program a reality," said Jonathan Holloway, president of Rutgers University.
Students are automatically considered for the GSG when they complete the Free Application for Federal Student Aid (FAFSA) or, if they qualify as a NJ Dreamer, the NJ Alternative Financial Aid Application by April 15, 2022 for the 2022-2023 academic year.
The GSG was signed into law as part of New Jersey's 2022 budget in June and will be implemented for the 2022-23 academic year. It is a key component in the state's goal of ensuring the 65 percent of N.J. adults have a postsecondary credential by 2025.
"By further addressing affordability issues that limit opportunity and impact enrollment, Rutgers aims to open a wider range of career prospects that can transform the lives of students and their families and drive economic prosperity and job growth in New Jersey," said J. Michael Gower, Rutgers executive vice president, chief financial officer and university treasurer.
GSG funds are applied as a last-dollar award to cover a student's remaining balance of tuition and fees after the application of federal and state student aid (including veteran's education benefits), institutional student aid, and other outside scholarships. Students and their families are encouraged to download the Garden State Guarantee Fact Sheet and to visit the GSG website for information and eligibility requirements.
"This is a tremendous opportunity for students to earn their undergraduate degrees and join the workforce without inhibiting debt," said Jean McDonald-Rash, Rutgers associate vice president for enrollment services. "The GSG will help further the positive impact that Rutgers students have upon the state's economy and culture."
Rutgers plans to expand the program beyond the GSG-required amounts to assist a wider group of students. Details will become available as the program is developed at Rutgers, McDonald-Rash said.
You can find information on the Garden State Guarantee at Rutgers on Scarlet Hub.