Piscataway COVID-19 vaccine clinic now offers pediatric vaccines
Raelynn Taylor, a second grader from Franklin Park who was the first child under age 12 to be immunized at Rutgers' COVID-19 vaccine clinic at the Ernest Mario School of Pharmacy Wednesday, said she could not wait to tell her classmates about the experience.
"I'm excited because I feel safer to go on a plane at Christmastime and see my family in Nevada," said the 7-year-old who came to the clinic with her father, Nick Taylor.
Taylor, a Las Vegas native and application developer within Rutgers' Institutional Planning and Operations, was instrumental in creating the university's COVID-19 portals for testing, vaccination and appointments and wanted his child to be immunized as soon as the vaccination became available.
"Vaccinating our children will help mitigate outbreaks in the Rutgers community," said Taylor who held his daughter's hand while she got her shot. Taylor plans to bring Raelynn's sister, Paige, to the clinic when she turns five in March.
"I'm so proud of how brave Raelynn is. This is an important moment, and I hope others will do the same."
The vaccination clinic at Ernest Mario School of Pharmacy, 160 Frelinghuysen Road, Piscataway now offers pediatric doses. The clinic is open Wednesdays (9 a.m.-1 p.m.), Thursdays and Friday (9 a.m.-3 p.m.), with new extended hours Thursdays (9 a.m.-7 p.m.) to help working parents.
The New Jersey Department of Health announced two weeks ago that 750,000 children ages 5 through 11 years in the state are eligible to receive a lower dose of the Pfizer-BioNTech vaccine, as per the recommendation by the Centers for Disease Control and Prevention. As of Monday, more than 47,000 children ages 5 through 11 years -- about 6 percent of those eligible in that age group -- have gotten the vaccine.
Students from the Ernest Mario School of Pharmacy will be administering the vaccine to young children in the coming weeks.
"To provide this experience to our students and support COVID-19 vaccination efforts for the mission of the state and the university is an amazing opportunity,'' said Donna Feudo, assistant dean for experiential education at the Ernest Mario School of Pharmacy, who gave the first pediatric vaccine Wednesday. "Vaccinating young children is much different from adults and teenagers and students need to see that firsthand in order to become comfortable with this age-group and learn from it."
Les Barta, director of simulation at the pharmacy school and POD (point-of-dispensing) manager of the Piscataway clinic, said "We're so proud to be a trusted partner in the community for vaccination for our students, faculty, staff and neighbors."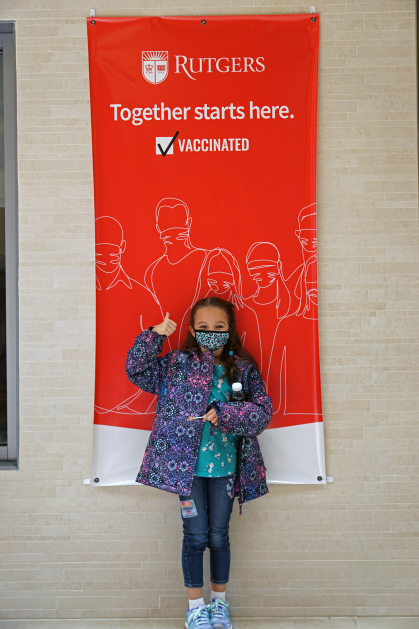 The pediatric Pfizer vaccine is administered as a two-dose primary series, three weeks apart, and is lower than the dosage for those ages 12 and older. According to the Food and Drug Administration, clinical data has shown the vaccine is safe and 90.7 percent effective in preventing COVID-19 in children ages 5 through 11.
Rutgers opened adult vaccination clinics in May at its New Brunswick, Newark and Camden campuses to help the state's COVID-19 vaccine rollout. Appointments are available at Campus Center, Lower Level, South ABC, 326 Penn St., at Rutgers-Camden; Stonsby Commons, 91 Bleeker Street at Rutgers-Newark; and the Ernest Mario School of Pharmacy, 160 Frelinghuysen Road, at Rutgers-New Brunswick's Piscataway campus.
Pediatric vaccinations for eligible children are available only at the Piscataway location. For scheduling pediatric appointments, call the Vaccine Scheduling Assistance Program at 848-445-3033, Monday-Friday from 9 a.m. - 5 p.m.
For information on vaccine appointments and requirements, visit: coronavirus.rutgers.edu/covid-19-vaccine.
For information on Rutgers University's COVID-19 updates and guidance, visit: coronavirus.rutgers.edu.
To find other vaccine sites in the state, visit the New Jersey vaccine appointment finder.
See how we've united against COVID-19: rutgers.edu/united.