Rutgers Center for Adults with Autism Off to Promising Start
State Senate President Stephen Sweeney gets a firsthand look at program that aims to be a national model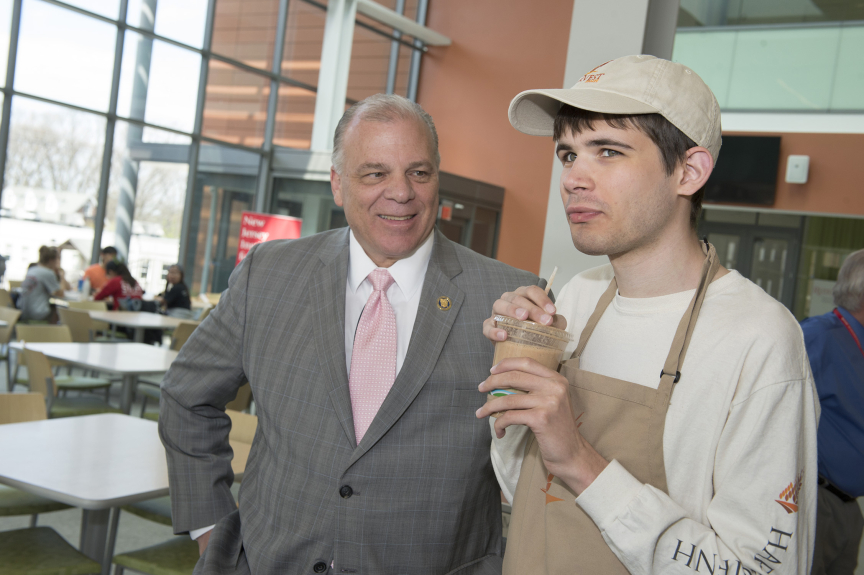 New Jersey State Senate President Stephen Sweeney came to Rutgers University Friday to learn about plans for the Rutgers Center for Adult Autism Services (RCAAS), a unique mix of vocational and residential programs for adults to work and live within a university community.
Sweeney got a chance to meet Craig Lillard, 23, the first adult in the center's day program who works at Harvest Café in the New Jersey Institute for Food, Nutrition, and Health, as he took time out from cleaning tables.
"It's wonderful you're taking the lead on this because we have a lot of work to do. It's important to move the bar on expectations about abilities because our loved ones have value and they get frustrated because they're often not seen that way," Sweeney told center staff and advocates from Autism New Jersey. Sweeney has a 21-year-old daughter with Down syndrome who works in a daycare center.
The Rutgers Center for Adult Autism Services (RCAAS), to be located on Douglass Campus, will offer up to 60 adults with autism, and who live off campus, university jobs supported by clinical staff and graduate students. The second phase of the center will offer a pilot residential program for 20 adults with autism who will work on campus and live alongside Rutgers graduate students in an apartment-style residence.
Seventy percent of the funds has been raised for first phase of the center – a $20 million facility for the workday program as well as staff offices, professional kitchen equipment, computers, conference rooms and life skills teaching areas, said Christopher Manente, the center's executive director.
"Our aim is to make a difference in the lives of all adults with autism by creating a best-practices training program for students across all disciplines – business, medical, art – who work with adults with an autism spectrum disorder," Manente said. "We can talk a lot of autism, but people don't fully grasp the needs of adults on the spectrum until they have personal connections."
---
Related Stories:
---
Research that will lead to a creating a model for similar centers and training educated staff to work with adults with autism is a main focus of the center, Manente added.
Craig Lillard of Princeton began working at Harvest Café through the center about two months ago. "It's a life-changer for him," said his mom, Amy. "He's a young man who's never held a job before and he comes to Rutgers every day with a smile on his face."
After working at Harvest, where he clears and cleans tables and is learning to stock supplies, he often goes to the Cook/Douglass Recreation Center to shoot baskets with students. "He has been welcomed by so many into the Rutgers community and he loves it," she said.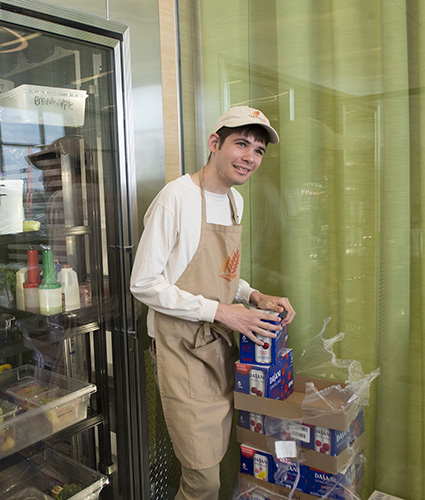 The center plans to begin placing up to five more adults with autism in jobs throughout the university by the end of the year, Manente said. The center currently has 70 applications for workday positions and hundreds more families have asked to be kept informed of the center's progress.
An estimated one in 68 children nationally – and one in 41 in New Jersey – are diagnosed with an autism spectrum disorder (ASD), a developmental disability that can cause significant social, communication and behavioral challenges. The center aims to address a gaping need for young adults with autism: Through high school, children with autism can get tutoring, mental health services, transportation and other resources to accommodate their needs. But once they leave public school systems, services diminish greatly, leaving adults with little support outside of their families.
Key early leaders in the private fundraising project are former CEO of Viacom, CBS and Sirius SM Radio Mel Karmazin and his daughter, Dina Karmazin, executive director of the Mel Karmazin Foundation, in partnership with the Rutgers University Foundation. Dina Karmazin's son, Hunter was diagnosed with autism at age 2, and the Karmazin Foundation has been active in autism causes.
The new center will be led by the Graduate School of Applied and Professional Psychology, which provides leading education and hands-on clinical training opportunities for students working people with autism. The university also is a leader in autism research facilities, such as the Rutgers University Cell and DNA Repository, which contains the world's largest collection of autism biomaterials, and the Douglass Developmental Disabilities Center, which includes an on-campus K-12 day school for children with autism from across New Jersey.
– Dory Devlin