A Rutgers Celebration for the Ages
University looks toward a bright future after yearlong 250th commemoration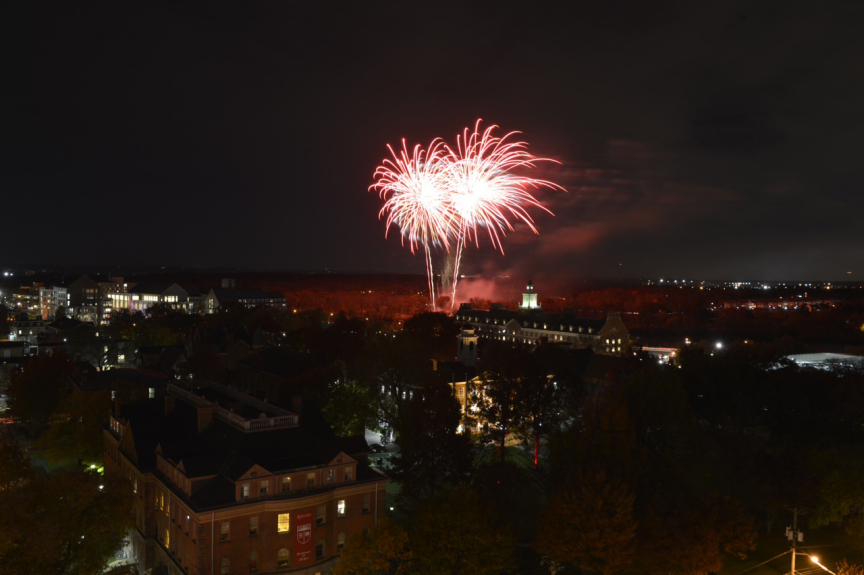 'Today we celebrate our unique place in American higher education not only with fanfare and fireworks but also with the force of ideas. We have much to be proud of and many reasons to celebrate the leaders and doers and heroes who have shaped the history of Rutgers.'

 

– President Robert Barchi
Rutgers hosted the biggest party in its 250-year history on November 10, concluding a yearlong birthday celebration and marking the historic date with concerts, exhibitions, symposia, fireworks and the scarlet red glow that lit up New York City's famed Empire State Building.
"Today we celebrate our unique place in American higher education not only with fanfare and fireworks but also with the force of ideas," President Robert Barchi said in a letter to the community. "We have much to be proud of and many reasons to celebrate the leaders and doers and heroes who have shaped the history of Rutgers."
The university's 250th milestone is one that few higher education institutions have achieved. Founded a decade before the signing of the Declaration of Independence, Rutgers has evolved from a small sectarian college into a leading Big Ten university with its own law school and medical school, educating 67,000 students in New Brunswick, Piscataway, Newark and Camden.
The celebrations throughout Rutgers included nearly 80 distinguished alumni from across the globe – from scholars and scientists to activists and performers – who returned to discuss their work with students and give insight into how their education contributed to their success.
"My adult life was formed here," said former White House pastry chef William Yosses who graduated from the Graduate School-New Brunswick in 1978 with a master's degree in French and French Literature and now heads an education initiative that creates curricula to teach science through cooking.  "I couldn't have had the career I had without the mentorship Rutgers provided."
To help mark Rutgers' historic anniversary and the Day of Revolutionary Thinking, alumni, students and faculty gathered in New Brunswick for the ringing of the bronze bell atop Old Queens. Donated by Col. Henry Rutgers along with his famous monetary gift, the Old Queens Bell rang first, and was then joined for 250 seconds by church bells throughout New Brunswick, Camden and Newark.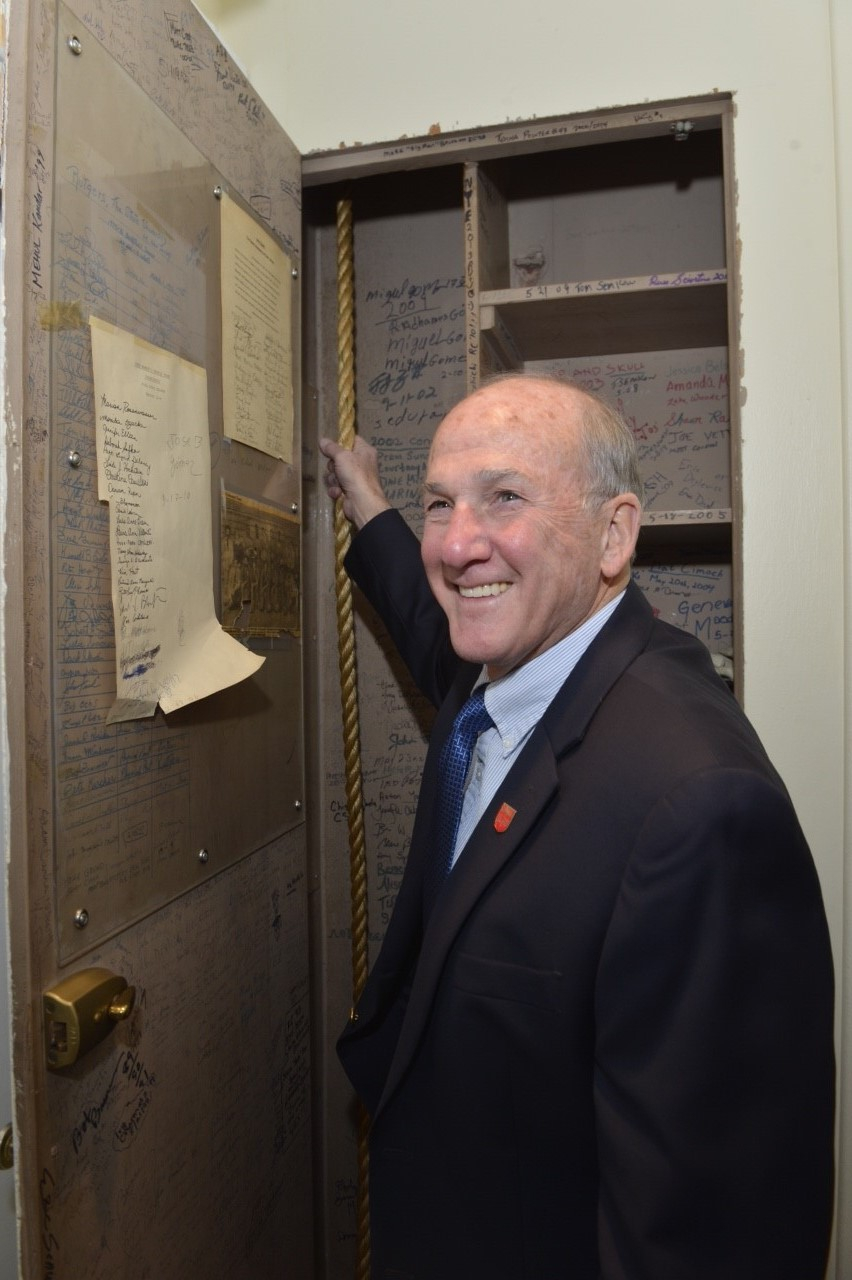 Cadets from Rutgers Army, Navy and Air ROTC raised a flag flown over the U.S. Capitol up a flag pole dedicated by the Rutgers Class of 1966 in honor of World War I veterans from the Class of 1916. When it reached the top, a canon fired to mark the moment before a crowd of scarlet-clad alumni, faculty, staff and students.
Afterwards, Rutgers University-New Brunswick Chancellor Richard Edwards revealed a Rutgers-bred dogwood tree, five decades in the making – the Scarlet Fire Cornus kousa – that will flower dark red in the spring.
"The act of planting a tree has special significance for many reasons," Edwards said of the first-of-its-kind dogwood.  "It represents the continuing cycle of life and the very idea of growing a memory."
At Rutgers-Newark, its alumni Revolutionary Thinkers were awarded the Rutgers Medal by Chancellor Nancy Cantor who was joined by the dean of the school or college from which they graduated. This year's anniversary year celebrations marked not only Rutgers' 250th but three more major milestones: the 350th anniversary of the founding of the Newark, the 80th of the founding of the University of Newark and the 70th of the latter homegrown institution becoming a part of Rutgers. 
 "The extraordinary convergence of anniversaries we've celebrated in Newark this year has given us an extraordinary opportunity to celebrate the intertwining of our great university with our great city – and our alumni revolutionary thinkers exemplify that synergy," Chancellor Cantor said. 
In Camden, Chancellor Phoebe Haddon led the induction of 21 of its alumni into the Rutgers-Camden Finest Alumni Honor Roll which recognized them for their contributions toward making the world a better place and advancing knowledge.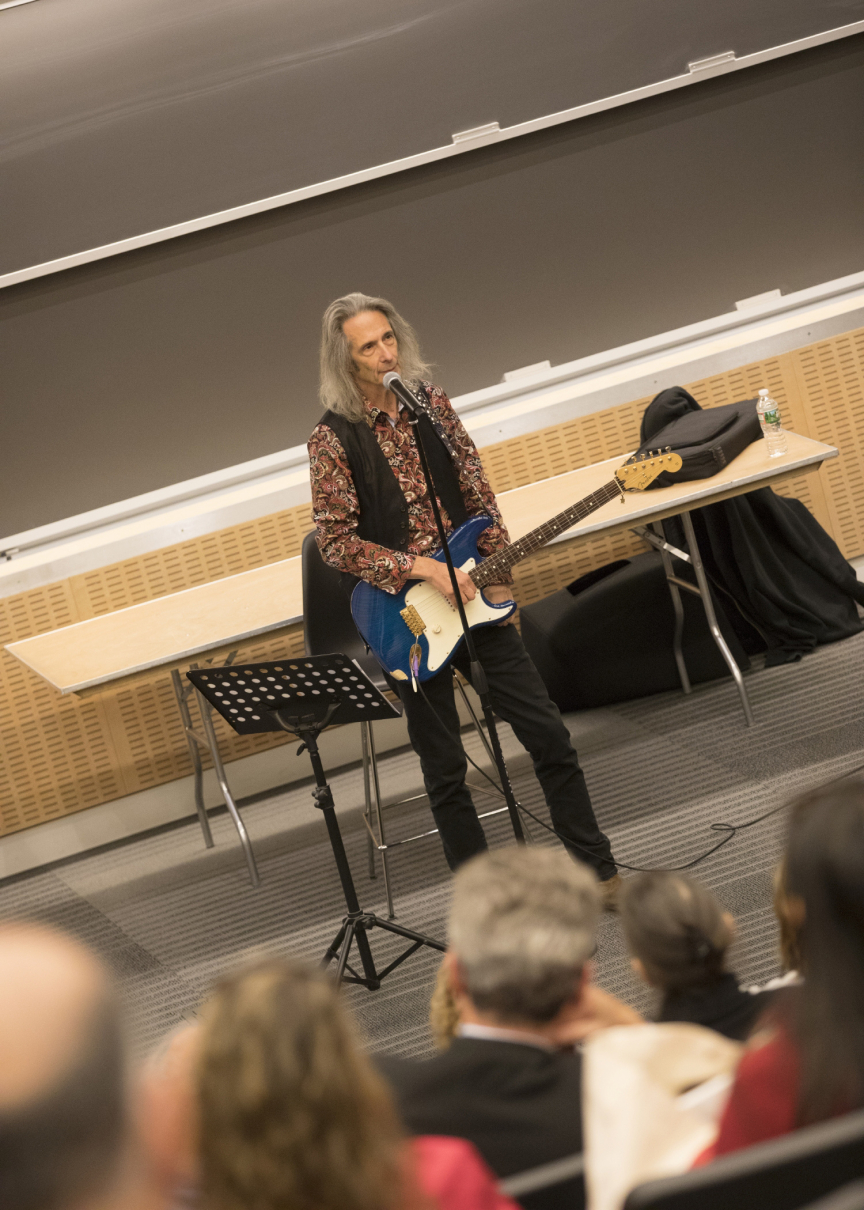 "Rutgers-Camden has leveraged this 250th milestone into a truly amazing celebration of Scarlet Pride right here in South Jersey," says Haddon. "We're going to build upon this energy and momentum well into Rutgers' 300th anniversary."
Throughout the day students at all three sites had the opportunity to learn who came before them, what path their career took and the impact their Rutgers' education is having on the world.
Former Rutgers football player Eric LeGrand who suffered a severe spinal cord injury in a game against Army in 2010 spoke to students about "Living in the Face of Adversity."
"How can somebody tell me it can't be done?" LeGrand who graduated from the School of Management and Labor Relations, asked the students in attendance. "I would not have progressed as I have without the many people – family, friends and the Rutgers community – who have helped me."
Meanwhile, Lenny Kaye, a 1967 alumnus and guitarist of the Patti Smith group, wowed students with his story of how his Rutgers college experience shaped his life and work.
"He graduated nearly 50 years ago, but what he did here is still relevant to who he is," said Ayesha Gurnani, a first year student in Rutgers-New Brunswick School of Arts and Sciences, who said she got chills when Kaye started to sing. "I liked how passionate he is."
When dusk fell, fireworks capped off the day's festivities in Deiner Park along the Raritan River, atop Bradley Hall in Newark and the Gateway Pavilion in Camden. Celebrating with 25,000, 250th anniversary cupcakes during the afternoon, the nighttime festivities included specialty drinks, popcorn, music, sketch artists, photo booths and specialty t-shirts.
"I'm excited our class got to Rutgers in the 250th year," said Kate Giacchetti, a first-year student from Bayonne. "We'll be that memorable class."