Super Bowl XLVIII, scheduled to kickoff at MetLife Stadium in East Rutherford at 6:25pm on Feb. 2, is focusing the world's attention on New Jersey – including the state's premier public university.  The Rutgers Scarlet Knights marching band will perform on the field shortly before the game begins. Rutgers is celebrating the state's first Super Bowl in other ways – including a jazz saxophone concert on Media Day in Newark and a website tracking the weather leading up to the big game.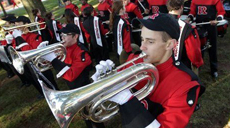 Rutgers Marching Band to Perform during Super Bowl Pregame
The Rutgers Marching Band has been invited to perform before Super Bowl XLVIII. Marching Scarlet Knights will take the field at MetLife Stadium at 6 p.m, a half-hour before kickoff. Rutgers will share the field with Syracuse University's marching band to emphasize that New Jersey and New York are co-hosting the big game. Watch the band practice for its performance.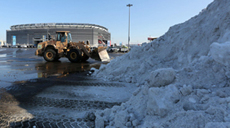 Super Bowl Weather Watcher: New Rutgers Website Analyzes Possibilities
For the first Super Bowl to be played outdoors in winter weather, Dave Robinson and his team in the Office of the New Jersey State Climatologist at Rutgers have created what might be the ultimate Super Bowl weather website dashboard: BigGameWeather.com. The site is being billed as the "one-stop-shop" for critical weather and climate information relating to the Big Game.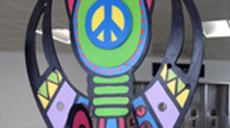 Rutgers Alumna's 'Peace' Sculptures Greet Super Bowl XLVIII Visitors
To help New Jersey turn heads and make a positive first impression on out-of-state guests during Super Bowl week, alumna Athena Barat's family foundation lends six animodules – large-scale sculptures created by artists and members of the Newark community – to Newark Liberty International Airport.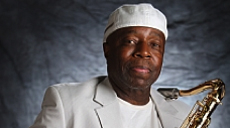 A 'Super' Celebration of Jazz Saxophones in Newark
Rutgers' Newark Campus will celebrate jazz heritage as part of Newark Media Day for Super Bowl XLVIII Tuesday, January 28, at 6:30 p.m. The event will feature the Kenny Garrett Quintet, the Leo Johnson Quartet, and Jazz House Kids at the Paul Robeson Campus Center, 350 Dr. Martin Luther King, Jr. Drive, Newark Campus. Admission is free with event registration.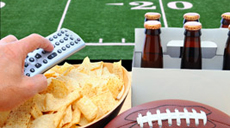 Super Bowl Biggest Day for Football Fans – and Madison Avenue
At the first Super Bowl, a 30-second commercial cost $37,500. Fox, this year's broadcaster, is charging advertisers $4 million for the same block of time. Steven Miller, who teaches "Critical Issues in Sports Media" in the Department of Journalism and Media Studies at Rutgers' School of Communication and Information, discusses how the Super Bowl ads came to generate as much discussion as the game itself.