Acting student Talli Basile admits that Shakespeare used to make her nervous.
His works were difficult to read and hard to understand, she says – not to mention unrelatable.
"All of his work felt like museum pieces," says Basile, who despite having seen plenty of contemporary interpretations still couldn't make a connection. "I didn't think there was necessarily anything lying in those plays that was relevant to modern audiences before I got a closer look at it."
Basile got that closer look when she traveled to London to study at the Rutgers Conservatory at Shakespeare's Globe last fall. Now in its 20th year, the program founded as a partnership with the Globe, an international education and research center, immerses third-year acting and design students in all things Shakespeare and theater through classes, workshops, cultural trips, and outings to U.K. venues and festivals.
Basile says her six months of study at the Globe were "a life-changing experience" of unpacking and getting to know the work – and the playwright and businessman behind it all.
"It just felt like we were at the core of everything that he was trying to do," says Basile, who had never traveled outside of the United States. "It felt like Shakespeare was for me for the first time."
Where it all happened
Living and working in London, surrounded by the backdrop of what Shakespeare wrote about, is key to understanding his work, says Barbara Marchant, who co-founded the Rutgers Globe program along with Israel Hicks, the late chair and artistic director of the Mason Gross School of the Arts Theater Department, and Patrick Spottiswoode, retired director of Globe Education at Shakespeare's Globe.
"Students are in the neighborhood where it all happened; they live it," says Marchant, who retired from Rutgers in 2021 after 25 years on the theater faculty. "They can go over to Middle Temple Hall as they're reading Twelfth Night – that's where that took place [in its first recorded performance in 1602]. It puts them in touch with history as well."
Acting students participate in intense classical training that includes classes in language, movement, voice, singing, and combat, culminating in a performance in the spring on the stage of the Globe Theatre, a reconstruction of Shakespeare's original "wooden O" playhouse.
Marchant points out that while other American conservatory acting programs send students to the Globe, the amount of time that Rutgers students spend there is unmatched, allowing them to focus on a full-length production.
"For them to spend six months immersed in this work – they know it, they understand it," Marchant says. "There's a confidence after they've completed this work."
Nearly 400 people packed into the open-air theater on opening night of this spring's performance of The Comedy of Errors, including Rutgers University President Jonathan Holloway and Mason Gross Dean Jason Geary, who were in town to celebrate the program's 20th anniversary.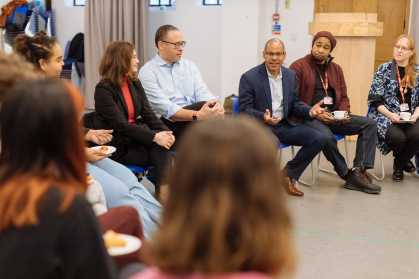 Despite the frigid conditions, the performances were mesmerizing, says Cameron Knight, head of acting and coordinator of the Globe program.
"To see [students] own themselves and their identities and their skills onstage was amazing," says Knight. "For them to step onto that stage and be celebrated and cheered on is something they'll take with them the rest of their lives."
For Basile, the performance "felt like everything," she says.
"It feels like a spiritual experience, where you're connected to all of the people who came before you, to Shakespeare, to all of the people that are coming after you," Basile says. "I felt like I was a part of something special just standing on that stage."
An actor's playground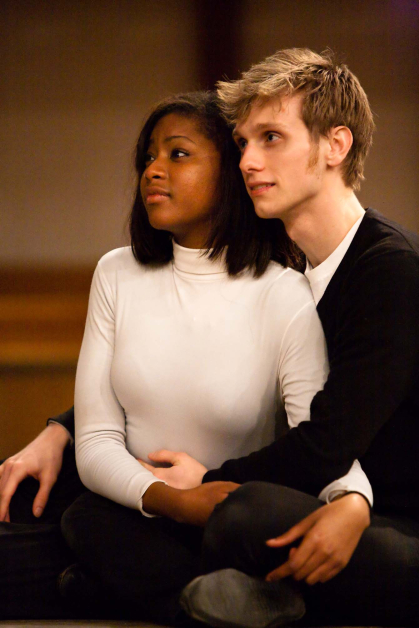 For Jasmine Carmichael, who received her BFA in 2011, studying at the Globe made Shakespeare feel "relatable, relevant, a part of the culture of now," she says. A director, teacher, and professional actor (best known for her role opposite Giovanni Ribisi in Amazon's Sneaky Pete), Carmichael came away from the Globe program with both an in-depth knowledge of classical text and the confidence to fully embody Shakespeare's characters.
"Studying at the Globe, I was immersed in a community of artists whose love of language, knowledge of theatrical history, and commitment to technique made me excited to work with them and learn from them," says Carmichael. "Being there made me feel that I was a part of something special and reinforced that the work of being an actor is an awesome responsibility that must be respected and taken seriously."
Marchant has delighted in seeing the reputation that the Rutgers Globe program has built over two decades and says she has seen many students get jobs because of their training.
"It gives them immediate cred," says Marchant. "If you can master Shakespeare – if you can handle that text – you can handle anything."
The program has evolved over the years to include MFA actors as well as theater design and production students, who travel to London during the fall semester to learn from industry professionals in classes that take place on location in studios and theaters as well as in site-specific venues.
Other changes have come to the curriculum, including adding courses in stage intimacy and drama therapy to address students' mental health. There is also an expanded focus on examining some of the more problematic themes—like misogyny, racism, antisemitism, and xenophobia—scattered throughout Shakespeare's work.
"It's important that if our actor training and our acting itself is to have any relevance, it has to stay current and ask questions and scrutinize itself," Knight explains. "Otherwise, we're simply teaching appreciation of something and not the relevancy of something."
As the partnership with the Globe continues into its next chapters, one thing remains constant: the pride and respect for Shakespeare and theater that is felt everywhere throughout London, says Carmichael.
"When I first arrived in London, the customs agent checking my passport asked me why I had come to the city," says Carmichael. "I told her I was studying acting at the Globe. She looked at me, smiled cheekily, and said 'Oh, so you've come to learn how to do it right.' That for me encapsulates the benefit of studying Shakespeare in London."