At Rutgers Career Mega Fair, A Record-breaking 408 Organizations Will Recruit Students and Alumni
Students who attend and/or complete other career-building tasks will enter a drawing for free Spring 2020 tuition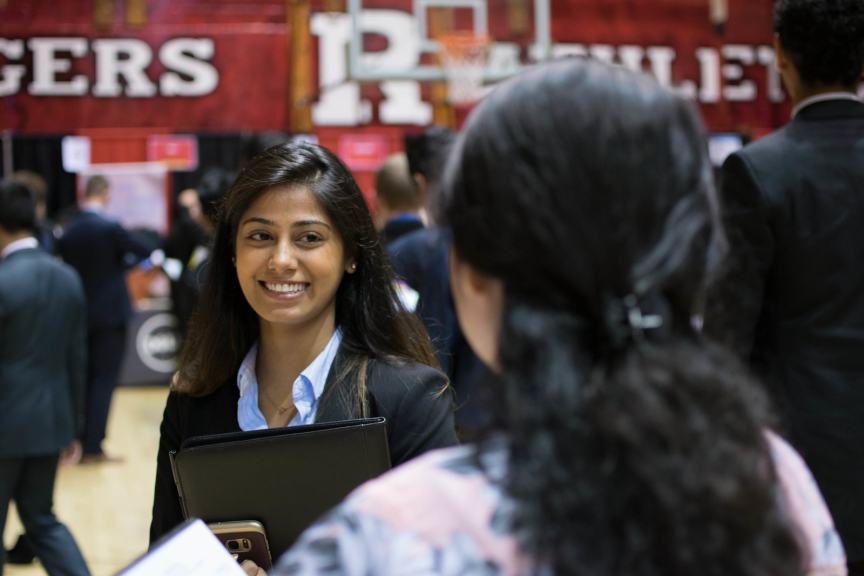 "One of the greatest additions are the 71 companies willing to sponsor international students because that can prove to be one of the biggest challenges for students aiming to make a life here" - William Jones
In one of the nation's largest and most diverse recruiting efforts, Rutgers University–New Brunswick beginning Monday, Sept. 9 will host a three-day Career and Internship Mega Fair, with an expected record-breaking turnout of students. 
The Office of Career Exploration and Success (formerly University Career Services) is hosting more than 400 employers at the Louis Brown Rutgers Athletic Center. Rutgers students of all levels will network with employers offering full-time, part-time, and internship opportunities in a wide variety of fields. Monday will focus exclusively on employers recruiting for technology-related positions, while Tuesday and Wednesday will include both tech- and non-tech opportunities.
"Employer demand is on the rise, especially for tech roles right now, so there is an added day dedicated to make sure students interested in tech-based roles can connect with employers," said William Jones, senior director at Career Exploration and Success. "Over the three days, around half the employers are hiring for both tech and non tech positions and 162 are seeking to fill tech-only positions. One of the greatest additions are the 71 organizations willing to sponsor international students because that can prove to be one of the biggest challenges for students aiming to make a life here." 
Organizations seeking to recruit international students will include Audible, Bank of America, Barclays, COGNAC Systems, Credit Suisse, Deutsche Bank, Dow Jones & Co., Fastenal Company, LogMeIn, Mathematica Policy Research, Moody's Corporation, Philadelphia Water Department, Susquehanna International Group, Tata Consultancy Services, Vitech Systems Group, Vonage, and many more.
To help students prepare, Rutgers held a drop-in resume critique clinic featuring employer volunteers and has partnered with JCPenney for a Suit-Up event on Sunday, Sept. 8. 
"With a record number of incoming Rutgers students this fall, and 121 organizations willing to hire sophomores and 69 willing to hire first-years,  many of the students will be meeting these employers for the very first time. The JCPenney partnership will provide discounts of up to 60 percent for students and help them to make a lasting first impression at the fair," Jones said. 
As an additional incentive for students, Career Exploration and Success is launching the #RutgersWorks Free Tuition Challenge in which Rutgers–New Brunswick undergraduate students who attend the career fair and/or complete other career development tasks will be entered in a drawing to win free tuition for the Spring 2020 semester, as well as a monthly $50 gift card raffle.
"There will be many opportunities this fall semester for students to utilize our resources that will increase their chance at landing a great career or internship, and the free tuition will be a great bonus," said Kaitlyn Zullo, associate director at the Office of Career Exploration and Success.