Undergrad Utilizes Centuries-old Technique Taught on Campus
While innovations in digital photography have made the world camera-happy, only select images gain admittance into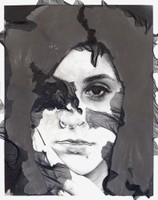 prestigious journals and galleries. Rutgers–Camden undergrad Miranda Powell creates such select photographs. How she practices the craft though isn't cutting edge at all, but rather a centuries-old tradition.
One of just 16 winning photographers from around the globe chosen for The Photo Review's Best of Show competition, the Rutgers­–Camden student has had her work featured in the reputable journal and is part of an ongoing exhibit at The University of the Arts' Gallery 1401 in Philadelphia through Dec. 10.
The award-winning black and white photographs, "When Time Dies I" and "When Time Dies II," feature the face of a female friend of Powell's staring directly at us as the image she's in seems to be peeling apart. This palpable veil-like effect was achieved through mordancage, a French technique from the 1870s Powell learned at Rutgers–Camden.
"These images show a struggle with control and a lack of control," says Powell, a senior art major. "I'm very strong-willed, so this method worked for me because it allowed the process to intervene."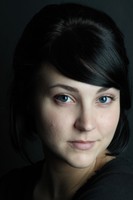 Not a fan of digital photography, Powell prefers to utilize all her senses during the darkroom experience and was inspired by an assignment from course instructor Ken Hohing to seek out an alternative development method. According to Hohing, a Rutgers–Camden alumnus who has exhibited his own photography for decades from Frankfurt, West Germany to Marlton, New Jersey, there has been a trend in art photography toward hands-on methods known as Lumiography.
"It's important for students to work with processes that don't separate them from the work like a computer monitor does,"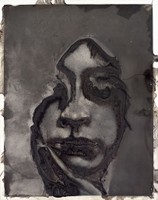 says Hohing, who has taught several international photography courses at Rutgers–Camden. "Normally the time involved in most of the process, the chemicals and the learning curve to use them correctly, intimidates students at first. But when they realize that the inherent mistakes that make images imperfect actually make them more art-worthy, they loosen up and dig into the process in a more personal way."
For Powell, Hohing's course – her first at Rutgers–Camden as a transfer student from Burlington County College – not only opened her world to new techniques, but also connected her to a point in time that suits her artistically.
 "I love the history of this process. It takes me back and lets me find my place in the timeline," says Powell, a Delran High School graduate.
While digital images might be instantaneous, Powell's photographs took over a week to create. "You really could keep manipulating them forever," she says. But her willingness to let the process dictate the end product is what Hohing believes makes her work successful.
"Miranda clearly has a developed eye for imagery, whether it's photographic or not. That along with an organized approach to complicated processes makes her work stand out," adds Hohing.
Martin Rosenberg, chair of the Department of Fine Arts, notes that Hohing and Powell's positive collaboration is a trademark of the Rutgers–Camden learning experience.   
"I am extremely proud of the level of many of our students' achievements, including recognition on regional, national and even international levels. In being chosen as one of 16 finalists, out of thousands of entrants, Miranda has demonstrated a level of extraordinary achievement and recognition, which is a tribute to her creative abilities, and to the quality of instruction she has received at Rutgers–Camden, particularly from her mentor Ken Hohing," states Rosenberg.
Powell is curator of the 35-piece student exhibit "Endless Summer" currently on display in the Student Works Gallery, located in the Campus Center's Corner convenience store on the Rutgers–Camden campus. In addition, she curated two previous exhibits in the gallery, "Alternate Views: Explorations in Advanced Photographic Techniques" and "The First Annual Rutgers–Camden Student Art Competition," and is finalizing next semester's exhibition "Lucidity: Anatomy of a Dream."  
Gallery 1401 is located on the 14th Floor of 211 South Broad Street in Philadelphia.
Media Contact: Cathy K. Donovan
(856) 225-6627
E-mail: catkarm@camden.rutgers.edu