On the heels of the Scarlet Knights' record-setting basketball season, coupled with the return of head football coach Greg Schiano, many are anxious for the return of intercollegiate competition at Rutgers.
But in the wake of the coronavirus that has turned everyday life upside down, including college sports, there are a lot of questions about how that can happen. Rutgers is at the forefront of finding a way for colleges and universities to move forward as a member of the first Task Force for Emerging Infectious Diseases recently formed by the Big Ten Conference. With representatives from each conference institution, the task force will provide guidance and sound medical advice to ensure the health, safety and wellness of the Big Ten's students, coaches, administrators and fans.
"We are going to do everything that we possibly can to aid the return of competition in the fall, but we are going to do it safely," said Vicente Gracias, vice president for health affairs at Rutgers, who represents the university on the 14-member working group. "Anyone who is trying to give a defined answer right now is only guessing. We still do not know the immunology and are still determining the best testing methods for the virus. It's our goal to get our student-athletes safely back into practice and play."
The task force features a diverse set of disciplines across campus health care systems. The group provides counsel to aid wellness and safety throughout the universities and serves as a resource for conference decisions in collaboration with local, state and federal health departments, as well as with the NCAA.
"Rutgers brings its deep experiential knowledge to the table," said Gracias. "Our innovation has furthered the science against infectious disease, including a world leadership role in tuberculosis. This drives the cutting-edge science that described the coronavirus protein structure and developed saliva testing to broaden population screening. All of this is ingrained in Rutgers' DNA to innovate and strategize."
This innovation lives well in the Big Ten ecosystem. Sometimes referred to as the "conference of firsts," the league has earned its reputation for setting standards in intercollegiate athletics. Whether adopting male and female participation goals, implementing instant replay or launching the first national conference-owned television network, the Big Ten is often the reference point. In keeping with this history, the task force is the first of its kind among the five autonomy conferences.
"The Big Ten is comprised of phenomenal scientific organizations and research institutions," said Gracias. "The task force represents a collegial sharing of all the information that these top research universities can bring together. It is also answering a call, because we are not getting all of the information that we need from the standard sources that we depend on."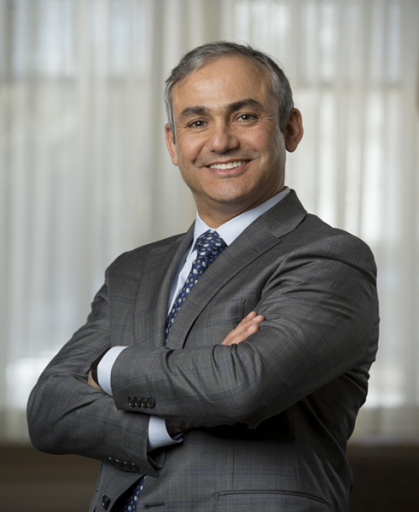 Gracias is extracting from both his medical expertise and his personal experience in this new role on the task force. He was raised by an academics-first family in neighborhoods where sport often paralleled religion. Madrid, Spain, Grand Rapids, Michigan, and South Bend, Indiana, were among the communities on his journey to Rutgers. Whether it be futbol or football, a resolute fandom played in the background.
"The idea of what sports represent has enormously evolved in my mind," said Gracias, a professor of surgery who is a leading expert in health system design. "I have the same immigrant mentality of anybody who comes to America. If you bust your butt, usually you are going to get a fair shake to make something of yourself. I was lucky enough to study at Notre Dame, and they had the same philosophy. If you play like a champion every minute of every day, you are going to make a difference."
Gracias will play a key role as people seek not just a return to normal, but a definition of what that normal might be. The stay-at-home orders necessary to flatten the pandemic's curve are being observed in American households that consume sports to not only provide respite but drive a sense of community. The first round of the National Football League Draft on April 23 saw multiple Big Ten student-athletes selected before an average television audience of over 15.6 million viewers that peaked at 19.6 million.
Rutgers is drawing on its history as the birthplace of college football as well as its recent game-changing work to expand testing in New Jersey to address the looming question of when TVs will be tuned again to live competitions and, more specifically, college football.
The saliva testing protocol developed by RUCDR Infinite Biologics at Rutgers is being held up as the national model. It received emergency use authorization from the U.S. Food and Drug Administration on April 13 and is poised to replace nasopharyngeal swabs, which require more medical resources and have a false negative rate of up to 30 percent.
"The immunology and testing are Big Ten science coming together to really debate the best approach in the absence of other voices," said Gracias. "Rutgers has a wealth of global science experts. This is an opportunity to seize upon our technology, innovation, science and experience with COVID-19 to really contribute to the conversation."