Rutgers Board of Trustees Elects 2022-2023 Officers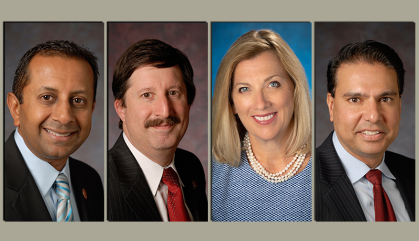 Nimesh S. Jhaveri named chair, Alan M. Crosta Jr. and

Amy B. Mansue named co-vice chairs. Tilak Lal to serve on Board of Governors.
Nimesh S. Jhaveri, president of community pharmacy and health at McKesson Corporation, has been elected to a one-year term as chair of the Rutgers University Board of Trustees. The Long Grove, Ill., resident and graduate of the Rutgers Ernest J. Mario School of Pharmacy and Lake Forest Graduate School of Management, previously served as co-vice chair of the Board of Trustees.
A renowned voice in decision-making, strategic partnerships and creating highly engaged and functional teams, Jhaveri will continue to serve his second term as an alumnus trustee through 2023. Jhaveri has been highly active and served on several committees at Rutgers, including the audit committee, the Board of Trustees executive committee and the Rutgers Board of Governors' Committee on Health Affairs for the last eight years – a committee he has previously chaired.
Jhaveri is also a board member for Northwest Community Healthcare, the National Association of Chain Drug Stores Foundation, Illuminate.health, Pharmacy Times editorial advisory board and Imerman Angels executive board of directors. In addition, he served on the Rutgers 21st Presidential Search Committee that helped place Jonathan Holloway into the position.
Alan M. Crosta Jr., retired chair of anesthesiology at Morristown Medical Center, will serve a second term as co-vice chair. A Randolph, N.J., resident, Rutgers graduate and alumnus of the former University of Medicine and Dentistry of New Jersey, his second term as an alumnus trustee runs through 2025.
Crosta has served on the Board of Governors' committees on audit, finance and facilities, academic and student affairs, health affairs and intercollegiate athletics.  He has served on the Board of Trustees' executive committee and committee on trustee philanthropy.  He has chaired the Board of Trustees' nominating committee and task force on assessment. Crosta is a director emeritus of the Rutgers University Foundation and was named a Loyal Son of Rutgers.
Amy B. Mansue, CEO and president of Inspira Health, will serve as co-vice chair of the Board of Trustees. A Mullica Hill, N.J., resident and charter trustee through 2025, Mansue holds a degree in social welfare and a master of social work in management and planning from the University of Alabama.
Mansue previously served as executive vice president and chief experience officer in the RWJBarnabas Health system, as deputy commissioner of the New Jersey Department of Human Services and as deputy chief of staff to former New Jersey Governor Jim Florio. She serves on the boards of the New Jersey Chamber of Commerce and the NJ Hospital Association.
The appointments took effect July 1, 2022, and run through June 30, 2023.
Tilak Lal joins the Board of Governors as a trustee governor for the term running from July 1, 2022, to June 30, 2028. The head of investment risk management at Lighthouse Partners is the immediate past chair of the Board of Trustees. A Half Moon Bay, Calif., resident and a graduate of the Rutgers School of Engineering, Georgia Institute of Technology and Columbia Business School, Lal serves as an alumnus trustee through 2023. Lal had served on the governing boards' Joint Committee on Investments for 10 years, as committee chair for eight years, and as a vice chair of the Board of Trustees.
Historically, the Board of Trustees was the governing body of the university from the time of its founding as Queen's College in 1766 until the university was reorganized under state law in 1956. The board acts in an advisory capacity to the Board of Governors and comprises 41 voting members: 20 charter members, 16 alumni members and five public members appointed by the governor of the state with confirmation by the New Jersey State Senate. Of the 20 charter seats, three are reserved for students with full voting rights.