Rutgers and New Brunswick Team Up to Help Provide Kids Summer Meals
Incoming students participate in community service project during orientation
Rutgers Against Hunger (RAH) and Rutgers University New Student Orientation have teamed up with New Brunswick's Play S.A.F.E. summer program to help feed 1,700 children through the new Snack Pack Service Project.
At each of the university's 14 orientation sessions for incoming students held this summer from June through August, attendees pack bags of healthy, kid-friendly snacks that are delivered to New Brunswick children the following day. All snacks are donated by ShopRite, Embrace Kids Foundation, Johanna Foods and Affinity Federal Credit Union.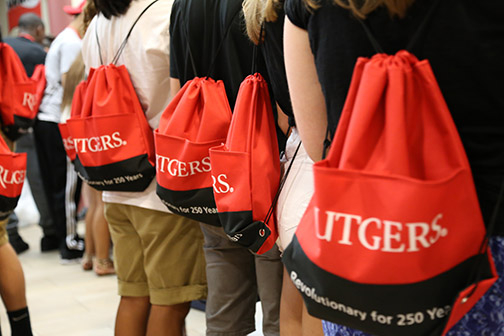 The New Brunswick children receiving the packs are considered food-insecure. They receive free breakfast and/or lunch while school is in session, but during the summer months, those opportunities do not exist. The City of New Brunswick addresses that issue through a six-week summer program -- Play S.A.F.E. (Summer Activities for Everyone) -- conducted by the Youth Services System. Play S.A.F.E provides breakfast and lunch for 1,700 children ages 6-12 during the six weeks.
The Snack Pack Service Project provides these children with additional food their families may be unable to provide. By the end of the summer, more than 24,000 snack packs consisting of over 96,000 food items will have been delivered to the 1,700 children.
With such a successful first year, Rutgers Against Hunger and New Student Orientation hope to continue the partnership each summer to help as many children in New Brunswick as possible.
Rutgers Against Hunger is an organization created to conduct research, encourage activism, connect New Jersey residents to food pantries and soup kitchens, and increase awareness of hunger issues in our community. To donate and to learn more, visit rah.rutgers.edu.
---
For more information, contact Julia Crimi at 848-932-2460 or jcrimi@oldqueens.rutgers.edu