Kay Turner joined with others to develop a community memorial at Brooklyn's Green-Wood Cemetery
Rutgers alumna Kay Turner knew she needed to make a dramatic statement as COVID-19 swept through the city she loves – and continues to make its legacy felt.
"It was important to do something big and bold enough so people would understand that even now, as things are opening up, the pandemic is still going on, that the suffering from those deaths will go on for years to come," says Turner, a folklorist, performer and academic whose work over the years has focused largely on the meaning of altars, shrines and memorials.
And so was born WE REMEMBER: A Community COVID Memorial, a large-scale project featuring works of art in the form of nameplates – thousands of them – affixed to the wrought-iron gates of Brooklyn's venerable Green-Wood Cemetery, stretching as far as the eye can see.
Turner worked on the installation with Naming the Lost Memorials, the New York City collective she cofounded in May 2020 to honor and remember the staggering number of people who died from COVID-19.
Community partners also contributed. Representatives of disparate communities – the Guyana Cultural Association of New York; Mano a Mano: Mexican Culture Without Borders; Teachers & Writers Collaborative; Fort Tryon Jewish Center; Bangladesh Institute of Performing Arts and more than a dozen others – added decorated nameplates.
The artworks are on display through June 28, each celebrating the life of a loved one, friend or colleague who made a difference in someone's life and who died from the virus. The nameplates, attached with safety pins to mesh wire spanning a total of 300 feet on either side of the entrance to the cemetery, make for a breathtaking panorama, Turner says.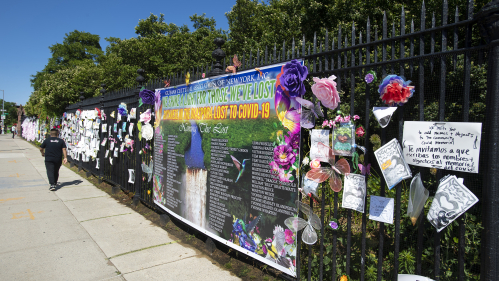 Members of the public are invited to add nameplates of their own as the exhibit continues.
Turner, who graduated with honors from Douglass College in 1971 with a bachelor's degree in English and philosophy, was one of seven women who conceived the Naming the Lost Memorials project last year and began making memorials.
As Memorial Day 2020 approached, with New York experiencing mounting pandemic death rates, the activists shared their frustration that little was being done on a national level to commemorate the dead and mourn the living, Turner says.
They began by creating a COVID memorial in each of the city's five boroughs to commemorate the lives lost. The current project, a culmination of their work, was formally dedicated on June 8 with a processional and candle-lighting ceremony.
The Green-Wood Cemetery, final resting place of such luminaries as Leonard Bernstein, Louis Comfort Tiffany, Horace Greeley and the artist Jean-Michael Basquiat, agreed to partner with the collective, providing funding for materials and underwriting some of the traditional artists who eagerly signed on.
Throughout the months, the project became increasingly personal for Turner, a Detroit native now living in Brooklyn, who felt the weight of a national need to grieve.
The virus claimed the lives of several people dear to her, including Yitzhak Levy Awami, a Yemenite dancer, and Frank DeCaro, a former president of the Fellows of the American Folklore Society.
"With 600,000 COVID-19 deaths in the United States alone, many more thousands of us have lost loved ones, neighbors, friends and coworkers to the virus," Turner says. "Their names and histories are precious to us. Mourning is far from finished, and a public place such as our memorial becomes an important site to express the grief we feel."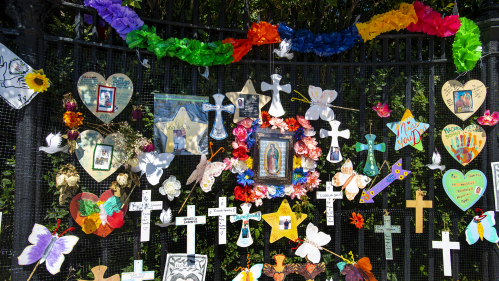 Richard J. Moylan, president of Green-Wood, noted the toll COVID-19 has taken on the diverse communities that make up the city.
"This beautiful living memorial gives us a special place to remember what [these individuals] meant to us, and how they each made the world a better place," Moylan said in a statement before the dedication.
Turner, who describes herself as both an artist and a scholar, was president of the American Folklore Society from 2015 to 2018.
It was important to do something big and bold enough so people would understand that even now, as things are opening up, the pandemic is still going on, that the suffering from those deaths will go on for years to come.

Kay Turner
After leaving Douglass – here she served as editor of Watermark, the college's literary magazine, and also was known for ritual-like performances at the annual end-of-year ceremony known as Sacred Path – she received her doctoral degree in folklore and anthropology from the University of Texas at Austin.
Her dissertation subject, "Mexican-American Women's Home Altars: The Art of Relationship," is believed to be the first serious study of home altars and what Turner terms "vernacular altars" as an art form. It also marked the beginning of Turner's career-long fascination with memorials, including those that sprang up in New York after 9/11.
Turner's 1999 book, Beautiful Necessity: The Art and Meaning of Women's Altars, explores the widespread practice of creating personal home altars; she has also written books on the pop icon Madonna, lesbian love letters and most recently a queering of Grimm's fairy tales, among other topics.
She has taught graduate courses in the Performance Studies Department at New York University since 2002.
Turner says she hopes Naming the Lost Memorial provides a pathway to healing for anyone who passes by.
"Healing begins in sharing our pain and our loss with others," she believes. "Real agency and transformation lie in grassroots, ephemeral memorials such as this one."