Rutgers Alumna, at 29, May Be the Youngest General Counsel in the NFL
Cassie Sadowitz joined the Jacksonville Jaguars as legal counsel in 2014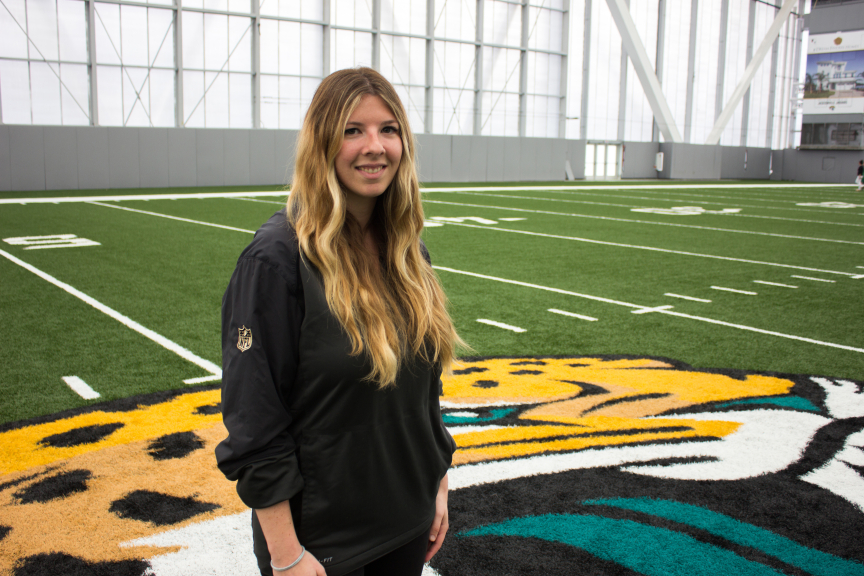 "We are a very young NFL franchise ... We very much have a start-up mentality, with a lot of younger employees who help us be innovative and disrupt ideas by using new-age technology."

 

– Cassie Sadowitz
Cassie Sadowitz has to smile when strangers at an airport, eyeing her Jacksonville Jaguars gear with its distinctive fierce mascot, mistake her for a cheerleader with the team.
It is likely the Rutgers graduate has just hammered out contract extensions for players and coaches, drafted a contract with an airline to fly Florida-based team members to away games, or reviewed the latest federal labor and employment regulations to assure the team is in compliance.
Still, Sadowitz understands the error, given her age – 29 – and the relative scarcity of women holding the title of general counsel in the storied National Football League.
She has turned that youth into an asset while attending to the legal matters that help keep a large sports franchise running.
"The fact that I am one of the youngest general counsel in the NFL is intriguing to people," says Sadowitz, who graduated from Rutgers-New Brunswick in 2009 summa cum laude with a bachelor of arts degree in journalism and history/political science.
"There's a notion that general counsel are usually middle-aged men, so typically if people find out that's my role, they're confused. And that's awesome," the Manalapan native says.
"We are a very young NFL franchise – our owner, Shahid Khan, bought the team only six years ago. We very much have a start-up mentality, with a lot of younger employees who help us be innovative and disrupt ideas by using new-age technology," Sadowitz says.
Her team exceeded expectations this year, winning its first division title since 1999 and making the playoffs for the first time since the 2007 season.
Sadowitz's first post-season experience since joining the team in November 2014 coincided with another life-transforming event: her wedding to civil engineer Danny McBride, on Feb. 10.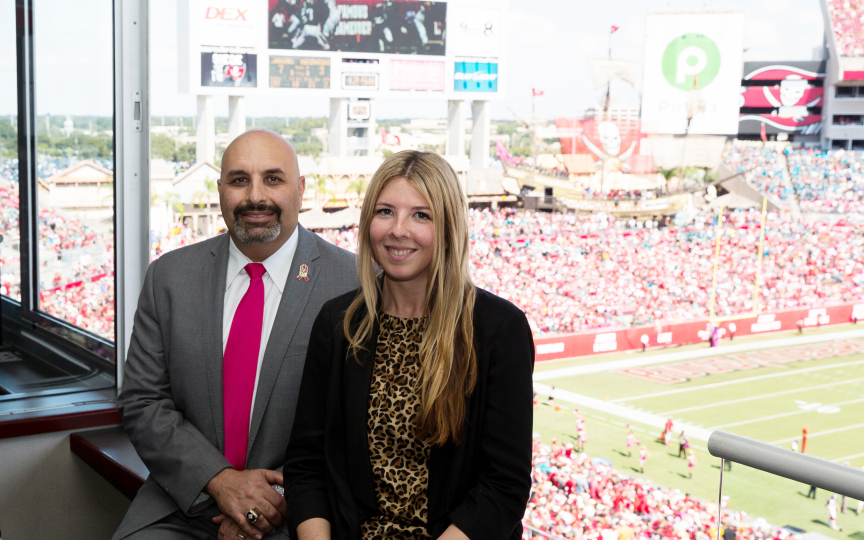 For sports fans paying attention, that was exactly six days after the Super Bowl. And yes, the timing was by design.
Sadowitz spent December and January assuring the team's EverBank Field was in tip-top shape for the playoffs, staying on top of hotel contracts and advising the front office on terms and conditions for post-season ticket sales. ]A last-minute heartbreaking loss to the New England Patriots kept the Jaguars from making it to the Super Bowl.

"As the clock was running down, I thought we could actually take it to the next level, but I tried to temper my enthusiasm," the attorney recalls.
The loss was a blow, but she tried to concentrate on the approaching wedding, as well as on the Jaguars' next season, when the job takes her to London to watch "her boys" take on this year's Super Bowl-winning Philadelphia Eagles at Wembley Stadium.
Football's expansion across the pond these past few years has been an unexpected source of delight, allowing her to connect with an emerging international fan base.
"I love watching the sport evolve on the global stage. To be able to be part of growing the game overseas has been an incredible experience," Sadowitz says.
Back home in Jacksonville, she maintains strong connections with the players, including quarterback Blake Bortles, who recently signed a three-year contract extension through the 2020 season.
Although she was not directly involved when Bortles reached out last year to the family of Sam Cali, a Rutgers wrestling team member who died in a car accident in June 2016 just before the start of his sophomore year, she was gratified by the connection to her alma mater.
Sadowitz acknowledges she took an unconventional path to her current post, including internships with CNN and Fox News as a Rutgers undergrad.
At California Western School of Law in San Diego, she had no desire to litigate, nor to join an established firm. Rather, fueled by a love for all things digital, she worked to establish the business that grew into Spysie Tech, which she co-owns and now manages with her husband.
The company drafts and negotiates transactions for web and app development, programming, search-engine optimization and intellectual property licenses, among other functions.
And yes, she realizes that law, sports and technology are vastly different enterprises, Sadowitz says. But working at the juncture where the three intersect continues to energize her.
"There's actually a lot of overlap among the disciplines. For me, as a lawyer, it's helpful to have a fresh perspective on how the law intersects with an ever-evolving area of my business."