John Forberger's advocacy work ranges from pushing the FDA on labeling to bringing the world's largest gluten-free cake to Washington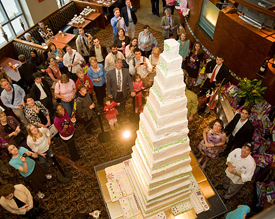 John Forberger is all about getting the message across. He's a Communications Group Account Manager at Oxford Communications in Lambertville, New Jersey. He majored in film studies while at Rutgers, which he says taught him to think "about the bigger picture at all times."
For Forberger, part of that big picture extended beyond his clients at work and into his life.
Forberger has what is diagnosed as "an extreme gluten intolerance," where ingesting gluten, a protein found in wheat, barley, and rye, triggers chronic pancreatitis. It's so severe that gluten reactions have sent Forberger to the hospital more than a dozen times.
This intolerance brought Forberger, who is also a triathlete, closer to the celiac disease community. For the 18 million Americans who suffer from celiac, gluten will trigger the person's immune system to attack itself, specifically the villi of the small intestine. Villi are how your body absorbs food, and if destroyed by a gluten-triggered response, can prevent the body from getting crucial nutrients.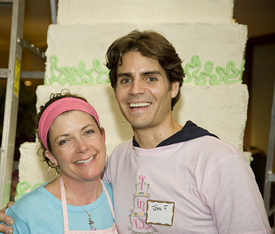 This can then lead to a host of problems: in the short term, abdominal pain, lactose intolerance,nosebleeds, hair loss, ulcers, even seizures and, in children, delayed growth and delayed puberty; in the long term, autoimmune disease, bone disorders like osteoporosis, intestinal cancer, anemia, infertility and liver disease. There is no cure.
Making gluten intolerance even more difficult to manage, it isn't easy for those with celiac or gluten sensitivity to know if the protein is in their foods. There isn't exactly a "gluten" space listed on the side of the box, and, right now, no standards for what can and cannot be labeled "gluten-free."
In 2007, the Food Allergen Labeling and Consumer Protection Act ordered the FDA to finalize standards for gluten-free labeling. FDA officials were supposed to get their recommendations back to Congress in 2008.
As of 2011, they hadn't done so.
"Although there are many trustworthy manufacturers providing delicious gluten-free options, the industry is a self-regulating one . . . anyone can slap the words 'gluten-free' on a product and charge a premium," Forberger says.
Forberger connected with Jules Shepard, an author and celiac-patient expert, on Twitter. After one phone call in which Forberger dared her to make the world's largest gluten-free cookie, they decided to form 1in133, a nonprofit that aims to push the FDA to comply with the Food Allergen Labeling and Consumer Protection Act. The group's name comes from the statistic from the Celiac Disease Foundation that 1 in every 133 people has the disease.
Forberger and Shepard connected with the American Celiac Disease Alliance and created a drive to send 5,000 letters to the FDA to standardize gluten-free labeling. They also started an online petition signed by more than 10,000 people with the same message.
And then the icing on the cake – literally (and gluten-free). In May,Forberger and Shepard  launched the Gluten Free Food Labeling Summitt in Washington DC. The event included a representative of the FDA and Congresswoman Nita Lowey, who sponsored the original Food Allergen Labeling and Consumer Protection Act, as well as the world's largest gluten-free cake, all nine layers of it.
The summit and letter writing campaign worked. In August of this year, the FDA announced that it would once again invite comments from the public on gluten-free labeling with the goal of creating a uniform and enforceable definition by next summer or fall.
"Purchasing gluten-free food for many people is a medical necessity, and until there's a cure for celiac disease, eating foods free of gluten is the only treatment," says Forberger, who graduated from Rutgers-Camden in 2002. He credits his college experience for helping him hone his organizational and communication skills."I met so many people of different backgrounds, which equipped me early on in my career to rightly communicate with anyone from anywhere.."
For more information on 1in133, visitwww.1in133.org. You can also find out how to submit comments on what should be required for a "gluten-free" label here.