NJMS students Angelica Lopez and Elizabeth Batista have so much in common, they were destined to follow similar paths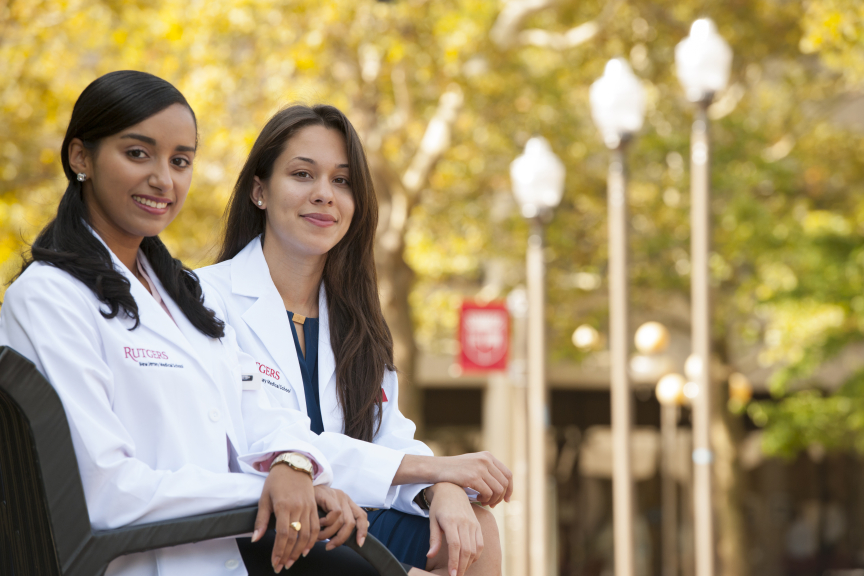 'Having each other is truly priceless because there is always someone each one of us can talk to who understands the journey we are on.'

 

– Elizabeth Batista

---
When first-year students Elizabeth Batista and Angelica Lopez moved into on-campus housing at Rutgers' New Jersey Medical School in August, it took no time for them to get used to each other.
After all, six years ago they were roommates at Barnard College, where they met through Columbia University's Dominican student club, spent time as biology lab partners, and became good friends before moving in together junior year.
And though they didn't plan to attend the same medical school – or pinky swear they'd both become primary care doctors – their tandem journey isn't surprising. "Our backgrounds and interests are so similar," says Elizabeth, "they've taken us similar places."
For starters, both grew up in New York City – Angelica in The Bronx and Elizabeth in Queens – in close-knit families with roots in the Dominican Republic.
"I was the cliché kid who knew I wanted to be a doctor from the time I was 3," Angelica says. She idolized her uncle, Plutarco Arias, a pulmonologist in the Dominican Republic, whom the family visited every year.
Elizabeth's calling to medicine was as a pre-teen. Her role model: a pediatrician who was also Dominican.  "She shared our culture and language and made me feel so comfortable," Elizabeth says. "I was inspired by her caring nature and commitment to her patients."
After graduating from Barnard in 2013, Elizabeth and Angelica spent the next years in the work force. Angelica, who majored in Spanish and Latin American cultures, worked in the endocrinology department at Columbia University Medical Center and earned a second BA in biology. Elizabeth, who majored in biological sciences, worked as a research assistant in the pediatrics department at Columbia University Medical Center. For a time, both were clinical administrative assistants at the same OB/GYN practice in Manhattan.
The two women got together every couple of months, but they didn't have much time to socialize. Each held a part-time job while pursuing graduate education – Angelica spent three years doing a post-baccalaureate program at Hunter College in New York preparing to apply to medical school, while Elizabeth earned her master's in biomedical science at Rutgers School of Graduate Studies.
When it came time to take the MCAT, they made a detailed study plan. "We met up at the library either at Columbia or at the CUNY Graduate Center every day for two months and helped each other stay on track," Angelica says. They ended up taking the MCAT on the same day, were there for each other when they received their test results, and compared notes during the application process. "We didn't apply to all the same schools, but many were the same, and we were both lucky to get a good number of interviews and acceptances," Angelica says.
They view their choice of NJMS as a fortunate coincidence. Elizabeth had met many of the professors and advisers at the medical school when she was in graduate school and felt comfortable at NJMS. "I liked the collaborative learning environment," she says. "NJMS puts a huge emphasis on diversity, which I didn't see at other schools at which I interviewed."
Though influenced by her friend's affinity for NJMS, Angelica came to her decision independently. "During the interview process, I felt very much supported by the faculty, especially by Mercedes Rivero, assistant dean of admissions, whom I sought out for advice several times," Angelica says.  "I plan to do a lot of community work, and I appreciated the strong ties that NJMS has in the community. The school was just the right fit."
Fall at NJMS has been a whirlwind of classes, exams, acclimating to a new environment and meeting new people. Being comfortable with the person you live with cuts down on the stress of adjusting to medical school. "We're both pretty neat and easygoing – and enjoy each other's company," Elizabeth says.
But they made a decision that even if they walked out of the room together – they would branch out and meet other people. Do they have separate group of friends yet?  "We're getting there," Angelica says.
It's hard to go on one's own road though when you both want to join the Latino Medical Student Association and the Primary Care Progress, an organization for students on track to become primary care physicians.
"Having each other is truly priceless," Elizabeth says. "Because there is always someone each one of us can talk to who understands the journey we are on."