From Rock-'n'-Roller to Biomedical Scientist
A 30-year-old Rutgers undergraduate excels both in class and in a medical school laboratory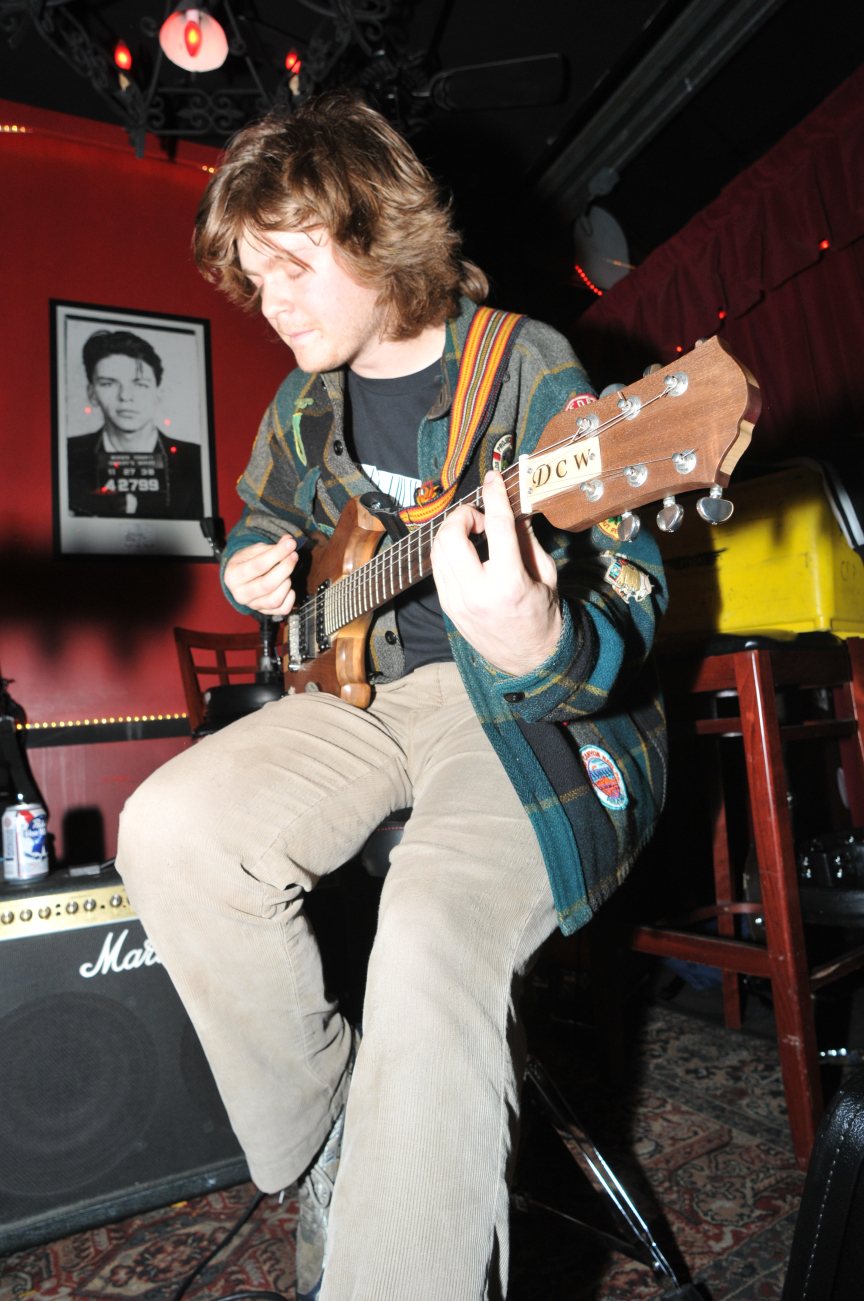 'He might have been viewed as a risk by other colleges. So it's really to Rutgers' credit for taking him in, and he certainly is proving that they were right.'

 

– Joel Freundlich
It was the stuff of rock-'n-roll dreams. Tom Stratton and his buddies from Cranford, N.J., had played in an indie-rock band since he was 13. When Tom was a Rowan University sophomore in 2004, the band – called Socratic – did a show in Los Angeles, and a record company offered them a contract that night.
He left school, played drums and guitar on tour in Asia and Australia and throughout the U.S., recorded albums, and now – 10 years later – is still earning high praise for his work, though not as a musician. Tom Stratton has become a very talented biomedical scientist conducting top-level pharmaceutical research in a lab at Rutgers New Jersey Medical School.
Stratton is doing this sophisticated work even though he still doesn't have a college degree, though at age 30 he is well on his way toward earning one as a chemistry major at Rutgers University-Newark.
Stratton returned to college last year after deciding that music as a career had played itself out. "The music industry is very difficult, but it was a no-regrets experience," he says as he sits in a small room filled with whirring equipment on the top floor of the medical school, a white lab coat protecting his regular clothes. "It was awesome and it made me who I am."
"There's a recording studio farm in Massachusetts that the Rolling Stones had built," Stratton recalls happily. "There are horses, pigs – they make breakfast for you and clean up after you. We recorded our first record there. We did our second album in Hollywood with Mark Hoppus of Blink-182. He was an idol of mine as a kid." Socratic made four albums that got wide distribution.
But as web streaming took over the music world, the band's record company folded. After self-producing and distributing its last album, the group disbanded and Stratton shifted mostly to audio mixing and other studio jobs to make his living. He considers that some of his finest and most satisfying work, but didn't see a durable career in it. He also bought, and still owns, a piece of a bar and music club in Kenilworth called 10th Street Live.
For his decision to return to college, Stratton gives great credit to his "super supportive" mother and stepfather. Mary Beth Occi is a nurse and James Occi is a biomedical researcher – and for as long as Tom can remember, conversation at home was filled with discussions of science and the healing arts. The more they talked, the more Tom recognized their passions in himself.
His first time in college, he was a chemical engineering major. While he did fine, he says, school always took a back seat to his music. Now, with his parents' guidance, his focus is firmly back on science.
"I really love the material," he says. "Especially organic chemistry. I find it the most fascinating thing I've ever seen."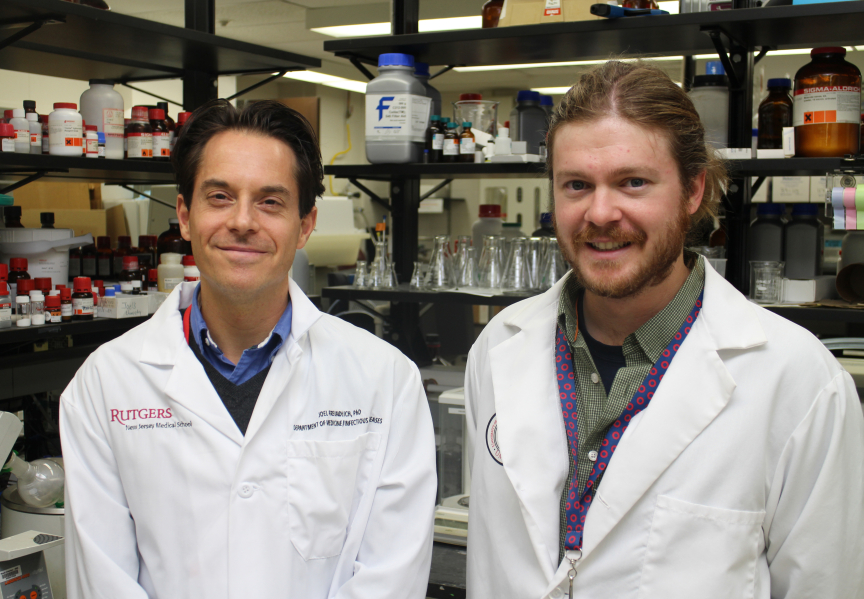 It's also through Jim Occi, who does his research at New Jersey Medical School – as well as Nancy Connell, the professor for whom Jim works – that Stratton got to meet Joel Freundlich, an associate professor whose lab at the school is working to create medications that can conquer drug-resistant tuberculosis.
Freundlich had chosen talented undergraduates to work in his labs before, but he says his introduction to Stratton "was very much serendipity. He is infinitely different from the usual undergraduate in just excellent ways," says Freundlich. "It's really the maturity, the sense of purpose, and also his intelligence and his ability to apply that. He's phenomenal. He even won a fellowship from Rutgers' Graduate School of Biomedical Sciences to fund his first summer in the lab."
Freundlich also says that Rutgers University-Newark was very astute to admit a guy who, on paper, was a rock-'n-rolling college dropout. "He might have been viewed as a risk by other colleges. So it's really to Rutgers' credit for taking him in, and he certainly is proving that they were right."
Stratton says the lessons he learned over the past 10 years have made all the difference, that he does things at 30 that he never could have done before. "Being older is such an advantage. You're adjusted. You know how to budget your time. You have priorities. "
And he says that working in this lab while taking courses is a superior way to learn. "It's neat how they happen together," he says. "I learned organic chemistry in a classroom at Rutgers University-Newark and that helps me understand the synthetic steps that these awesome chemists undertake here in the lab. Then I have real practical experience in the lab that is great when I am back in the classroom."
After he graduates from RU-Newark, whose Honors College he recently was invited to join, Stratton hopes to stay in school and either work toward becoming a physician or earn an advanced science degree – or maybe both. His proud mentor Joel Freundlich says, "Any place would be a fool not to welcome him."