From Ringling Bros. to Costume Design, Former Circus Seamstress Looks Back Two Years Later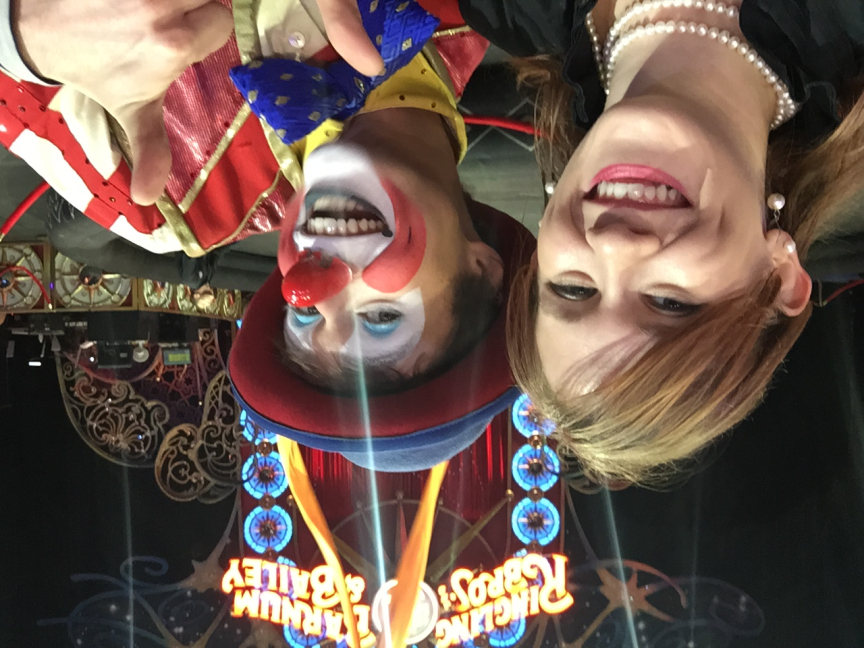 "It had always been a dream of mine to run away and join the circus while still young, unattached and physically able – though I knew it wouldn't be forever.''

 

- Kim Griffin
What do you do when "The Greatest Show on Earth" runs its course and your job experience includes lion taming, acrobatics, or performing as a ringmaster?
For Kim Griffin, former head seamstress for the Ringling Bros. and Barnum & Bailey Circus, the answer was to upgrade her skills and become a costume designer. She is earning a master of fine arts degree at Rutgers University–New Brunswick's Mason Gross School of the Arts, where she also taught the costume section of the "Theatre Practice" course.
In her circus career she dressed the lion tamer, ringmaster, and head of the horse troupe. A typical day included arriving at the arena at least an hour before the performers to prep costumes, and stay throughout the show to check performers' rips, tears, missing beads or rhinestones, or other wardrobe mishaps.
"I lived on the circus train,'' Griffin said. "It had always been a dream of mine to run away and join the circus while still young, unattached, and physically able – though I knew it wouldn't be forever.''
She hopes to apply the experience she gained maintaining elaborate costumes for the circus to a new career working on the stage and screen in New York City after she completes her degree.
"I always wanted to design and work on new shows. Doing the same circus show every day for almost a year made me yearn for change," Griffin said.
After a run of 146 years, the Ringling Bros. circus gave its final performance on May 21, 2017. The show closed a year after ending its performances with elephants.
"The end of the circus was the end of a way of life, an entire culture," Griffin said. "For many of the performers, it was the only life they knew. They had no other professional experience and many found it was difficult to acclimate to another form of work."
At Mason Gross, Griffin teaches a sewing class and designs costumes for the school's stage productions. Griffin has designed costumes for Opera Theater Rutgers for the productions of Albert Herring, Gianni Schicchi, and Il Tabarro. She also designed costumes for the production of Rutgers Theater Company's Ten Blocks on the Camino Real and the movement/dance piece performed by the actors in the Theater Department's The Other Shore.
"I think of the circus costumes a lot and how they mixed colors and patterns in unconventional ways and how I can use that in my daily designs, but also incorporating the idea of a spectacle into appropriate shows," Griffin said. "I also consider a lot of fabrics and how they will hold up to a long production run versus a weekend as I learned a lot about garment longevity while on the road. I learn something new from every experience and try to take as many lessons as possible and apply them to the next show I design."
Griffin is still close with her circus "family." One of the aerial acrobats is traveling with Cirque du Soleil. A lighting engineer is now working for TV productions in New York. One clown is now with the Big Apple Circus, and another is working as an actor in Los Angeles. The lion tamer now tames lions at Zirkus Charles Knie, a circus in Germany.
"I made lifelong friends in the circus,'' Griffin says. "It is wonderful to see so many people succeed after Ringling Bros. ended and doing wonderful and important things with their lives."