Researchers Uncover Triple Immunotherapy Combination as Potential Treatment for Pancreatic Cancer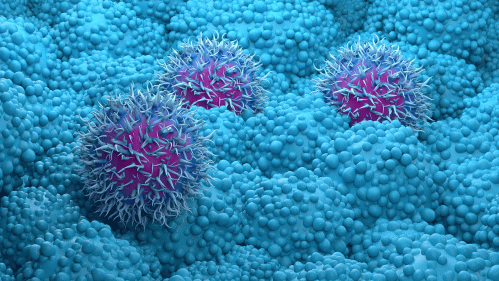 A newly identified regimen resulted in tumor regression and improved survival, according to a Rutgers study
Pancreatic ductal adenocarcinoma (PDAC), a type of pancreatic cancer, is a highly lethal malignancy with poor prognosis and limited treatment options.
Researchers from Rutgers Cancer Institute of New Jersey, the state's only National Cancer Institute-designated Comprehensive Cancer Center, together with RWJBarnabas Health, in collaboration with investigators from MD Anderson Cancer Center, discovered a novel triple immunotherapy combination.
Prateek Gulhati, a physician-scientist in the Gastrointestinal Oncology Program at Rutgers Cancer Institute and an assistant professor of medicine at Rutgers Robert Wood Johnson Medical School is the lead author of the work. He shared more about the findings published in Nature Cancer.
Why is this topic important?
PDAC is one of the leading causes of cancer death in the United States. It is resistant to immune checkpoint therapy agents which have shown remarkable results in other types of cancer. The reason for this resistance is because PDAC is not well understood. 
How was the study structured and what did you and your colleagues find?
We used comprehensive immune profiling in mouse and human pancreatic cancers to systematically identify mechanisms of immunotherapy resistance and investigate potential new therapeutic targets. We found that neutralizing several distinct immunosuppressive mechanisms in the tumor microenvironment dramatically improved antitumor responses. We identified a new immunotherapy combination regimen that resulted in tumor regression and improved survival in preclinical models of pancreatic cancer.
What are the implications of these findings?
The prevailing view has been that pancreatic cancer is resistant to immunotherapy, however this study demonstrates that it may be vulnerable to the right immunotherapy combination. These results are encouraging and we remain optimistic that pancreatic cancer, and other nonimmunogenic cancers, will ultimately be rendered vulnerable to combination immunotherapy.
What are future steps pertaining to this work?
Prospective clinical trials will be needed to substantiate the hypothesis generated from this work and evaluate this combination immunotherapy regimen for treatment of PDAC patients. The targets identified in this study are present in a significant proportion of pancreatic cancer patient specimens, which raises the possibility that such a regimen may be worth investigating in a clinical trial. We are continuing our research to identify new mechanisms of resistance to immunotherapy and uncovering new vulnerabilities to target pancreatic cancer.