Remembering Norman Reitman
One of Rutgers' oldest alumni, Reitman maintained deep ties to the university and helped scores of students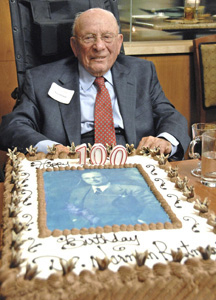 Norman Reitman, one of Rutgers' oldest alumni who helped more than 200 financially struggling premed students attend college and dedicated decades of service to the university, died Monday at Parker Home in Highland Park. He was 105.
Reitman, Class of '32, was remembered as a mentor and role model who left a mark on Rutgers that reached far deeper than the financial assistance he provided through multiple scholarship programs he established with his wife and college sweetheart, Syril. The students he helped were touched by the interest he took in their lives and by Reitman's own personal story of struggling while attending Rutgers during the Depression.
"The scholarship gave me comfort when my family was having difficulties, but the inspiration and support I felt on a more emotional level – the feeling that if he could do it, I could do it, I could work hard and help people – is going to keep me going much longer,'' said Ifrah Tariq, a senior molecular biology and biochemistry major.
Tariq was part of the last group of scholars who met with Reitman in February, a few weeks before he died. Reitman engaged the students with his sense of humor but also inspired them with the story of his own struggle at college.
When Reitman started at Rutgers in 1928, his father was a wealthy textile manufacturer. He lived in a private suite on campus and did not have to worry about money. Then his father lost everything in the Depression and Reitman needed help. He waited on tables and received scholarships that made it possible to finish college and attend medical school. That help shaped his desire to provide support for students facing similar financial challenges.
"The word community is so abstract, but he made it feel like Rutgers is a family,'' Tariq said. "Why would you love a university and its students so much so many years afterwards if it wasn't a family and didn't mean something to you.?"
In the short time she knew Reitman, Tariq said his generosity and altruism felt contagious.
"It feels really sad that I won't be able to speak to him when I get to medical school and send him pictures,'' Tariq said. "He became part of our dream as well.''
Scott Sicherer, Class of '86, an internationally recognized expert in food allergies who was the first recipient of the Dr. Norman and Syril Reitman Pre-Med Scholarship, remembered being welcomed into Reitman's home as a student and finding a warm and helpful role model.
"He was a mentor as well as someone who supported the education of individuals at Rutgers,'' said Sicherer, one of many students who kept in touch with Reitman through the years. "He wanted to know about my family and career and would give me advice. It was an honor to have been the first in a very long line of people who benefited from his passion and willingness to help.''
Reitman maintained deep ties with Rutgers in the decades after his graduation.
After attending medical school, Reitman returned to New Brunswick to marry his college sweetheart, a Douglass College alumna, and turned to his alma mater seeking work. His first job in medicine was to examine the Rutgers freshman class. Then he got work as the doctor for the football team, which paid very little.
But Reitman gradually built a distinguished cardiology practice, became chief of staff at Robert Wood Johnson University Hospital and taught at the former University of Medicine and Dentistry of New Jersey, now part of Rutgers Biomedical and Health Sciences.
Reitman's dedication to Rutgers included years of service as chair of the Board of Governors and leadership in the foundation that raised money to build The Allen and Joan Bildner Center for the Study of Jewish Life, among other activities. He and his wife created the Dr. Norman and Syril Reitman Pre-Med Scholarship, the Reitman Family Student Award, and the Norman and Syril Strauss Reitman Science Scholarship.
"He once shared that he loved the community and the college and felt he grew up at Rutgers,'' said Donna Thornton, vice president for Alumni Relations. "In many ways, however, the Rutgers community was able to grow because of him. Through his leadership on several university boards and unwavering support of student scholarships, Norman left his mark on us all and helped secure the university's bright future . . . His legacy will be Scarlet Forever."
Reitman was honored for his service to the university and inducted into the Rutgers Hall of Distinguished Alumni in 1992. He also received the Walter H. Seward Rutgers for Life Award in 2012, which recognizes alumni who maintain a lifetime connection to the university, among other accolades. Rutgers' flag in front of Old Queens will be flown at half-staff on March 8 and 9 in Reitman's honor.
"He loved Rutgers and he loved the students,'' said Muffin Lord, who worked closely with Reitman as scholarship administrator for the School of Arts and Sciences. "He was a very good soul.  The center of his being was to give back and you absorbed that when you were with him.''
– Andrea Alexander