Remembering the Apollo 11 Moon Landing
Saturday marks 50 years since Apollo 11 astronauts Neil Armstrong and Edwin "Buzz" Aldrin made history when they became the first human beings to set foot on the moon. To mark this historic milestone, we've brought together stories about Rutgers research and op-eds written by Rutgers faculty to shed light on the significance of the moment, explore what the moon landing meant for all Americans and examine the value of reviving the space program.
50 Years After Apollo 11:
It's Time to Again Become a Spacefaring Nation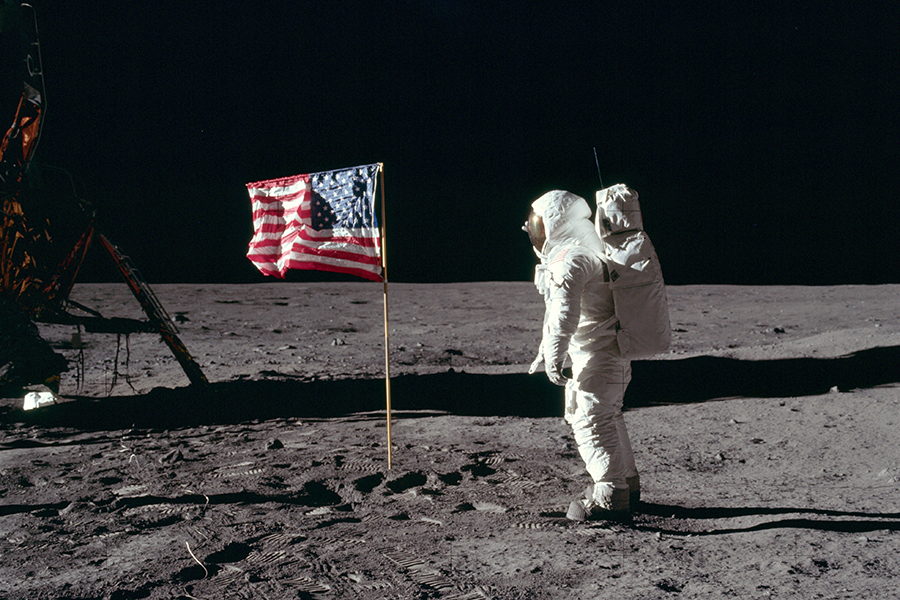 Buzz Aldrin salutes the U.S. flag on the Moon (Photo: NASA / Neil A. Armstrong - Apollo 11 Image Library)
---
By Haym Benaroya/Star-Ledger Guest Column 
In the American imagination, the Apollo 11 moon landing has morphed over the last half-century from an awe-inspiring conquest to a half-remembered, perhaps seemingly pointless, dream.
We have forgotten the very real benefits that the space race of the 1960s continues to bestow upon humanity: Reduced hunger, thanks to satellite observation of farmland. Improved health, thanks to medical devices such as lasers used in angioplasty, cardiac imaging systems, advanced pacemakers and implantable hearing aids, all initiated for the safety of astronauts in space. High-tech industries such as new materials technologies, robotics, advanced software and solar cell technologies that employ millions.
It is time to revive our heroic image of America as a nation of space explorers. The current administration's Space Policy Directive 1 – and its goal of landing astronauts on the moon as a stepping-stone to Mars – is not a hollow talking point. It sets an achievable if awesome goal that could spin off technological, economic and cultural advances that would benefit all people of Earth, and even help stop our despoiling of the environment.
Read the full op-ed by Benaroya, Distinguished Professor of mechanical and aerospace engineering at Rutgers-New Brunswick, on NJ.com.
Not Everyone Wanted a Man on the Moon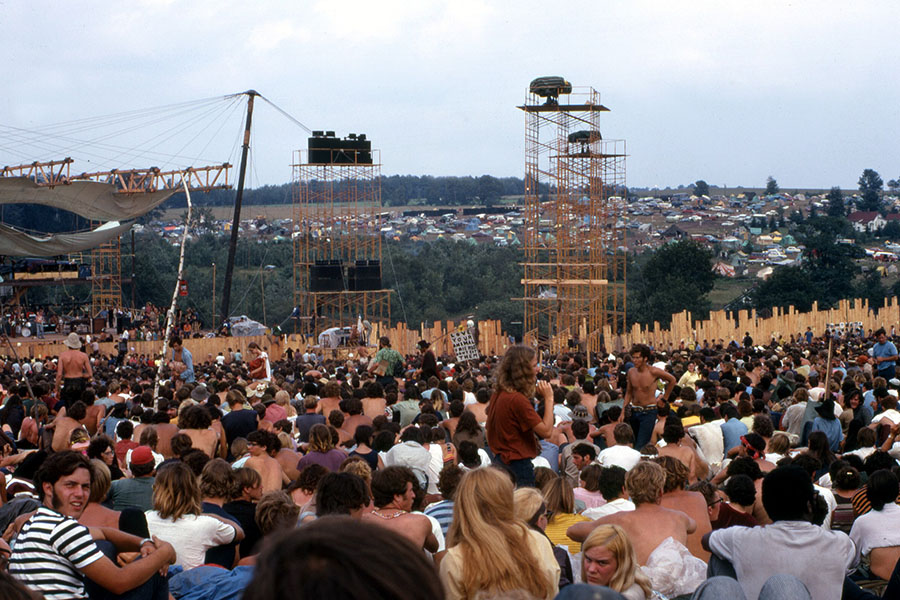 Joe Cocker performs on stage at the Woodstock Music and Art Fair, Aug. 17, 1969.
---
By Neil M. Maher/The New York Times Opinion
Fifty years ago this week, more than a million Americans drove, flew and even boated to Florida's Cape Canaveral to witness the launch of Apollo 11, which would culminate four days later on July 20, 1969, with America's victory over the Soviet Union in the race to the moon.
Less than a month later, nearly 500,000 young people caravaned, hitchhiked and walked through standstill traffic to the Woodstock music festival in upstate New York, where they danced in rain and mud to songs critical of the country, especially for its involvement in the Vietnam War.
How could these two events, which seemed worlds apart, have taken place so close together?
One answer is that Apollo 11 and Woodstock epitomized a stark cultural divide, peaking in the summer of 1969, over the state and direction of the nation. Should America have spent $20 billion to win a Cold War battle to put the first man on the moon? Or should the country instead have made that kind of financial and political commitment to tackle the host of problems that then convulsed our home planet — not only the war in Southeast Asia, but also racial discrimination, pollution and gender inequality?
Read the full op-ed by Maher, a history professor at the New Jersey Institute of Technology and Rutgers-Newark, in The New York Times.
Rutgers Electrical Engineering Alumnus Shares His Journey Into Space
Robert J. Cenker (top center), a crew member on the 1986 space shuttle Columbia, trained with Christa McAuliffe, one of the seven crew members killed in the Space Shuttle Challenger disaster. (Photo: NASA)
---
Robert J. Cenker, a Rutgers-New Brunswick electrical engineering alumnus, was a crew member on the 1986 space shuttle Columbia, where he changed the face of cable TV across the United States.
During his six-day mission, which began Jan. 12, 1986, he observed the deployment of an RCA satellite and conducted an experiment on an infrared imaging camera. In total, Cenker traveled more than 2.1 million miles in 96 Earth orbits and logged more than 146 hours in space. The mission was the final flight before the Challenger disaster, which killed seven crew members, including teacher Christa McAuliffe, who trained with him. As a result, Cenker's Columbia mission was called "the end of innocence" for the shuttle program.
In celebration of the 50th anniversary of the Apollo 11 moon landing, Cenker will join students from the New Jersey Governor's School of Engineering and Technology, TARGET and EOF (Educational Opportunity Fund) on July 19 to discuss his journey into space and offer a glimpse of what it takes to become an astronaut. He will describe how the political climate has changed since Neil Armstrong set foot on the moon in 1969 and how the country needs to band together to return to the moon – and perhaps reach Mars. 
Read the full Q&A with Cenker.
How Apollo Moon Rocks Reveal the Epic History of the Cosmos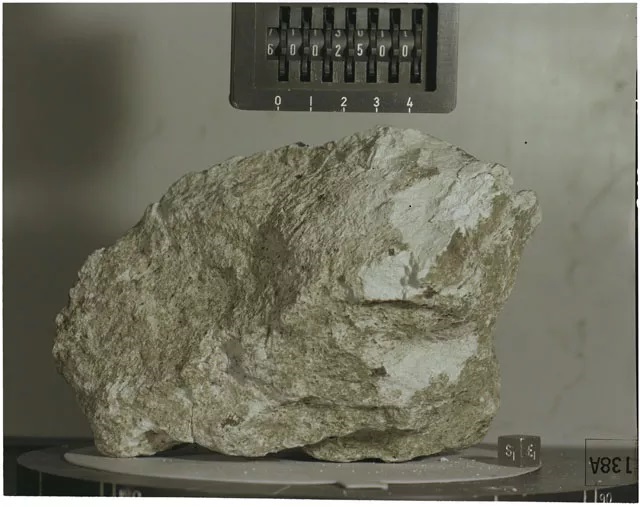 (Photo: NASA)
---
Juliane Gross, a planetary scientist in the School of Arts and Sciences at Rutgers-New Brunswick, quoted in Vox:
The moon landings — the first of which, Apollo 11, happened 50 years ago this week — were about a lot of things: beating the Soviets in the space race, the engineering puzzle of sending humans to the moon's surface, the challenge for the sake of a challenge. But they were also about geology. Over the course of the six moon landings, astronauts brought back 842 pounds of lunar rocks, pebbles and soil.
It's not an exaggeration to say those rocks changed our understanding of our solar system and rewrote its history. "Before Apollo, we really did not know how the moon formed," says Juliane Gross, a planetary scientist at Rutgers University.
To study geology is to study history. But Earth is constantly erasing its old geologic record.
"The Earth is a gigantic recycling machine," Gross says. "We have wind, we have rain, we have ice and weather, and so all the rocks weather away." The crust of our planet is dynamic; our continents float, move and change. Through the ages, rocks are recycled, remelted and reformed as continents smash into one another.
The moon, on the other hand, doesn't erase its history. Aside from asteroid impacts, Gross says, "the moon hasn't changed much since its formation." That makes it a time capsule, a ledger for the history of our solar system.
In a moon rock, "you have this tiny treasure trove in your hands," Gross says. Growing up, she had a dream of becoming an astronaut, which was eventually quashed by her susceptibility to motion sickness. Working with these rocks, she says, "that's as close as I can get to be[ing] an astronaut." But instead of exploring space, she and her colleagues are exploring time.

"The [lunar] crust is basically an archive," Gross says. "And we need to learn how to interpret and how to read that archive." One of its most important lessons is about how the Earth and moon were formed in the first place. 
Why Apollo 11 Looked So Different to Black America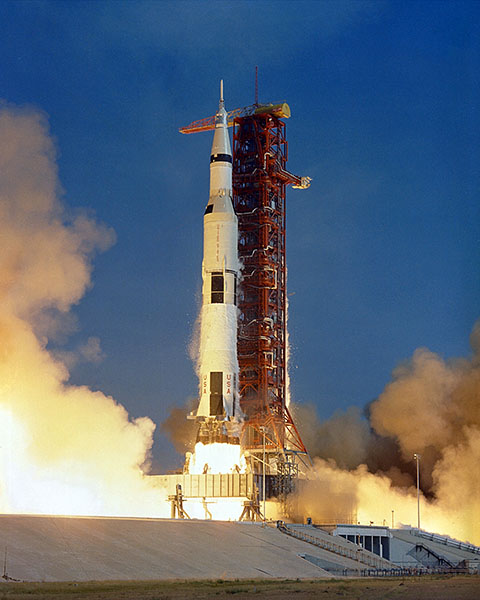 The Apollo 11 Saturn V space vehicle lifts off with astronauts Neil A. Armstrong, Michael Collins and Edwin E. Aldrin Jr.at 9:32 a.m. EDT July 16, 1969. (Photo: NASA)
---
Neil M. Maher, a history professor at the New Jersey Institute of Technology and Rutgers-Newark, quoted in The Guardian:
According to Neil Maher, an associate professor at the New Jersey Institute of Technology and Rutgers University, although NASA never stated publicly that [civil rights leader Ralph] Abernathy's protest pressured it to address the poverty of African Americans, it began taking steps to address those problems soon after.
"In 1972 the space agency created an Urban Systems Project Office at the Johnson Space Center in Houston, which retooled technologies deployed for Apollo for use instead in America's inner cities," Maher, author of Apollo in the Age of Aquarius, said via email. "Such 'spin-offs' included water filtration systems, air pollution monitoring technologies and even energy efficient heating and cooling systems from the Apollo space capsule for use instead in low-income housing projects.
"While such efforts had the best of intentions, many of these technologies unfortunately failed to dramatically improve the daily life of African Americans living in America's cities."
Read the full article in The Guardian.
What Will It Take to Live on the Moon?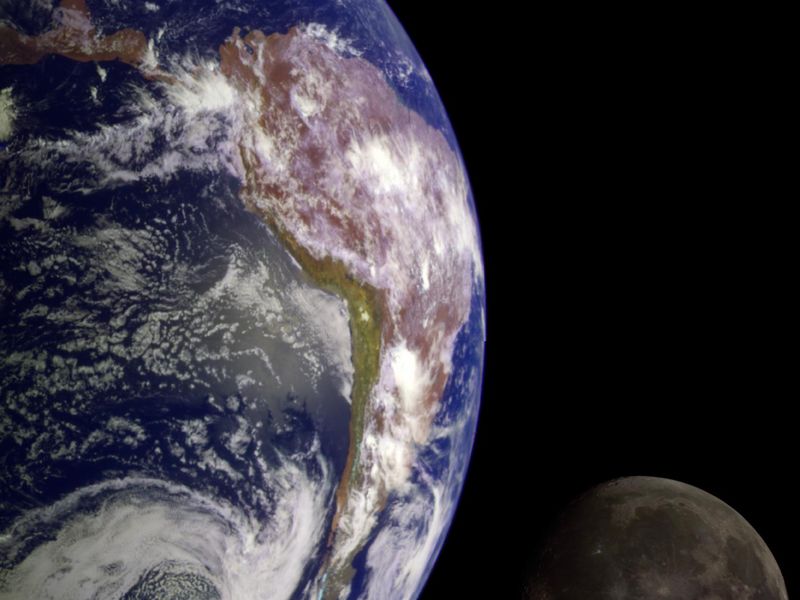 (Photo: NASA/JPL/USGS)
---
With NASA planning to revisit the lunar surface by 2024 and send multiple expeditions by 2028, Rutgers University's Haym Benaroya is optimistic that people will someday live on the moon.
Benaroya, a Distinguished Professor in the Department of Mechanical and Aerospace Engineering at Rutgers University–New Brunswick, has spent most of his career focusing on lunar settlement and space exploration issues.
Benaroya, who works in the School of Engineering and wrote Turning Dust to Gold: Building a Future on the Moon and Mars and Building Habitats on the Moon and specializes in designing structures for extreme environments, discussed the challenges of living on the moon.