Kevin Chamberlin and Adrienne Baker remind us how creativity can thrive despite the pandemic
Disney movies and their orchestral soundtracks inspired Adrienne Baker, a doctoral student at Rutgers University's Mason Gross School of the Arts, to pursue a career as a Broadway musician. And a musical adaptation of Disney/Pixar's film Ratatouille this month allowed her to reach an audience of millions.
Baker is one of two Mason Gross connections to Ratatouille: The TikTok Musical, an online streaming event starring Tituss Burgess, Wayne Brady, Adam Lambert and others that raised more than $1.9 million Jan. 1, helping actors, musicians and other show business professionals pay their rent, healthcare and other needs while jobs are scarce. All 41 Broadway theaters were shuttered in March, and ticket sales are suspended through at least the end of May.
The other Mason Gross connection is actor Kevin Chamberlin, a three-time Tony Award nominee (Addams Family,
Seussical, Dirty Blonde) and TV actor (his latest gig is Amazon Prime's The Prom, alongside Meryl Streep) who graduated from the Mason Gross BFA acting program in 1985. In the Ratatouille musical he plays Auguste Gusteau, the wise and joyful chef who encourages the play's rat protagonist to follow his dreams. Chamberlin also served as the songwriter for "Anyone Can Cook," his character's big number.
Baker, as a member of The Broadway Sinfonietta, played flute and piccolo in the musical's orchestra.
"This kind of project would never have happened without the pandemic," Chamberlin said. He noted that the closure of Broadway and other performance venues has hurt not just actors and musicians but "ushers, seamstresses, people who make the shoes. It's been brutal." It has been estimated that Broadway's shutdown could cost $565 million in lost revenue.
Ratatouille: The TikTok Musical started as a lark. A Disney fan in Hartsdale, N.Y., wrote a show-stopping song for what she imagined a musical based on the 2007 cartoon would sound like. She posted her song on TikTok and encouraged others to contribute their own songs on the video-sharing app. Chamberlin was one of those contributors; his first performance of "Anyone Can Cook" was on a video he posted to TikTok.
"We were all -- musicians, actors, designers, everyone -- looking for an outlet to perform. And TikTok really is the perfect venue. You can be so creative. Two-and-a-half months after I started on TikTok, I have 3.5 million followers," said Chamberlin, who starred for several years on the popular Disney Channel series Jessie. "That many people wouldn't see you in a year on a Broadway show."
His response to what he calls the "Ratatouille musical trend" was to write a song in 40 minutes, record and upload it. The next morning, the video had racked up 1.4 million views and attracted the attention of Broadway producer Greg Nobile, who decided to turn the TikTok trend into an online musical and benefit concert for the Actors Fund of America, which supports performers and behind-the-scenes workers in performing arts and entertainment.
For the orchestra, producers turned to The Broadway Sinfonietta, a musical collective whose members are mostly women of color. And that's where Baker came in.
"This was my second performance with the Sinfonietta. Its founder, Macy Schmidt, reached out to me. I am an arranger and composer and make my work available on social media, and she was looking for artists who can show what they are capable of," Baker said.
The four-member woodwind section performed while socially distancing in a studio. It was the first time Baker had performed with other musicians, while being physically in the same space, since the pandemic began.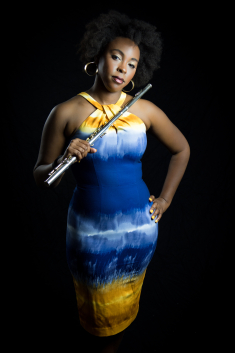 "It brought back to me how magical that really is," she said. "One of the great things about the arts is the ability to non-verbally communicate, to move together and do cues together, have musical conversations in the moment. Patricia Billings, who played saxophone and clarinet in the musical, said it was like being at the first day of school again."
Playing in a Disney-inspired musical brought its own joy, Baker said. "My family is a Disney family. My sister and I grew up watching the Silly Symphony cartoons (animated musical shorts produced by Walt Disney from 1929 to 1939). Thanks to Fantasia, The Little Mermaid and all those Disney princess movies, my dream was to play Disney-inspired music in an orchestra."
Chamberlin singled out the Ratatouille orchestra for praise and offered this thought for performing artists and art students who are worried about their job prospects during the pandemic:
"Now is the time to be creative because your art has to push through even during a pandemic. There are so many possibilities with just that little black mirror in your hand, from web series to YouTube," he said. "Creating a video is so much cheaper than when we were growing up -- you had to have lighting, develop film, hire an editor. Today, there are so many other ways than being onstage."