For alumna Mariam Merced, the death of a colleague and fellow Rutgers graduate 20 years ago in a domestic violence incident was a call to action. 
Merced had just spent time with her colleague during a community health fair, where she came to translate, just four days before the former Rutgers student activist was killed by her husband.
Merced channeled her grief to launch the New Brunswick Domestic Violence Awareness Coalition and an annual march and rally to commemorate her colleague and call attention to the issue.
"We could have just sat down and cried, but – we decided to do something with this pain. We decided to create the first domestic violence awareness coalition in the city to do awareness and education, especially in the Latino community where there's a lot of misconceptions and cultural differences that can contribute to domestic violence," said Merced.
According to Esperanza United, about 1 in 3 Latinas (34.4 percent) will experience interpersonal partner violence (IPV) during her lifetime, 1 in 12 Latinas (8.6 percent) has experienced IPV in the previous 12 months and among college-aged Latina women, 31 percent reported experiencing IPV since enrollment.
A recent weekend marked the 20th year for the march and rally, which took place indoors at the Arts Institute of Middlesex County due to rain. The theme this year was "20 years of working together for a community without violence." The event, held every October to mark Domestic Violence Awareness Month, drew over 250 attendees from around the community.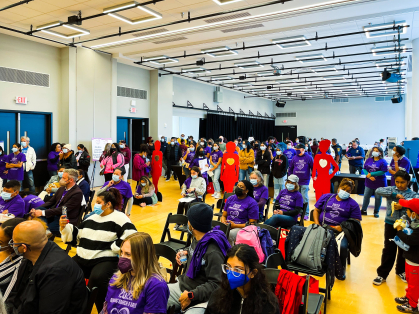 The room where the rally was hosted featured wooden silhouettes telling the stories of victims, puppets depicting women in wedding gowns (where abuse can often begin) and signs in English and Spanish with phrasing around rights, community and anti-violence.
For Merced, the event brings together her work as director of the Robert Wood Johnson University Hospital (RWJUH) Community Health Promotions Program and Social Impact and Community Investment Lead with her desire to support survivors of domestic violence, as well as being a way to memorialize her colleague.
Merced, a graduate from the School of Management and Labor Studies, came to Rutgers after being recruited from the University of Puerto Rico by a labor studies professor after a labor strike at the university in the 1980s. She originally wanted to pursue a career in union organizing. However, a job working as a night security guard at a senior building while earning her master's degree in labor studies led to an unexpected career change.
She accepted a job at the medical school as an outreach worker after an opening for a Spanish speaker came up. That connection led to her current role, where she has served for over 30 years.
"Our goal is to improve access to preventive/primary care and education for the vulnerable communities that we serve and execute that through aggressive community outreach, programming and the creation of community partnerships like the New Brunswick Domestic Violence Awareness Coalition," Merced says.
"I've always felt that I have a higher calling and that my role has been to integrate the resources the hospital has into the fabric of the community. We need to be highly visible as a core organization within the city in order to build trust and allow relationships to build between the two," she said.
The hospital, which is one of the major sponsors of the event, helps to bring in stakeholders in the community and provide resources, including counseling and educational seminars for victims and their families.
Performances during the weekend's event included the Holy Family Parish Mexican Folkloric Dance Group, filled with children of the community, and a song sung by Patrice Jamieson, as well as a welcome from Reverend Ramón Orostizaga from Suydam Street Reformed Church.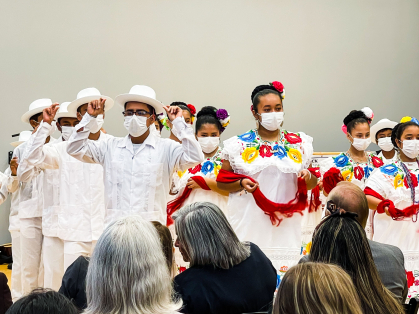 Mayor James Cahill and Councilwoman Rebecca Escobar provided a greeting on behalf of the city of New Brunswick, with Cahill stating, "this program has helped to ensure that domestic violence will continue to have no place in the City of New Brunswick."
Among the participants was the Omega chapter of the Omega Phi Alpha National Service sorority, Lambda Theta Alpha, the Center for Latino Arts and Culture student volunteers, as well as a keynote speech given by Simone Snyder from the Center for Research on Ending Violence at the School of Social Work at Rutgers-New Brunswick, who called for eliminating all forms of injustice and violence.
"If you stand with me here today to eliminate domestic violence, you must stand with me tomorrow to eliminate racial injustice, you must stand with me a week from now to fight for reproductive freedom and you must also stand with me a month from now to fight alongside our LGBTQ+ comrades," Snyder said. "And you must also stand with me in recognizing that we can no longer approach domestic violence as a single-issue struggle, or an issue that impacts just cis women. We must work together to uproot systems of oppression that prevent us, all of us, from living lives free from violence."
When reflecting on the impact of the program, Merced says, "as community leaders, we have to be that voice sometimes for the ones that cannot defend themselves and are not at the table. That's what moves me every day to do this kind of work."