Rahshida Atkins Works Toward Alleviating Depression in Disadvantaged Mothers
'Teaching is rewarding because I see education having a significant impact on students' lives. For some of them, it's their only way out of poverty or to change their lives. I'm happy to be a part of that.'

 
Rahshida Atkins remembers the hardships her mother endured while successfully raising five children in Newark and Rahway. But hers is not the only mother Rahshida Atkins watched overcome socioeconomic challenges while singlehandedly bringing up her family.
"My family's experiences inspired me to want to develop knowledge to continue to help other families who endure extreme stressors while facing difficult life challenges that can potentially lead to mental health illnesses," said Atkins, who studies the relationship between depression and physical activity in disadvantaged mothers.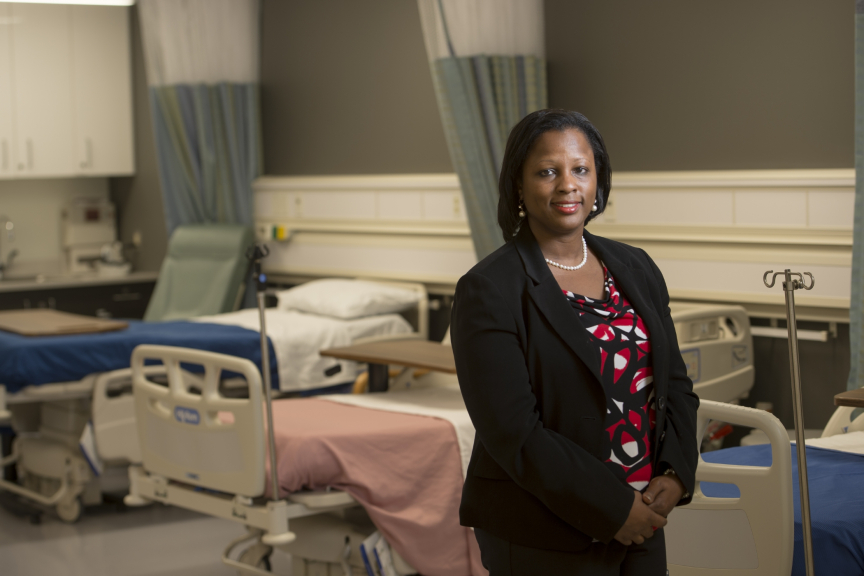 The nursing scholar, who received her bachelor's, master's and doctoral degrees from Rutgers University, returned to her alma mater Sept. 1 as an assistant professor with Rutgers-Camden's School of Nursing.
"I came back to Rutgers because I want to make a significant impact with underserved communities in the Camden area," said Atkins. "I want to be at a university that would support those goals."
Education always has been a priority for Atkins, who sought out every opportunity available to her, including a biomedical high school internship offered through the former University of Medicine and Dentistry of New Jersey.
"My mom always encouraged us to get good grades and strive for academic excellence, and said that education was the way out," she said.
Atkins went on to become her high school's valedictorian, earn scholarships and research assistantships to fund her undergraduate and graduate studies, respectively, the Robert Wood Johnson Foundation New Jersey Nursing Initiative supported her doctoral pursuit.
"My only plan was to get my BSN and get a stable job at a hospital or clinical facility and stay there for the rest of my life," she said. "I never saw academia as a long-term career that would blossom into what it is today."
Building on her dissertation research that focused on depression in Black single mothers, Atkins expanded her focus during her postdoctoral fellowship with the University of Pennsylvania School of Nursing and now at Rutgers to explore the relationship between depression and physical activity with the goal of identifying and preventing depression in socioeconomically disadvantaged mothers of all ethnicities.
"I'm trying to break the cycle of depression being passed down," she said. Extreme stress created by poverty, job insecurity, perceiving racism, lack of social support and unstable relationships, low educational attainment and lack of access to health care, she said, all take a significant toll on the mental health of mothers in this demographic. "If we can help moms identify and manage their depressive symptoms, they are better able to parent their children and remain productive members of society."
One strategy to prevent depression, said Atkins, is exercise. "Even small increases in physical activity can reduce depressive symptoms," she said.  "So my goal is to get disadvantaged women, who are at risk for depression, physically active."
That's the message she will bring to upcoming focus groups she will host in Camden.The participants of those groups will become the foundation of Atkins' new Rutgers research: Identifying and preventing depression by examining the relationship between depressive symptoms and physical activity in disadvantaged mothers. She will also explore molecular mechanisms that contribute to depression risk to enhance early identification.
To recruit mothers for the focus groups, Atkins already is making her presence in the community known – visiting women's shelters, youth community centers, and federally qualified primary health care centers and forging partnerships with these community hubs.
When she is not pursuing her research, Atkins focuses on teaching future nurses how to properly assess patients in her "Wellness and Health Assessment"or "Health Promotion" courses. She feels a kinship to many of her students, who, like her, pushed themselves to overcome obstacles. 
"Teaching is rewarding because I see education having a significant impact on students' lives," she said. "For some of them, it's their only way out of poverty or to change their lives. I'm happy to be a part of that."  
---
Read more Faculty Voices.
For media inquiries, contact Lisa Intrabartola at 848-932-0554 or lintrabartola@ucm.rutgers.edu.