Pumpkin Habanero Pepper Plant Debuts at Rutgers Day
The pumpkin habanero is the first new variety released from Rutgers exotic pepper breeding program formed to create a niche for New Jersey growers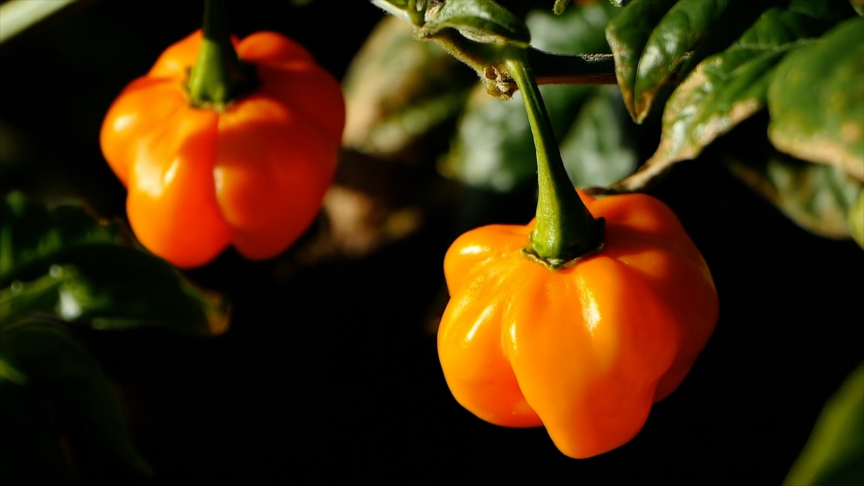 A new pumpkin habanero pepper developed at Rutgers, which has more heat than a bell pepper but less of a kick than a typical habanero, is about to hit the market.
The pumpkin habanero is the first new variety released through Rutgers exotic pepper breeding program, which was formed to create a niche for New Jersey agriculture that would appeal to the state's growing ethnic communities. The plants and seeds will be available for sale for the first time during Rutgers Day on April 29.
The bright tangerine color, smooth skin and unique pumpkin shape make the new pepper stand out. The capsaicin level is high enough to pack some bite, but does not overwhelm the crisp taste.
"It is not too sharp, but it is sweet and crunchy,'' said Albert Ayeni, a professor in the Department of Plant Biology in the School of Environmental and Biological Sciences, who oversees the exotic pepper research. "If you want to start developing a taste for spice, this is the pepper we would recommend.''
The project to develop new pepper varieties began about eight years ago with a survey of New Jersey's ethnic markets that targeted the growing Indian, Latino and Chinese populations. Researchers set out to develop a pepper that would have broad appeal and thrive in the Garden State as a boost to New Jersey's economy, said Jim Simon, a plant biologist and member of the pepper breeding team.
The survey revealed that a taste for poblano, chili and habanero peppers crossed ethnic boundaries, which signaled built-in market demand for new peppers and pepper-based products, Simon said.
"This has a good taste and has broad appeal beyond ethnic markets with its unique visual appeal, and pumpkin appearance and color. It's for people who want a little bit of a bite but don't feel like they want smoke coming out of their ears,'' Simon said.
Researchers say the pumpkin habanero was an accidental discovery. They didn't set out to develop a pumpkin-shaped pepper, but were trying to breed a variety that would be disease resistant, have a unique taste and appearance with high nutritional content. The pumpkin habanero is high in antioxidants, calcium, magnesium and beta-carotene. It was developed through traditional breeding methods by crossing varieties of Mexican and African habaneros over a six year period, Ayeni said.
---
Related stories:
---
The versatility of the pumpkin habanero also makes it an appealing addition to the marketplace. It can be used in the same ways as other pepper varieties, cooked in sauces, served on a salad or chopped up and sautéed in olive oil with garlic, white wine and butterfly shrimp, according to Simon.
"It is a fun pepper to grow in your backyard or on your patio,'' Simon said. "It works in pots, it works in the ground, it works in your house. It is not just for commercial farmers.''
He said it's suited for growing throughout the Mid-Atlantic region and provides fruit in the late summer and early fall, when it will blend into the color palate of the season.
Pumpkin habanero peppers will be available at the Rutgers Gardens Farmers Market and New Brunswick Community Farmers Market from August to October. The peppers may be available in limited quantities at other farmers markets around the state and will be more widely available next year.
"The visual appeal is pretty stunning. It resembles a pumpkin quite a bit,'' said plant biologist Tom Orton, who provided his expertise in genetics as part of the exotic pepper breeding project. "It will mature in the fall when people are thinking about pumpkins and look good along with gourds and fall squashes and will be an excellent item for farm stands.''
---
Find out where you can buy the new pumpkin habanero pepper plant this spring here.
For media inquiries contact Andrea Alexander at andrea.alexander@rutgers.edu or 848-932-0556.