Prudential Financial Dedicates Careers Lounge at Rutgers
Over the last three years, the company has hired 80 Rutgers students as full-time professionals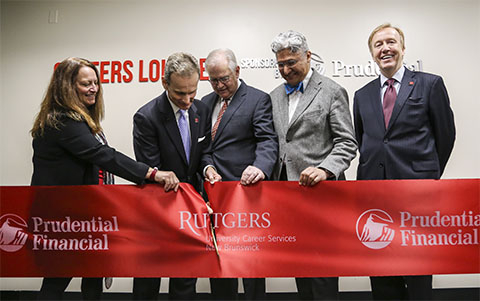 "Rutgers is an important pipeline for talent. We have over 1,000 talented Rutgers alumni at Prudential."

 

– Robert Falzon, executive vice president and CFO, Prudential Financial
Prudential has made a significant investment in helping Rutgers University students prepare for their future. The Global 500 company, headquartered in Newark, N.J., recently sponsored the revitalization of the careers lounge on Rutgers-New Brunswick's Busch campus.
The Prudential Careers Lounge – so named by University Career Services to recognize the company – is primarily used as a student preparation area for thousands of on-campus interviews and career advising appointments the department offers year-round.
The lounge, located in the Busch Student Center, is designed as a comfortable space for student-employer interactions to take place and is equipped with a technology station for students to print their résumés. 
Prudential Financial is a longtime recruiting partner, working with University Career Services (UCS) to identify and hire Rutgers students. Over the last three years, the organization has hired 80 Rutgers students as full-time professionals and 150 Rutgers interns – and 20 percent of Prudential's 2018 recruiting class came from the university.
"Rutgers is an important pipeline for talent," said Robert Falzon, Prudential's executive vice president and CFO and a Rutgers alumnus. "We have over 1,000 talented Rutgers alumni at Prudential."
"When I look at this facility and think about what it does to prepare students for entering the workplace, I love the fact that Prudential has its name on the wall," Falzon said. "We want to make sure that students who come here see Prudential."
Samantha Raineri, a senior environmental and business economics major in the School of Environmental and Biological Sciences, found her opportunity last fall with Prudential through the UCS on-campus interview program.
"I went on many different interviews and eventually I received a call back for an interview with the business support team," said Raineri. "When I sat down to talk with a Prudential representative, it just felt right. I received an offer. Starting in July, I will be in a two-and-a-half-year rotation program, with each assignment spanning about nine months. I am really excited to start."
Since 2014, Prudential Financial has contributed $65,000 to UCS for student career activities. Last fall they committed to giving $100,000 over the next four years.
"Prudential's funding of our career development programming for students is significant, but so is their partnership on programming," said Janet Jones, University Career Services director of employer relations.
Each fall for the past seven years, Prudential has hosted the PRU-RU Connection, a networking and community engagement event that includes Prudential employees, alumni employed by the company and students interested in working there.
Prudential's employees volunteer on campus to assist students through networking events, mock-interviews and résumé clinics. Prudential holds an annual CASE challenge – in which students develop solutions to business- or education-related case studies – and Prudential employees also guest lecture on campus.
Corporate sponsorships, like Prudential's, allow University Career Services to offer students mentoring and career readiness preparation. Such programs include student-alumni networking, career education and field trips to employer locations to learn about the organization and the positions available.
"Prudential is very committed to recruiting Rutgers students – their model of converting a large percentage of their interns to full-time positions is an excellent strategy," said Jones. "The company understands the importance of investing in the career development of our students because they are hiring so many of them. They want to send a message – in a very visual way –  to ambitious students who come into our office, that Prudential is interested in recruiting the best at Rutgers."