Promoting Healthy Eating to Urban Kids With Help From Coqui the Chef
Rutgers public health expert Christopher Ackerman teams up with a frog puppet to improve nutrition education in the South Bronx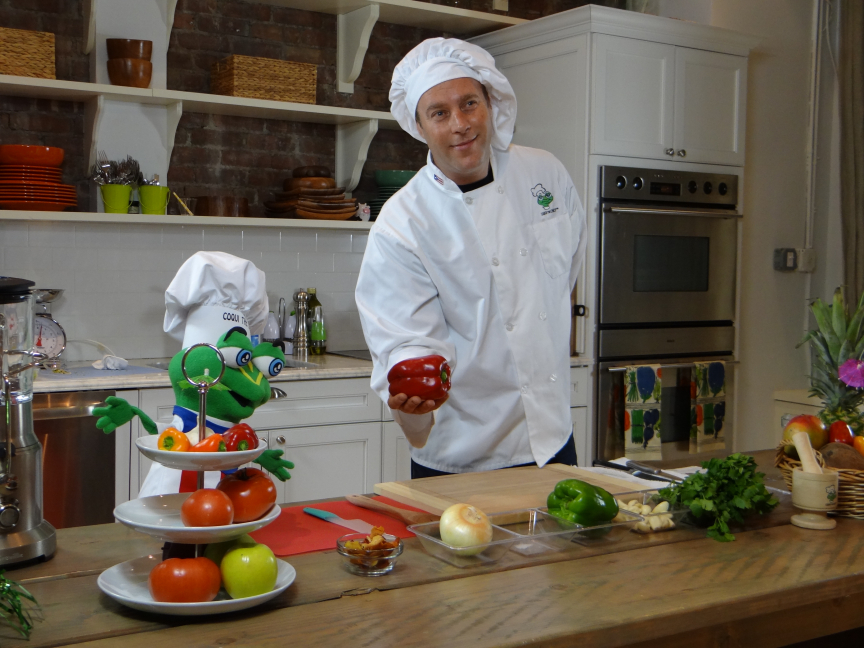 "Eating healthy and affordably can seem an impossibility to many city residents. ... We want to teach children while they are young that they can cook simple, nutritious meals."

 

–Christopher Ackerman
Wearing chef's whites, Christopher Ackerman lines up fresh peppers, onions, garlic, herbs and spices on the counter in front of a classroom of children in the South Bronx. At his side is a 2-foot-tall, bubble-eyed frog hand puppet – a coqui, a species native to Puerto Rico – who engages the mostly Hispanic audience on how they can use these ingredients to prepare healthy dishes for their families to enjoy.
Ackerman, a research associate at the Center for Tobacco Studies at Rutgers School of Public Health and an amateur chef, is one of the instructors at "Coqui the Chef," a nonprofit educational program founded by South Bronx native Tania Lopez. Coqui the Chef teaches urban children how to cook nutritious recipes from inexpensive ingredients found in their neighborhood stores.
Coqui the Chef is an oasis in what the U.S. Department of Agriculture calls one of the largest urban food deserts – a low-income community with little or no access to inexpensive, healthy food – in the nation.
"Eating healthy and affordably can seem an impossibility to many city residents. With supermarkets a rarity in urban centers, residents often think that nutritious meals are out of their reach and rely on high-fat fast food or packaged convenience store selections instead," Ackerman said. "We want to teach children while they are young that they can cook simple, nutritious meals."
Ackerman learned to cook from some of New York's top chefs while working in restaurants to make ends meet in his former career as a hip-hop producer and saxophonist. He began collaborating with Lopez, a health educator and amateur puppeteer who was seeking a chef to pair with her puppet character, in 2011.
Ackerman had been seeking to make a meaningful impact through his work. His partnership with the Coqui the Chef program inspired him to switch careers and pursue a master's degree from Rutgers School of Public Health, where he graduated in 2015. All the while, he integrated what he learned about community health initiatives into Coqui the Chef.
"We take great pride in helping youth learn vital cooking skills that will be essential later in life," said Lopez. "Chris's expertise in food and health education has helped Coqui the Chef grow."
The target age for the program is 8 to 10, although the audience can range from preschoolers to high school students. During the sessions, offered once a week for four weeks, the students wear aprons, chef hats and plastic gloves and use serrated plastic knives to learn food safety and recipes. For the final session, Lopez's son, Miguel, appears alongside Ackerman in a 6-foot-tall Coqui the Chef mascot costume to the delight of the class.  
Ackerman and Lopez buy ingredients for each lesson from stores within walking distance from the children's homes to ensure that recipes will be easy to make and within the family's budget. "Our recipes involve raw preparation of fresh fruits and vegetables to make dishes like salsa, salad, snacks and smoothies that children can recreate at home without using a stove," he said.
Of all the recipes, Ackerman – and Coqui the Chef – most look forward to teaching the students about how to make guacamole. "Many of these children have never seen fresh produce like an avocado," Ackerman said. "We teach them how to open it, remove the pit and mash it with a pilón. They see how eating healthy can be easy and so much fun."