Project L/EARN Preps Students for Grad School, Careers as Health Researchers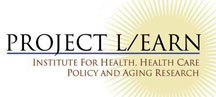 For most collegians working part time to finance their schooling, their jobs have little or nothing to do with future education or career aspirations. Rutgers and the Robert Wood Johnson Foundation (RWJF,
www.rwjf.org
) now offer an alternative: a demanding, 10-week summer research training program in New Brunswick that illuminates a path to graduate school and a potential career as health researchers.
Since 1991, Project L/EARN (http://www.ihhcpar.rutgers.edu/projectlearn/) has enabled sophomores and juniors from populations that have been underrepresented in health careers to explore graduate training and career opportunities in the fields of health, mental health and health policy research. "Many students from these backgrounds don't know much about graduate school – how to prepare for the GREs, the application process or what career options might lie ahead when they complete graduate education," said Program Director Diane "Deedee" Davis. "Project L/EARN is designated as one of Rutgers' Graduate Education Preparation Programs."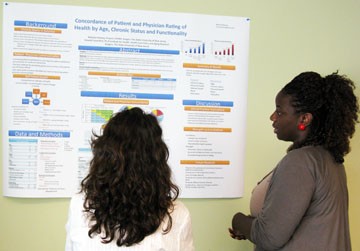 RWJF began funding the project in 2008 with a six-year, $2.95 million grant,succeeding more than a decade of funding by the National Institute of Mental Health. RWJF support has facilitated project innovation and expansion, Davis said. First-generation college students, racial/ethnic minority students and those from economically disadvantaged families from Rutgers and elsewhere now can apply for the coveted slots that cover the cost of summer room, board and tuition, and carry a $3,800 stipend. Rutgers students receive an additional stipend during the academic year if they continue research with their faculty mentors.
The new grant also has enabled the active recruitment of nursing students and nursing faculty mentors, and the development of materials for replication at other universities.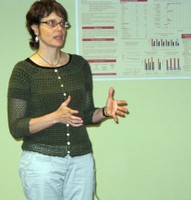 The project – whose name embodies its "Learn While You Earn" philosophy – is an intensive mix of lectures, computer lab work, reading and statistics homework, mentoring and networking, and includes a trip to a professional conference. Instructors – Project L/EARN alumni and faculty, including professor and Faculty Director Jane Miller – provide training in research methods, study design, statistics and research paper writing. As their major assignment, students develop a research question, perform a literature review, conduct data analysis and complete a 30-page research paper under the guidance of a faculty mentor.
They also present their results at a poster session and oral presentation to faculty mentors and research staff from such Rutgers units as the Institute for Health, Health Care Policy and Aging Research (home to Project L/EARN, www.ihhcpar.rutgers.edu); the schools of Social Work (www.socialwork.rutgers.edu) and Arts and Sciences (www.sas.rutgers.edu), the College of Nursing (www.nursing.rutgers.edu), as well as from UMDNJ (www.umdnj.edu).
Befitting the 2009 interns' varied backgrounds and interests, their research projects were quite diverse, Miller said. They included studies of fathers' parenting style in single-father and two-parent homes in relation to sexual activity; family relationship factors associated with the likelihood of end-of-life planning; the association of Marianismo beliefs and acculturation on physical activity and obesity risk among Latinas; nurse staffing levels and family satisfaction in nursing homes; and the influence of knowledge and perceptions on sexual behavior in adolescents, among others. See http://www.ihhcpar.rutgers.edu/projectlearn/interns.asp for more information on the 2009 interns and their research projects.