In his second address to the University Senate, President Jonathan Holloway identified his top priorities for the coming year: the future of work at Rutgers, university labor relations, a commitment to carbon neutrality and progress toward greater faculty diversity.
During his first year at Rutgers, an unusual time due to the pandemic, Holloway said he did all the things a first-year president does to get to know his university – but like most of the Rutgers community, he did it remotely. He recounted his administration's efforts to begin to bring more strategic clarity to Rutgers through administrative changes, and to build relationships with faculty, students, staff, alumni, and local, state and federal leaders.
"Other achievements – like fossil fuel divestment and increased transparency on student fees – are important on their own, but taken together underscore the importance of listening authentically to members of the university community and pursuing collaborative engagement wherever possible," Holloway said in his virtual address to the senate.
The president said that same approach will guide his administration this year on all issues, including applying what we learned during the pandemic about how work gets done at the university.
"We need to chart a course, drawing lessons from the pandemic, to ensure that we take an equitable approach to employment and professional opportunities," Holloway said. "To this end, the Future of Work Task Force that is being led by Senior Vice President Vivian Fernández will deal not just with where and how we work but will set a course for how well we work, and how well we help our employees thrive in a beloved community."
The task force will provide recommendations to the president in May 2022.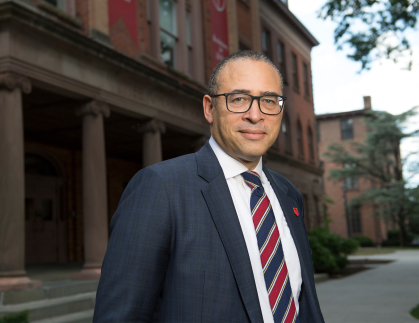 Holloway also praised Rutgers employees for keeping the university functioning effectively to preserve the university's financial footing in a deeply destabilized time. Noting that there is no other university in the country where organized labor plays such a central role in the direction and operation of the university, Holloway announced the formation of an Office of University Labor Relations within the Office of the President to increase efficiency and communication between the administration and unions. The office will be led by David Cohen, associate vice president and deputy general counsel, who will become vice president for university labor relations and special counsel for labor affairs.
"It is my expectation that creating clearer lines of responsibility on the administration's side will minimize moments of contention and increase the opportunity for the administration and the unions to work together to build the best possible Rutgers for all," Holloway said.
The president also announced that the administration will release the first set of recommendations in an ongoing faculty pay equity process that would provide over $1 million in salary adjustments for supported requests.
Holloway also alluded to other significant upcoming developments at Rutgers, including the release of the final report and recommendations of the President's Task Force on Carbon Neutrality and Climate Resilience, established two years ago by former President Robert Barchi. During his address, Holloway revealed a key decision: "I accept the task force's call for a carbon-neutral Rutgers by 2040, a year ahead of our 275th anniversary." He said an Office of Climate Action will be established to implement plans for carbon neutrality and sustainability efforts.
"I believe that great universities are measured by their actions, not just their words, and I am convinced that this is an instance where Rutgers' actions are going to elevate our standing among our peers in higher education," Holloway said. "Watching this new office develop will be exciting, and I pledge my administration's cooperation as reasonable and ambitious plans for a greener version of Rutgers begin to emerge."
The president noted that as part of the university's commitment to diversity, equity and inclusion, the Presidential Faculty Diversity Initiative commits up to $45 million over the next five years to hiring diverse faculty.
"Being honest about our challenges with regard to building a diverse faculty is also important. Some of those challenges reflect larger phenomena over which we have little control, but there clearly is more that we can do internally to get our house in order," Holloway said. "The disparities between the diversity of our student body and the faculty are very real, and are most acute in New Brunswick."
The president also addressed athletics spending for the Division I program in New Brunswick, which accounts for 2.8% of the university budget, and expressed his support for the student-athletes, administrators and coaches, along with the benefits Rutgers derives from being in the Big Ten.
"Admittedly, athletics is expensive, but I have looked closely at athletics' budget, its operating practices, and its financial models. Despite recent assertions, the athletics budget has been managed appropriately and has had consistently clean audits," Holloway said.
Noting he has said the current athletics financial situation is not sustainable, he said it reflects wider issues in college sports and he committed to finding a way "to restore a measure of balance into the equation."
"At Rutgers, we will continue to fight to be competitive, we will not take shortcuts, and we will build a financial model that more accurately captures and explains the capital investment in athletics, the financial aid practices, and the revenue streams associated with certain sports," Holloway said. "In the meantime, I will cheer on our athletes, joining tens of thousands of fans at SHI Stadium, thousands of fans at Yurcak Field and other venues around campus, and soon enough, thousands more at the RAC."
Holloway told the Senate his first 15 months at Rutgers have reaffirmed his admiration for its role in transforming the lives of its students, surrounding communities, state, nation and world. But he stressed there is more work to do together to become "the very best version of ourselves."
"I have little doubt that this reset will be disruptive at some level, but I am certain that the result of this new approach will accrue to Rutgers' great advantage in the years ahead," Holloway said.
Read President Holloway's full address.