President Barchi's Graduating Student Driver Reflects on Bond With His VIP Passenger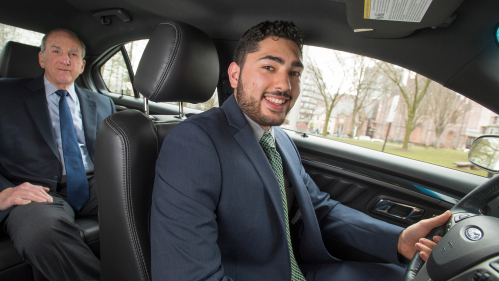 Graduating psychology major Carlos Storck-Martinez brought his curiosity about human behavior and motivation to the unique student job he held at Rutgers for the past two years: he has been the primary personal driver of Rutgers president Robert Barchi. The prestigious position, to which Storck-Martinez had aspired, was the culmination of a series of jobs that he held driving top Rutgers executives.
"While driving an executive the first few times, I would introduce myself to put them at ease and to let them see that I was trustworthy, consistent and level-headed," says the ebullient Storck-Martinez. "And then the conversations would go where they would go. The best part of the job has been talking to the executives who run the university. I love picking people's minds; that's why I was a psych major. I wonder sometimes if this will be the coolest job I will ever have."
Job perks aside, it has been a position fraught with responsibility. The top priority has been providing a comfortable environment for the president to conduct university business while taking phone calls, working the computer and making decisions on Rutgers' behalf. "It's his office on the road," says Storck-Martinez. "My job has been to be the smoothest driver I can be. I am there to accommodate any situation."
Storck-Martinez has driven the president in a Ford Taurus SHO all over the tristate area, with frequent forays from New Brunswick into New York City to attend meetings. A virtual human GPS device, Storck-Martinez has had to know the region cold, one of the many requirements of the job. He was trained through the Executive Driving Program, which is part of the Community Service Officer Program. Community Service Officers (CSOs) are full-time students who are uniformed, unarmed paid employees of the Rutgers University Police Department, and they are given a variety of security responsibilities on and off campus. Executive drivers, chosen from the ranks of CSOs, undergo rigorous training, driving tests and interviews with top administrators, a process that winnows candidates to only the best.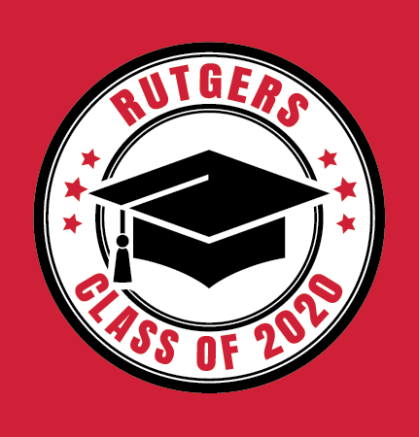 "Very few people are selected to drive the chancellors and the president of Rutgers," says Lt. Jonathan Carter, the administrator of the program. "It has been best practice to assign drivers to certain VIPs to allow them to build a rapport. I'm exceptionally pleased that President Barchi took such a liking to Carlos."
When Storck-Martinez got the job to drive the president, his first assignment, scheduled at the last minute, was to bring President Barchi from Rutgers-New Brunswick to his townhouse in Philadelphia – at rush hour, no less. "Driving him all that way was a little nerve-wracking, but he was so understanding and is such a great person," says Storck-Martinez. "That's the thing about being a driver: you have to be perfect all the time because you have a very important person in your car. I was always looking in the rearview mirror, always keeping my eyes back there."
Over the many months of sharing car rides, Storck-Martinez and the president have enjoyed talking about a range of topics, from their mutual love of classical music to a fascination with research protocols to fun facts like polar bears live only in the Arctic. And from his post in the back seat, the president has imparted much wisdom, too, whether advising Storck-Martinez to skip motorcycles and stick with sports cars or explaining how to navigate the worlds of academia and business. 
Over the years, I've been fortunate to get to know many of our incredible student workers. I admire their dedication and work ethic. Carlos is one of the best – smart, engaging and wise beyond his years. I look forward to seeing him succeed in his career as he has done at Rutgers.

President Robert Barchi
Storck-Martinez, a top student who relished the student research opportunities at Rutgers, intends to pursue his Ph.D. in psychology. His fiancée, Grace Koguc, is also graduating from the university with a degree in psychology, and she wants to establish a business career in health care. The two have been inseparable since they began dating in eighth grade while growing up in New Jersey, first in Somers Point and later in Egg Harbor Township. 
Despite the COVID-19 crisis, they are still planning to get married in December at Disney World, a frequent destination for them. (Last summer, Storck-Martinez proposed to her in front of London's Buckingham Palace in honor of another favorite Disney character of hers, Peter Pan.) Storck-Martinez, the third eldest of seven siblings, sees his young life of hard work and unfailing optimism as an example for young people to make the best of life's opportunities. "I put a lot of pressure on myself to fulfill this," he says.
"Over the years, I've been fortunate to get to know many of our incredible student workers," says President Barchi, who is stepping down from his position at the end of the academic year. "I admire their dedication and work ethic. Carlos is one of the best – smart, engaging and wise beyond his years. I look forward to seeing him succeed in his career as he has done at Rutgers."