Rutgers staff- and alumna-led Self Made chronicles nine successful women entrepreneurs in Newark's South and West Wards
Images that reflect the economic influence and diversity of Black urban women entrepreneurs is virtually nonexistent in mainstream media.  
To be sure, there are well-known business icons including Oprah Winfrey, Shonda Rhimes, and Gayle King, but Black women small business owners have grown in number exponentially over the past three decades, while their images and stories remain in obscurity.
That doesn't sit right with a Rutgers staffer and her team of Rutgers alumnae, whose photojournalism project, Self Made, showcases nine Black women business owners in Newark as they are: proud, strong and successful.
These Self Made women were photographed and interviewed between July 2019 and January 2020 by studio portrait photographer and Rutgers-Newark alumna Tinnetta Bell and journalist Carrie Stetler, communications manager for Rutgers School of Dental Medicine. All own businesses – from a hair salon to a hot dog truck – in the often-stigmatized South and West Wards of Newark, where pre-COVID economic recovery had been slower than other parts of the city.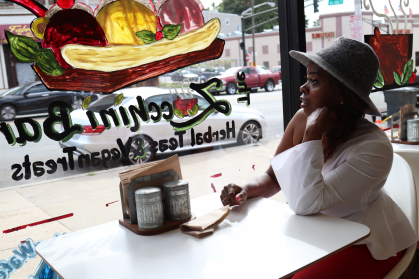 "With Self Made, we wanted to emphasize that there is a wide range of women throughout Newark and the nation who are builders and creators," said Stetler, editor-in-chief of the project's print publication and website. "They are shaped and supported by their communities and strengthen them through the work they do. But they also offer products and services that give them joy to create, that are expressions of their values and passions, and that are available to everyone.''
The project's concept originated with Stetler, who before joining Rutgers in 2011 spent 20 years as a reporter with The Star-Ledger and later was managing editor of HYCIDE magazine and senior editor of NewarkBound magazine. Stories of Newark's resurgence, she said, tend to focus on tech-savvy start-ups or corporate expansions in the business district – companies with slick websites and buzz-word-filled mission statements. Small, working-class business owners in the South and West Wards, whose products are mostly made by and for local residents, typically don't make headlines. And yet for more than a decade, Black women have been the fastest growing group of entrepreneurs in the U.S., whose ranks increased 164 percent from 2007 to 2018, according to the 2019 State of Women-Owned Business Report by American Express.
"They have a long history of being innovative, making something out of nothing and nurturing relationships," says Lyneir Richardson, a professor at Rutgers Business School and executive director of The Center for Urban Entrepreneurship and Economic Development (CUEED), who was interviewed for Self Made. "They often see value in something before anyone else does, and they are persistent about realizing that value." 
Stetler sees Self Made's print product and website, which launched in August, as a time capsule permanently documenting these women and their successful moment in history. In addition to Stetler, who served as lead writer, and Bell, the project was created by a diverse group of Rutgers-Newark alumnae – Sindy Snchz, graphic designer, Tara Oliver, associate editor and Amy Kiger-Williams, copy editor – with $3,000 in funding from Newark Arts and a Third Space grant of $10,000 from Express Newark, an arts incubator housed at Rutgers-Newark. All profits from magazine sales will be donated to She WINS Inc., a Newark non-profit that cultivates the potential of middle–school- and high school-aged girls, with a focus on those who have been affected by violence and trauma.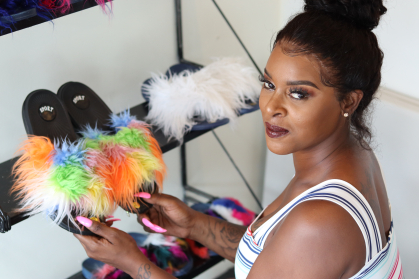 "I thought, 'Who are the faces and the voices and the stories behind this trend?'" she said. "It's hard to be a business owner, but then to be a woman, a Black woman, and in a place where non-residents may not always want to invest or visit, you have more strikes against you. Yet they do it anyway. I think that's admirable."
Central to Self Made are in-depth profiles on four entrepreneurs: Shidae Jones of CB Dreamhouse Boutique creates colorful custom-made faux-fur footwear and ensembles; Shikhana Muhammad of Salaam Ice Cream Parlor provides a sweet respite in a neighborhood short on simple pleasures; Rashena Burroughs of Blueberry Café Juicebar & Vegan Grille attracts health conscious diners from the neighborhood and beyond; and Charmaine Vann Seagraves of Charmaine Has Hands 4 Hair has styled the hair of thousands of local women. Five additional South and West Ward business owners are featured in shorter profiles: Laura Bonas Palmer of Akwaaba Gallery; Shante Lewis, the HotDog Lady; Malika Muhammad of Fashionable Fashions; Isabel Merced of Party Events; and Philomina Kissi of Dresswell Boutique. According to an update on the website, each business featured in Self Made is finding ways to pull through the pandemic.
Stetler brought on Bell, herself a Black business owner whose work has appeared in VIBE, Ebony, Essence and Black Enterprise magazines, to ensure each woman was photographed in way that celebrates them and their accomplishments. The result are elegant, vibrant, joyful images that capture Bell's subjects on and off the job.
"These women to me are like heroes of their communities. Black women doing positive things as an entity of one. We are out here making it happen for ourselves," said Bell, who also works as a full-time social worker. "Little girls and young women need to see this. These images are here to positively influence and inspire. There needs to be light and it should shine brightly."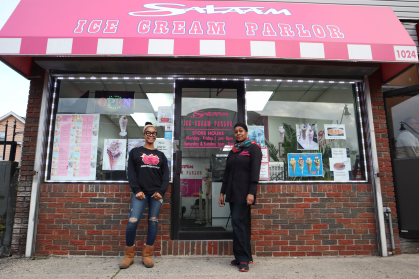 Thanks to their deep local ties, the women of Self Made have the ability to help enrich and sustain a community in a way that big box retail and franchises run by out-of-towners may not, said Jeffrey Robinson, academic director of CUEED at Rutgers Business School, who was quoted in Self Made.

"The CVS or Walgreens isn't hosting the block party or supporting the Girl Scouts; it's the small business owners that do these things," Robinson said. "That matters for development, for community stability. Someone who opens a chain store, they open and they close it. They're not tied to the community in the same way." 
This explains why Self Made aligns with Express Newark's mission to highlight Newark's history and cultural assets through a focus on arts, entrepreneurship and social justice, said director Frances Bartkowski, a professor with Rutgers-Newark School of Arts and Sciences.

"Women entrepreneurs have been feeding the soul of the city in all sorts of ways before, during and will continue to do so after COVID," said Bartkowski. "That Third Space grant was among the more innovative I've seen since I came along."