Pep Band Director Behind Fan's Ear-Shattering Chants Shatters Glass Ceiling
Julia Baumanis is the first woman named assistant director of Rutgers University bands
Julia Baumanis, assistant director of bands and director of pep bands, made history at Rutgers alongside the men's basketball team as she filled Jersey Mike's Arena with thunderous chants of R! U! during the last home game of the season.
The Scarlet Knights are shattering expectations as the team competes for its second consecutive NCAA tournament bid. Baumanis broke a different kind of record in July when she became the first woman band director at Rutgers University in the school's 255-year history. According to her research on programs accredited by the National Association of Schools of Music, male collegiate band conductors outnumber their female counterparts 9 to 1. 
Of that narrow margin, women conductors of color are even more rare, said Baumanis, which makes the first-generation Filipina-American a "bit of a unicorn" among her peers.
But from her platform at Mason Gross School of the Arts – where she serves as the assistant director of the Marching Scarlet Knights, conducts concert ensembles and teaches courses in instrumental music – Baumanis is actively working to level the playing field for those who follow her. 
"The goal is for there to be so many of us that we no longer talk about firsts anymore. A lot of it is because we don't have someone who looks like us in this role. If there is no rubric for what is going to be on the test, then how do we study for it?" said Baumanis, who also mentors women students and conductors and serves as design editor of The Woman Conductor for Women Band Directors International.
With odds like that against her, one might assume Baumanis was a musical prodigy who began charting her career path in middle school. Instead, she said her entry into conducting and music education was more serendipitous.
"My story has been a series of happy accidents that have led to incredible communities of support," she said. "I don't think you can do this just by being good. You have to have people to champion you."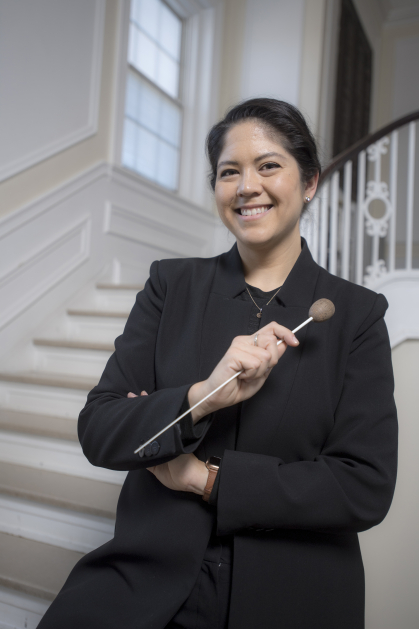 Born in Frankfurt, Germany, to enlisted U.S. Army parents, Baumanis and her two sisters lived at multiple bases until their father retired, moving the family to Florida to be near relatives after a car accident claimed the lives of several aunts and her paternal grandmother. Then 12, Baumanis inherited her first instrument: her grandmother's piano.
 
"When we'd visit her apartment, I was the only grandkid that cared about the piano. I would go up to it sneakily, bang on it fast, run away and blame it on my sisters," said Baumanis, who decided to get lessons once the piano belonged to her. "I was infatuated with the cool sounds it would make."
Not long after, she also picked up the clarinet and joined middle school band. After being uprooted multiple times during her childhood, Baumanis found her niche with the band crowd. She continued in her high school marching band, where she excelled. However, after earning a full music scholarship to Florida State University (FSU), Baumanis was not convinced she was cut out for the life of a band director.
"I thought I was going to be poor. I thought I needed to make money and embrace all these opportunities my immigrant parents built for us," she said of her father, who emigrated as a baby from Latvia, and mother who grew up in poverty in the Philippines. "After coming to the U.S. as a teen, my mother enlisted in the military so she could get an education, and now has a doctorate and teaches international business management and poverty alleviation. This is the woman that raised me." 
But her college band director, Patrick Dunnigan, wouldn't take no for an answer. When he learned during her sophomore year that Baumanis hadn't yet declared herself a music education major, he flat out told her: "You need to change that right away."
She did. And hasn't looked back since – working first as a high school band director, returning to FSU for her graduate and doctoral degrees, and moving up to the collegiate band director level at the University of Central Missouri before landing at Rutgers during the pandemic. 
"I accepted on a Zoom call without seeing the place first. I could feel there was support and resources here," said Baumanis, who lives in New Brunswick with her husband, Adam Klein, a part-time lecturer in sound engineering who runs the Mason Gross Recording Studio. Director of university bands, Todd Nichols, said securing an energetic leader like Baumanis was a big win for Mason Gross and Rutgers. 
"What she brings to Rutgers above all else is an infectious spirit and tremendous passion to help our students grow," said Nichols. "I love the combination of her background, being closely rooted in music education along with being on the cutting edge in the world of ensembles and directing large musical performances."
  
That breadth of experience means Baumanis is just as comfortable conducting the Rutgers Symphony Band on classical arrangements in the formal Nicholas Music Center as she is leading the Pep Band through chants and modern medleys from the raucous student section at Jersey Mike's Arena – with Rutgers men's basketball up by only one point on Senior Day.
"I've had some experience doing this before, but it was no way at all like Jersey Mike's Arena. It's so boisterous and loud," she said, noting all those "R-U!" chants and heckles originate with the Pep Band. "It is the most fun thing to do because I see how incredibly spirited my students are. They will do this whether we are the worst team in the world or the best team in the world."