Paving the Way for Veterans to Succeed
A national program introduced at Rutgers-Newark offers camaraderie and support to help vets navigate college life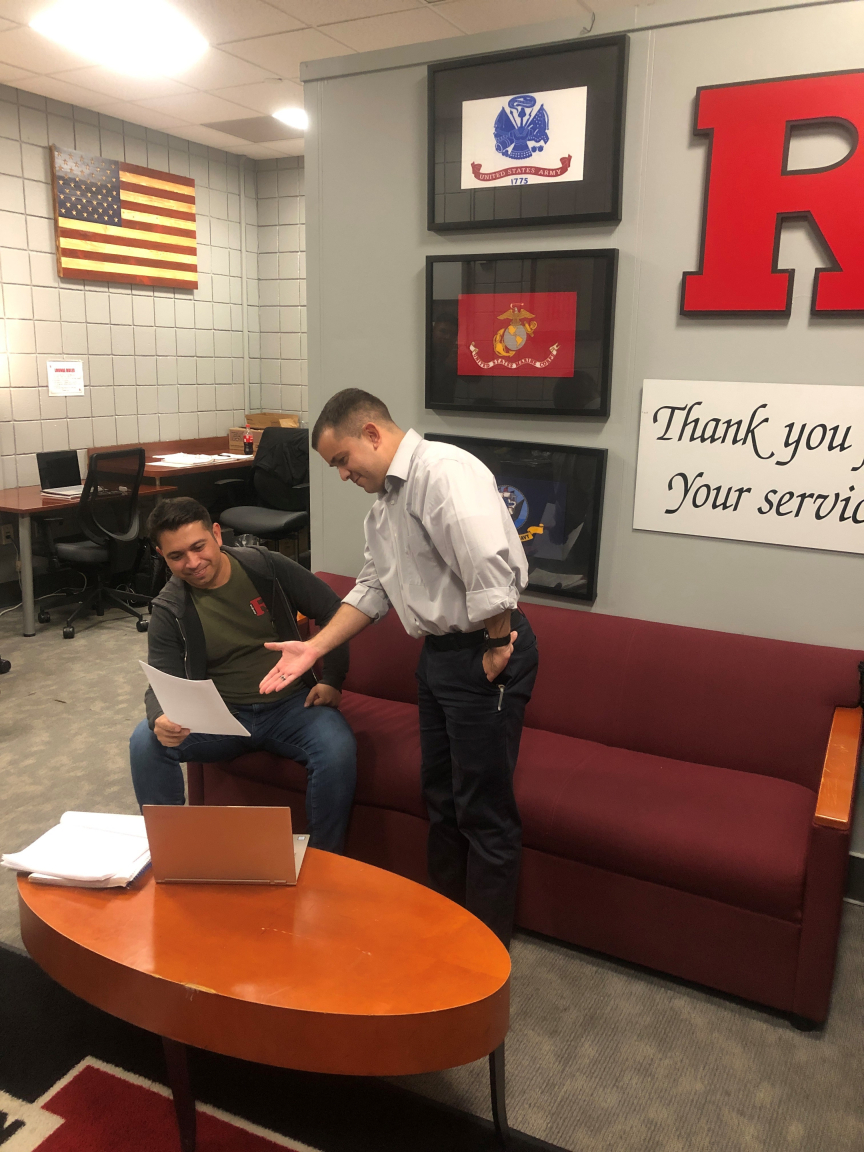 Augusto Cumpa's college benefits under the GI Bill were running out when he transferred to Rutgers University-Newark last fall as a junior accounting major. "I didn't know what to do," said Cumpa, a 36-year-old former U.S. Army sergeant who served 4 1/2 years on active duty and three as a reservist.
The solution came from a fellow veteran at Rutgers-Newark volunteering with the newly created Peer Advisors for Veteran Education (PAVE) program. With help from his peer advisor, Cumpa completed the required paperwork to extend his GI Bill benefits by 15 months. "It was such a relief," he said.
A year later, Cumpa is now a peer advisor for PAVE, which helped 60 veterans during its inaugural year and has 48 advisees signed up this semester. "I was given help and now I want to help others, because I've been in their shoes," Cumpa said.
"There's a sense of wanting to pay it forward," said Paul Lazaro, assistant director of the Office of Veterans Affairs at Rutgers-Newark. About 400 of Rutgers-Newark's 13,500 students are veterans or military personnel, he said. They've served in a wide variety of branches, and are pursuing an array of areas of study, including business, arts and science and public affairs. "We have a nice cross-section of the student population," Lazaro said.
First introduced at the University of Michigan in 2012, PAVE operates at 46 colleges across the country, said PAVE program manager Tim Nellett at the University of Michigan.
Rutgers-Newark and Rutgers-New Brunswick are the only campuses in New Jersey offering the program. New Brunswick PAVE, which launched in 2016, serves 80-100 incoming student veterans every semester. (The publication Military Times ranked Rutgers University #13 in best colleges for veterans for 2020.) 
Through PAVE, veterans who enroll as freshmen or transfer to Rutgers-Newark are connected with veteran sophomores, juniors and seniors. PAVE advisors help newcomers learn the ropes and find solutions to challenges, and they offer camaraderie and support. Advisees learn to maximize their GI Bill benefits, develop strong study habits, access campus resources, and apply for internships and job positions, Lazaro said.
"There is tremendous camaraderie in the military, and the veteran programs at Rutgers-Newark extend that to the campus.'' – Carolina Martinez
The program tries to match incoming veterans with advisors in the same military branch or pursuing the same major, Lazaro said. Ranging in age from 18 to 40, veteran students at Rutgers-Newark are often older than other incoming students. Some, like Cumpa, are married and have families. Cumpa and his wife, Rosario, have a 4-year-old son, Gael, and live in West New York.
"There's a lot to balancing their personal responsibilities with class requirements," said Lazaro, who was a student veteran, twice deployed on active duty while in college. Lazaro medically retired as a sergeant in the New Jersey Army National Guard after 16 years of service.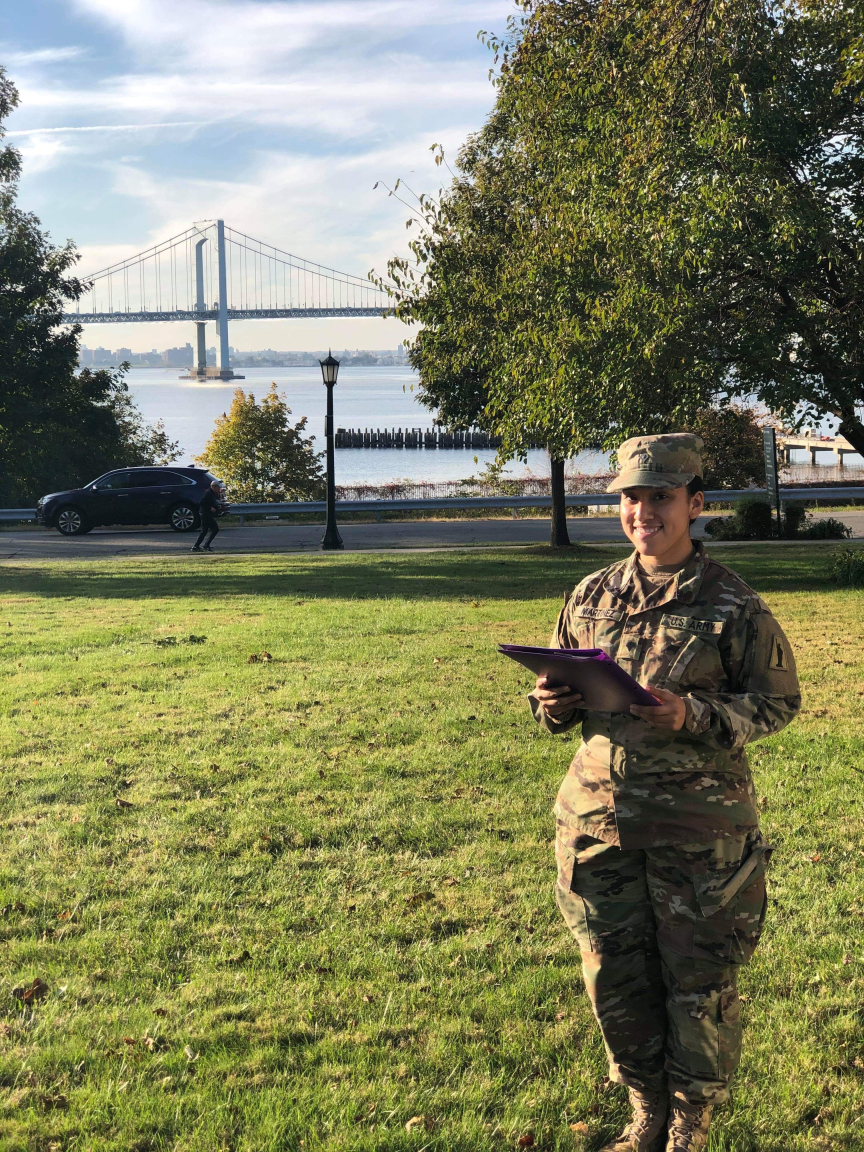 Carolina Martinez, a junior at Rutgers-Newark and specialist in the U.S. Army Reserve, volunteered as a PAVE advisor last year. She's now co-leader of the program, overseeing five peer advisors and planning events for advisors and advisees to interact.
"For veterans, transitioning to civilian life on campus can be a bit overwhelming," said Martinez, who is majoring in social work with a minor in law.
While in ROTC during high school, Martinez opted to head straight to Rutgers-Newark after graduation. "But I felt I was missing something," said Martinez, who enlisted in the U.S. Army in 2016 after her first semester. She spent three months in basic training and another three learning military paralegal work before returning to Rutgers-Newark.
"The military structure and culture gave me that something I was missing," the 21-year-old said.
"There is tremendous camaraderie in the military, and the veteran programs at Rutgers-Newark extend that to the campus," she said.
Martinez's participation in PAVE has solidified her career plans. The Passaic County resident intends to enroll in the master of social work program in Newark offered through Rutgers-New Brunswick and then work with the U.S. Department of Veterans Affairs to create policies that close the gap in services for military personnel transitioning to civilian life.
"Being involved with PAVE has provided me with more than I could have imagined," she said.
The PAVE program serves as an extension of the university's Office of Veterans Affairs, Lazaro said. "It helps get students new to Rutgers-Newark the support they need," he noted.
Rutgers-Newark is primarily a commuter school, so often mentoring takes place through texts, emails and phone calls. For the fall of 2018, program reports show 289 outreaches to advisees and 25 interactions between advisors and advisees. By spring, outreaches were up 67 percent, and 43 advisees had made contact with advisors – 30 of those in-person, Lazaro said.
The PAVE program "creates the beautiful cycle of helping," Martinez said.