Paul Robeson: All-Around Excellence
In spring 1918, Paul Robeson, a junior at Rutgers, was beyond distraught. His beloved "Pop," William Robeson, was dying. Paul had a big oratorical competition coming up, one for which he'd won the top prize two years running. But how could he consider attending? His father, a 73-year-old church pastor who had trained Paul in oratory since he was a boy, decided the matter. You compete, he told his son, no matter what.
On May 20, three days after William died, Paul delivered "Loyalty and the American Negro," a speech about African-American participation in war, and once again earned first place. He repeated that feat his senior year, capping a first-rate oratorical stint at Rutgers, where, aside from being a football star, he distinguished himself in various other ways, including persevering in the face of bigotry.
Robeson was inducted into the Cap and Skull honor society, which recognized all-around excellence. (Photo: Special Collections and University Archives)
---
"There was an awareness of the pain of what it meant to be a black man in American society while simultaneously realizing what he had to do to succeed," says Edward Ramsamy, associate professor in and chair of the Department of Africana Studies at Rutgers University-New Brunswick. "You always see that tension in Robeson."
In 1915, when he enrolled as a first-year student, Rutgers was 149 years old and had fewer than 500 students. Only two African-American students had attended the university, so, at age 17, Robeson "would have felt lonely, but he also might have felt like a trailblazer," says Wayne Glasker, an associate professor who specializes in African-American and 20th-century U.S. history at Rutgers University-Camden.
In academics and extracurricular activities he certainly behaved that way. Having been tutored in the classics by his father – a former slave who had earned two master's degrees – Robeson excelled at most of his courses and tutored classmates in Latin and Greek. He was inducted into Phi Beta Kappa during his junior year and Cap and Skull honor society his senior year as one of four students chosen for all-around excellence.
The same sonorous bass-baritone that gave Robeson an oratorical upper hand also drew the attention of the glee club, which, for at least some on-campus performances, sought his accompaniment. But he was unable to officially join the club, because, while on tour, it often performed in segregated venues and, at home, hosted whites-only social events.
In fact, "Robey," though popular among classmates, was dogged by Jim Crow at every turn. He wasn't given a roommate until sophomore year, when another African-American student was admitted, because there was no integrated housing. He also wasn't permitted to join a fraternity; attend social events with the literary society Philoclean, of which he was a member; or stay in the same accommodations as the football team.
But Robeson did have an outlet—a group of African-American friends with whom he socialized off-campus, in cities like Philadelphia and New York, where he was already gaining a reputation. During the spring semester of his junior year, he was one of two featured "Men of the Month" in The Crisis, a magazine published by the NAACP and edited by W.E.B. DuBois.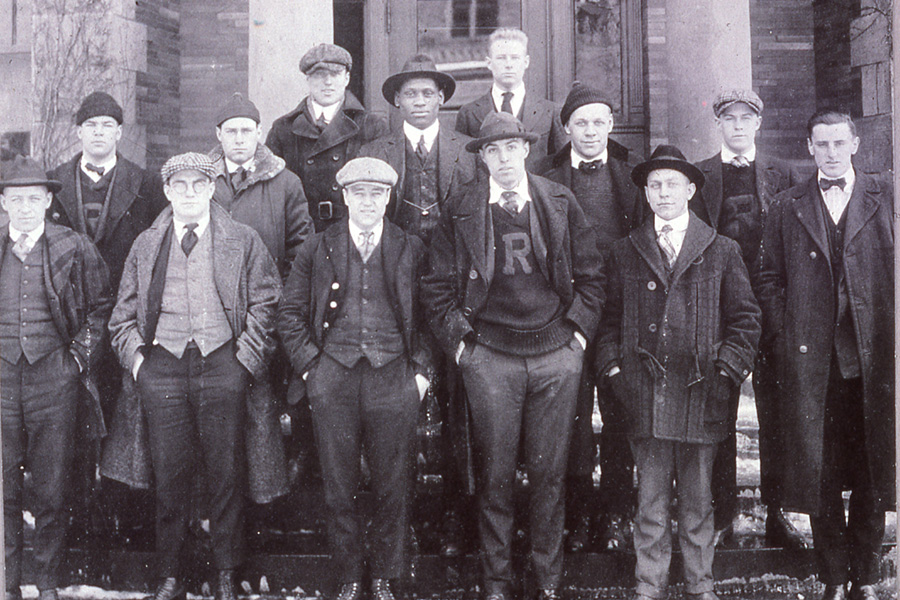 Members of the Varsity Club, including Paul Robeson, circa 1917. (Photo: Special Collections and University Archives)
---
Plus, Robeson had been taught "a certain protective tactic of Negro life in America," he wrote in his 1958 memoir, Here I Stand. "Even while demonstrating that he is really an equal (and, strangely, the proof must be superior performance!), the Negro must never appear to be challenging white superiority. Climb up if you can—but don't act 'uppity.' …Above all, do nothing to give them cause to fear you, for then the oppressing hand, which might at times ease up a little, will surely become a fist to knock you down again!"
Robeson did have white champions; one of them was Charles Whitman, a Rutgers English professor who nurtured his student's fascination with Shakespeare by taking him to productions of the playwright's work in New York. One classmate even convinced Robeson to attend a college dance, where he avoided mixing with others by serenading them from the balcony, to thunderous applause.
Robeson deliberately didn't always choose the easiest path, as he explained in Here I Stand. After acing a statewide written exam that earned him a full scholarship at Rutgers, he was torn between choosing it or his father's alma mater, the all-black Lincoln University, outside of Philadelphia, where bigotry wouldn't be an issue. By entering an all-white institution, however, Robeson could prove something.
"Equality might be denied," he wrote, "but I knew I was not inferior."
---
Rutgers is honoring Paul Robeson's legacy as a scholar, athlete, actor, singer and global activist in a yearlong celebration to mark the 100th anniversary of his graduation. Check back with Rutgers Today throughout the year as we present a special series chronicling Robeson's life and his influence on generations. Read previous articles in the series for an overview of his life, an exploration of his father's influence and his childhood in Somerville and his time on the football field at Rutgers.
Learn more about the celebration by visiting robeson100.rutgers.edu or by following #Robeson100 on social media.