Online Rutgers Course Helps Educators Teach Coping Skills to Students
New certificate program focuses on the skills it takes to get along with others, helping K-12 students identify their feelings and regulate them
When Kenyea Beach and Mary Ellen Lacien wanted to bring innovative ideas to their roles as social-emotional learning coordinators for a K-8 school district in Chicago Heights, Illinois they turned to Rutgers.
They enrolled in a new Rutgers online certificate for Instruction in Social-Emotional Learning (SEL) and Character Development. The course focuses on the skills it takes to get along with others, helping K-12 students identify and regulate their feelings when they are upset and then problem solve for better academic outcomes.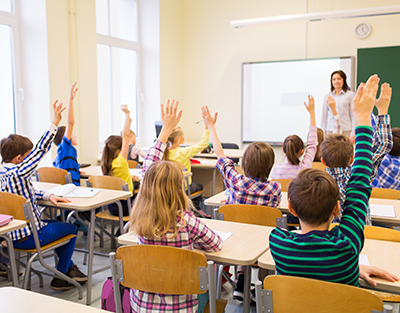 "The course was a godsend. It has allowed us to be more confident in what we are doing and helped us to enhance our plans. It confirmed that what we are doing is so important. It is a seed we are planting," says Beach.
The course lesson plans covered everything from the consequences of bullying to the critical connection between self-control and academic achievement.  Instead of home suspension, Beach and Lacien created a Peace Room where students who were suspended for fighting and bullying could receive training in leadership and empathy skills.  There, students used journaling and role-play to try and understand the feelings of others.  After suspension, the students were followed and mentored, and a connection was made with the family. 
A noncredit, distance-learning program, the Social-Emotional and Character Development certificate was developed in partnership with the Rutgers Center for Online and Hybrid Learning and Instructional Technologies (COHLIT), the School of Arts and Sciences (SAS) and the College of Saint Elizabeth, with funding from SAS and the NoVo Foundation.
A three-course program is offered for those with little experience in social emotional learning and character education, as well as a two-course accelerated program for those with five or more years of practice. To date, 14 students have completed the program and 62 are enrolled.
"We started the program because research is showing clearly that students who lack skills in social-emotional and character development (SECD) are less likely to be successful in college, careers and community life," says Maurice Elias, the psychology professor who led the team that developed the curriculum for the certificate.  "This is especially true for disadvantaged youth."
The program has been used by four dozen school districts in New Jersey and in 10 other states, and now is reaching students nationally and globally through an online format. Students from as far away as Romania and Trinidad are taking this innovative series for educators and school support staff. Through threaded discussion and live chats, online educators share their success stories and learn from each other.
"It has been an eye-opening experience," says Margie Thomas, a music teacher for grades two through four in Metuchen, New Jersey, and a graduate of the SEL online program. "I wish I had this information long, long ago. I can be a reactive person and we learned not to react right away and to instead find out what else is going on when a child is doing something out of character. It has made me more understanding as a teacher."
Thomas gives the example of a young child who continually turned around during music class to look at the other students, despite warnings.  Instead of getting angry, Thomas employed skills learned in class to understand the child's reaction better. She asked the child where he preferred to sit to remedy the situation and was surprised by his choice, the very back.
"From there he could see everyone and still pay attention. It worked immediately. I said to him, you found your place," Thomas said.
Victoria Poedubicky, who is a co-developer of the new SECD online curriculum and primary instructor of the SECD online certificate program, was a health educator and a school counselor for 33 years.  She said this issue matters to her because over the years she saw how social and emotional issues affect student learning and decisions they were making.
"While many parents and teachers believe the main reason students attend school is for academic education, students often focus on socialization and building relationships.  When an issue occurs on the playground, cafeteria, classroom or on social media that is upsetting, emotions run high and can get in the way of learning.  To close this gap we must provide professionals with the tools they need to help students be successful," she says.