Once Orphaned and Homeless, Statewide Grad Pursues Social Work Degree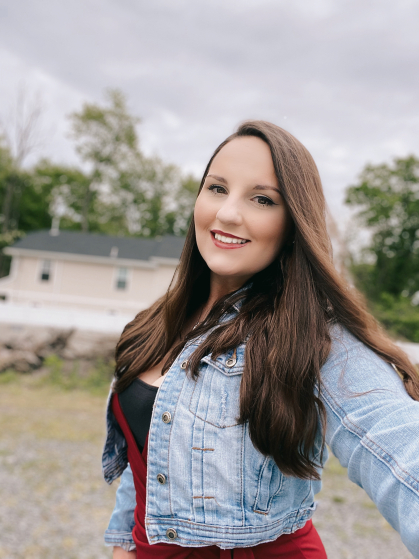 Three years ago, Ashley Gillen was at the lowest point of her life.
Her mother was dying from lung cancer. Her family had just lost their home in Manasquan. Then her father passed away, too.
Suddenly orphaned and homeless, the college student moved in with a friend's family. Within two months, everything she knew had been lost.
Today, the 24-year-old is at a peak.
She has been accepted to Rutgers School of Social Work and starts work on her master's in the fall after graduating in May from Rutgers at Brookdale Community College with a 4.0 and a bachelor's degree.   
"It's making me a little emotional," Gillen says, still excited. "I never thought I'd ever be this successful academically. It wouldn't have been possible without Rutgers Statewide."
Designed to bring Rutgers courses, faculty and, ultimately, degrees to students at partnering community colleges, Rutgers Statewide, offered through Rutgers Division of Continuing Studies, is a lifeline for people held back by economics, geography or simple logistics. 
"For a lot of our students, the barrier is time or distance," says Joe Walsh, assistant director, Academic Programs.  "Maybe the commute to New Brunswick is too long – sometimes it seems there's some sort of reverse gravity, where the closer you are, the longer it takes! Or the students have jobs, or children, and can't manage a full load of courses. Well, they can take one course. They can take online courses."
Gillen, who had just graduated from Brookdale when her parents passed, was facing serious challenges. But she was determined to further her education, and after doing some research, the Rutgers at Brookdale program seemed like "the best option," she says.
In fact, it turned out to be a terrific one, as Gillen blossomed academically, winning the Norman C. Miller award for academic achievement in her final year.
"Statewide is a great program," says Walsh. "You are a Rutgers student. It's all taught by Rutgers faculty, many of whom are teaching the same courses they teach on the main campus. But for a lot of students, it's much more accessible."
"With work and my housing situation and everything else going on in my life, flexibility was really important," echoes Gillen. "Being able to take all my electives online was a huge help. And the Rutgers faculty was terrific; not only did I feel supported, but constantly pushed to do better. I think all the students did. We were all focused on our goals – everyone in my classes was an overachiever!"
Gillen should know. Not only a self-described "go-go-go" person, she's a survivor, whose rise defines resilience. Losing both parents isn't easy to recover from, experts say, particularly when it comes early in life.
"I always think of primary caregivers as our mirrors, reflections of who we are, and losing them at a young age is very different from other types of losses," says Kelly N. Moore, program manager/principal investigator at the Rutgers Children's Center for Resilience and Trauma Recovery. "The grief doesn't go away," she says. "But with support, people can learn how to manage it, and channel that pain, and come out the other side."
Although trauma can make it hard to focus on school, for Gillen, work was therapy.
"After a loss, you realize there are so many things you can't control," Gillen says. "But something I could control was how I moved forward. Neither of my parents graduated high school. They sacrificed to get me a good education, and always encouraged me to study – in fact, one of the last things my mom said was how proud she was of me, working and going to college. So, I felt continuing my education was almost a salute to them."
Gillen also credits friends, family and counselors for getting her through the darkest of those days. Her "really supportive professors" helped too as, she discovered, did the fact she was majoring in social work.
"One of the things my classes at Rutgers taught me was the importance of self-care, and that helped me move forward," she says. "I started focusing more on my own emotional health and continuing my journey through grieving. I found meditation helped a lot, too."
"Resiliency depends on a cluster of factors and skills, some of which people may have already and others which they can develop with support," says Moore. "Teachers and professors and the people around students helping them succeed academically have to help students connect to the resources they need, whether it's the school counselor or someone in the community."
Gillen knows firsthand how important that kind of help can be.
"We moved to Manasquan when I was about four, for the schools," she says. "But as hard as my parents worked, we always struggled. I grew up with subsidized housing, the school lunch program, that kind of thing. It was tough – most of the kids around me were a lot more economically stable. But I always had great support in my school – in fact, when I had my internship, I was able to go back and work with my old social worker from the district, which was wonderful."
It was during high school, she says, when she first realized that the kind of people who'd helped her as a kid was the kind of person she wanted to grow up and be.
 "I just want to give back what was given to me," she says simply. "By everyone."