Sherif Ibrahim will pursue a master's in African studies at Stanford this fall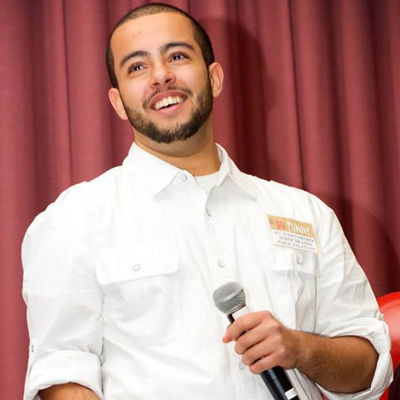 'My identity was more beautiful than it was problematic for the first time in my life.'

 

– Sherif Ibrahim
When Sherif Ibrahim was in middle school he was bullied by a group of neighborhood boys. It was a few years after terrorists killed thousands of people on September 11, 2001 and more than a decade after his parents emigrated from Egypt to the United States.
"I can't even repeat the words," said 21-year-old Ibrahim recalling the taunts. "I just remember not wanting to go to school and hoping that it would all stop."
Although the schoolyard bullying did eventually end, Ibrahim and his family remained targets of discrimination due to the fact, he believes, that they were Arab and Muslim.
"I remember one time when I was at a post office and a very big man just stood there looking down at my mother like he wanted to kill her. I stepped in the middle and just stared back at him," said Ibrahim, who grew up in North Bergen, a mostly Latino community. "My mother is the nicest woman in the world. I couldn't imagine why this was happening to her."
A decade later, after fully embracing his cultural roots, Ibrahim, a student in the School of Arts and Sciences at Rutgers University, will graduate with a double major in English and political science, and begin a one-year master of arts degree program in African Studies at Stanford University in the fall.
"I'm not exactly sure about my career path, but this program is interdisciplinary and intensive which keeps law school and doctoral studies open," said Ibrahim, an honors student in English. "I love academia, the research and the thought of being a professor but I'm not certain what is right for me."
The son of working class immigrant parents, Ibrahim came to Rutgers and was selected in his junior year to be a McNair Scholar. The program is funded by the U.S. Department of Education to prepare students with strong academic potential who are either first-generation college students with financial need, or members of a traditionally underrepresented group, for doctoral studies.
During early years at Rutgers, Ibrahim was not certain what educational path he wanted to pursue.  He considered embarking on a career in public policy, international relations or politics. He spent the summer before his junior year at Rutgers interning in constituent services for U.S. Rep. Frank Pallone and then worked as a finance fellow and fundraiser in the U.S. Senate campaign of former Newark Mayor Cory Booker. 
This past spring, Ibrahim who advocates for first generation and non-traditional students as a member of the United States Student Association, spent his break in Washington, D.C., with other members of the organization. Speaking before Congress, Ibrahim and others connected to the national student organization and its two million members, were lobbying for educational reforms and an increase in funding for Pell Grants.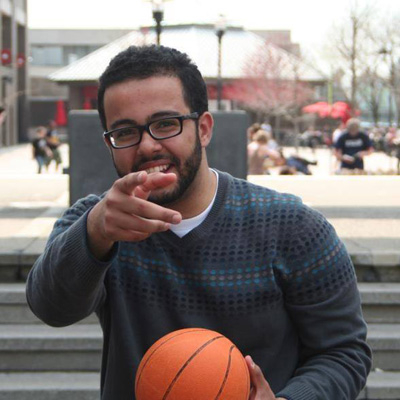 His time at Rutgers, he says, has empowered him to take up causes that changed his perception of being an Arab American and strengthened his political activism for important causes.
"My identity was more beautiful than it was problematic for the first time in my life," Ibrahim said.
As a member of the Arab Culture Club and Muslims without Borders, Ibrahim led efforts to raise $25,000 in humanitarian aid to help the millions of Syrian refugees in Jordan and the Middle East who have been displaced because of the crisis.
On one of his many trips to Egypt to visit family, Ibrahim remembers standing in Tahrir Square, where thousands of Egyptians occupied the square during the 2011 Egyptian Revolution calling for the ouster of former President Hosni Mubarak.
"It was a powerful experience. A man whose son was killed during the revolution asked me to sign a petition because he wanted the government to open up and tell him what happened," Ibrahim said.
This citizen engagement and involvement in the political process is the path that Ibrahim can see himself taking. He is proud of his ethnicity, his first-generation status and the fact that his mother – who recently became a citizen – came home that day waving a small American flag, years after his father became a citizen.
 "I am an idealistic type of person, and I hope to do something that will make a difference either through academia, law or working with an organization that is looking to help and offer assistance," said Ibrahim. "I think this can be done outside of traditional politics or elected office. I just have to decide what route I need to take to make it happen."