News of Bionic Eye Implant by Mayo Clinic Surgeon, a Rutgers Alumnus, Goes Viral
Sight-restoring procedure allows 68-year-old man to see his wife of 45 years for the first time in a decade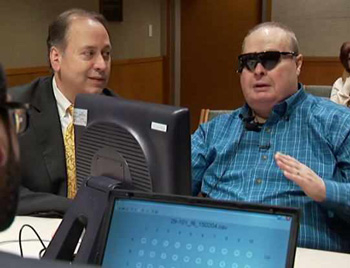 'Not long ago I received an email from (Allen Zderad). He had visited the beach and he could see the waves rolling past for the first time in decades. It was a tremendously wonderful experience for him.'  

 

–  Raymond Iezzi
When surgeon Raymond Iezzi implanted a bionic eye in his blind patient at the Mayo Clinic in Rochester, Minnesota, earlier this year, he expected local media to notice.
What the two-time Rutgers graduate didn't expect was that the story would go viral. But since a touching video of 68-year old Allen Zderad beholding his wife of 45 years for the first time in a decade hit the Internet in February, more than 200 newspapers, magazines and TV stations around the country have run the story.
"I was very surprised by the coverage," said Iezzi. But in retrospect he sees why it touched lives. "Mr. Zderad's story brought out the human side of how breakthrough technology can impact a person's life," he said. "Truly it was a gift to participate in his care."
When Zderad began to discern the outline of family members' faces and perceive objects in his environment, Iezzi felt joy for his patient. He also felt affirmed for the decades of effort that he and hundreds of researchers made to advance the science and technology of prosthetic vision.
Iezzi, who grew up in Mountainside and attended Governor Livingston High School in Berkeley Heights, started doing vision research in 1984 while a Rutgers undergraduate. At that time, scientists were still learning how the eye sent signals to the brain to form images. Serious development work on a retinal prosthesis device was still over the horizon.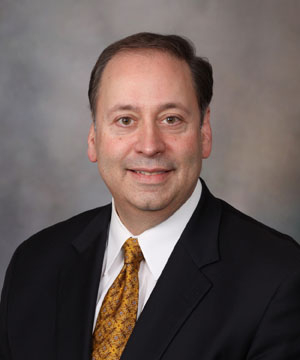 In 2009, Iezzi, an ophthalmologist and vitreoretinal eye surgeon, joined the Mayo Clinic, where he formed a clinic to care for patients with inherited retinal degenerations. Clinical trials on the bionic eye had begun a few years earlier and Iezzi's clinic put services in place to perform retinal implant surgeries once the device received FDA approval. Zderad's surgery in February marked the first time Iezzi implanted the device; only 14 other patients in the United States had undergone the procedure.
Today Zderad's vision is far from perfect, but his quality of life has improved dramatically. "It's crude, but it's significant," Zderad proclaimed when he beheld his first images. While people who undergo this type of surgery still need aids such as canes or service animals, Zderad has been quick to incorporate his new vision into everyday life.
"Not long ago I received an email from him," Iezzo said. "He had visited the beach and he could see the waves rolling past for the first time in decades. It was a tremendously wonderful experience for him."
The Role of Serendipity
But all this might never have happened had it not been for serendipity. Zderad was not originally Iezzi's patient. Zderad's grandson had been seeing the doctor at the Mayo Clinic, where he was being treated for early-stage retinitis pigmentosa, an inherited degenerative eye disease.
"When I did a history on the inheritance pattern in that family, he told me that his grandfather was blind and couldn't see anything," recalled Iezzi. "I told this young man, 'I think I can help your grandfather.'"
Zderad came in shortly thereafter and Iezzi determined that the nature of his eye disease would make him the perfect candidate for the bionic eye, formally known as the Argus II Retinal Prosthesis System.
It took three hours for Iezzi to implant a chip with 60 electrodes into Zderad's retina. Two weeks later, Iezzi outfitted Zderad with the rest of the system: a camera embedded on the bridge of a pair of glasses that captures a visual scene and a small computer that encodes the image into signals and transmits them wirelessly to his retinal implant.
The Road to Retinal Implants
You might say Iezzi was destined to perform this surgery. He knew as early as high school that he wanted a career that linked engineering and medicine, and during his first year as an undergraduate at Rutgers, he told biomedical engineering professor Evangelia Tzanakou he hoped to develop a bionic arm. At the time, Rutgers wasn't doing prosthetic limb research, but Tzanakou said there were opportunities at the university to study the biology and engineering of the human visual system. That was enough to get Iezzi pursuing undergraduate research in the subject.
After earning a bachelor's degree in biology in 1987, Iezzi enrolled in Rutgers' master's program in biomedical engineering. While working on his master's, he started medical school and received his Doctorate in Medicine from New York Medical College in 1994. Then he specialized in ophthalmology as a resident at the New York Eye and Ear Infirmary.
In 1996, he received his master's degree from Rutgers, during his residency. "It took me around nine years, if you do the math," Iezzi said.
 His research career began in 1998 at Wayne State University in Detroit, where as scientific director of the Ligon Research Center of Vision he studied artificial vision in the retina using chemical stimulation. As part of that work, he and fellow scientists found ways to enhance the effectiveness of electrical stimulation ultimately used in the Argus II system. They also found ways to slow retinal degeneration, helping to reduce the number of patients who would need retinal prostheses.
Iezzi has been getting a lot of inquiries since the news of Zderad's bionic eye surgery spread. Unfortunately, most of these people can't be helped by the technology in its current state. Iezzi is working with Second Sight, maker of the Argus II system, to expand the uses for the technology; he hopes that someday the electrode arrays that doctors are implanting in patients' retinas today could be implanted directly into the brains of patients who have damaged retinas because of glaucoma, diabetic retinopathy or trauma.
He remains forever grateful to the Rutgers professor who steered him into vision research.  "Rutgers provided me with the foundation I needed to pursue medicine the way I had chosen," Iezzi said.