A New Liver and the Right Care Make a Rutgers Patient Feel Young Again
The liver transplant center at Rutgers New Jersey Medical School is one of just two such units in the state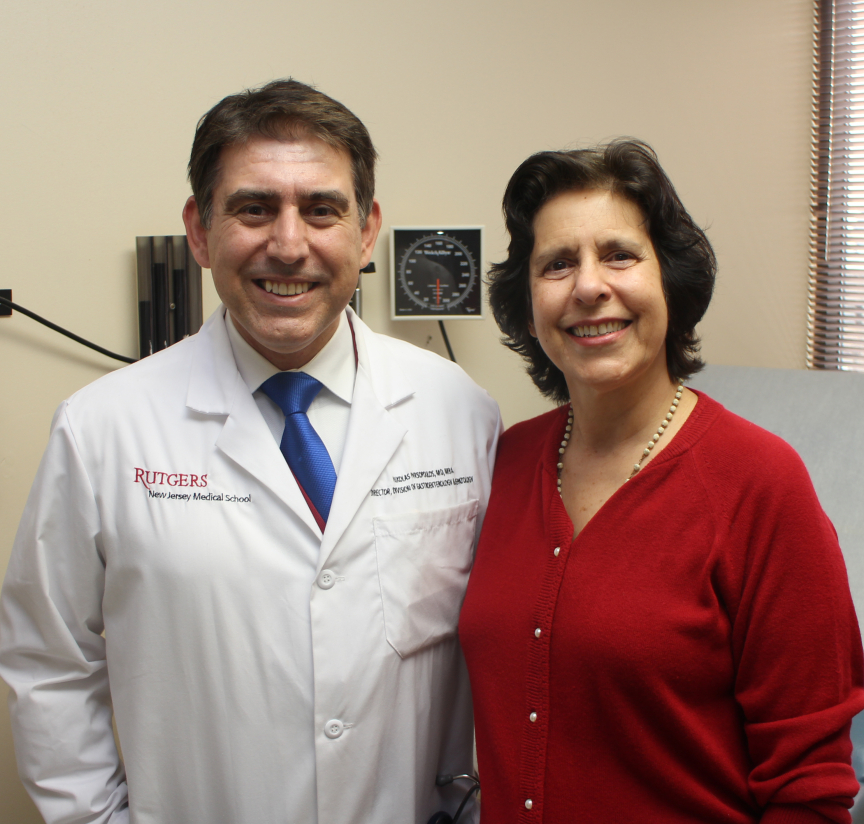 'I heard him on the telephone fighting with my insurance company. They were saying no. He heroically stuck to his guns. He said this is the best treatment and that is what I am doing.'

 

– Mati Muñoz
Mati Muñoz is 65 years old – filled with the enthusiastic energy that comes with a second chance at life. A decade ago, says Muñoz, who lives in Woodbridge Township, N.J., her liver was being destroyed by hepatitis C, a viral disease she believes she contracted as a girl in her native Cuba from a poorly sterilized needle used in a medical procedure.
"My coworkers said I looked like a ghost," Muñoz recalls. Her symptoms included insomnia, depression, bloating, nausea – and an especially nasty decline in mental function caused by blood toxins that were degrading her brain.
Muñoz went on a registry to receive a liver transplant and over the next two years her symptoms intensified as she waited for a suitable donor.
"It is impossible for a person to survive without a functioning liver," says Nikolaos Pyrsopoulos, chief of gastroenterology and hepatology, Rutgers New Jersey Medical School, and medical director of the liver transplant service at University Hospital in Newark, the school's main teaching hospital. "The liver is a big filter, detoxifying substances in our bodies. It also manufactures clotting factors that stop our bleeding when we cut ourselves as well as other products such as bile that are essential to digestion."
The question of what would come first – a new liver or Muñoz's death – was answered in January 2007, when the transplant team summoned her to Newark with just hours' notice to receive what she calls "a blessing from God." Surgeons implanted the liver of a man who had died in a fall.
Muñoz was one of more than 6,000 people in this country who receive liver transplants in a typical year, according to the Department of Health and Human Services. Led by its chief surgeon Baburao Koneru, the Rutgers-based transplant team – one of just two such groups in New Jersey – does about 50 per year.
Approximately 800 patients who have received transplants, including Muñoz, get continuing care from Pyrsopoulos and his medical group. Some of those patients received their livers as long as 15 to 20 years ago.
A challenging recovery
The issues facing patients post-transplant are substantial. All need to take powerful drugs to prevent organ rejection and be closely monitored. Muñoz had even bigger problems. Surgeons removed her diseased liver but could not extinguish the hepatitis C that had destroyed it.
The virus instantly invaded the new liver and had to be dealt with. For six years following her transplant, Muñoz received a form of interferon to keep the hepatitis contained, but that battle was no better than a stalemate.
Then in 2013, the Food and Drug Administration approved new medications called sofosbuvir and simeprevir, each designed to help eradicate hepatitis C. Pyrsopoulos thought Muñoz would do best taking the two very costly drugs together, but her insurance company told her no – and insisted she stick with the interferon.
Desperate for help
Feeling ever sicker, and without an appointment, Muñoz went to Pyrsopoulos' office and begged for help.
"He fought," says Muñoz. "I heard him on the telephone fighting with my insurance company. They were saying no. He heroically stuck to his guns. He said this is the best treatment and that is what I am doing." After a back-and-forth that lasted two hours, the company relented.
Roughly a year later, on January 7, 2015, Pyrsopoulos told Muñoz the new medications had worked. She was cured.
"He is a life savior. I owe him a lot. I love the man," says Muñoz.
Pyrsopoulos says it was the obvious thing to do. "If I believe this is the appropriate thing for the patient, I will go to the end of the world. I explained that eradicating the disease will stop both the disease and development of scar tissue in the new organ. Ultimately, she will not develop cirrhosis and need a second transplant."
Returning to life at full speed
Muñoz, who volunteers as a mentor through a program sponsored by the transplant center, marvels at the vitality she has regained. Pyrsopoulos says she is not alone. "Our center is one of the most successful in the United States," he says. "Our one-year survival rate for patients is 93 to 94 percent, and the three-year survival rate is approximately 84 percent, which is one of the best."
Pyrsopoulos hopes to make the outcomes even better through clinical trials the center is conducting. One is testing newer versions of the drugs that cured Muñoz. Others are aimed at improving mental function for people with failing livers and at counteracting the scarring that degrades and eventually destroys livers.
"We are looking to refine and improve upon the treatments that Mati got," Pyrsopoulos explains, "while we also educate our patients and the wider community about getting their livers checked regularly once they reach age 40, and also being screened for hepatitis C, so they never even reach the point of needing a transplant. That is the best outcome of all."
---
Journalists are invited to contact Jeff Tolvin of Rutgers Media Relations at 973-972-4501 or jeff.tolvin@rutgers.edu