New Jersey Lieutenant Governor to Speak at Douglass Convocation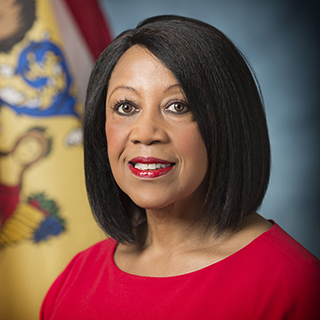 New Jersey Lt. Gov. Sheila Oliver will speak at Douglass Residential College's 98th Convocation on May 18, inspiring graduating students to become leaders in their chosen fields. 
"Douglass is honored to have Lt. Gov. Oliver speak at this year's convocation," said Douglass Dean Jacquelyn Litt. "She is a great role model for our graduates because of her dedication to serving the people of New Jersey. She is an example of how women leaders can shape policy and make substantive change in our communities."
Oliver has a long history of public service and leadership in New Jersey. In January 2018, Oliver was elected lieutenant governor, becoming the first woman of color in New Jersey history to serve in this position. In 2010, she became speaker of the New Jersey General Assembly and is the first African-American woman in New Jersey, and second in the nation, to lead a state legislative house. She has served the public in numerous roles over her extensive career in government, education and the non-profit sector.
The 98th Douglass Convocation will be from 10 am to 12 pm, May 18, on Antilles Field on the Douglass campus (9801 George St, New Brunswick), where 674 students will be celebrated for earning their degree from Rutgers.
Douglass Residential College at Rutgers University cultivates the knowledge, skills and resources women need to take up the challenges and opportunities of the 21st century—from advancing women's leadership, career success, academic excellence and access to education to creating positive change in all fields, communities and our globally connected world.
To learn more about Douglass, visit the website www.douglass.rutgers.edu.