New Jersey Becomes First State to Offer New Parents Baby Boxes
Rutgers' Judy Postmus says the initiative will help prevent infant deaths
When Rutgers' Judy Postmus read an article last year about a program in Finland that provided sturdy, safe boxes to new mothers for their babies to sleep in, she sent an email to a few people in state government saying, 'Why not do this in New Jersey?" She never imagined it would happen so fast.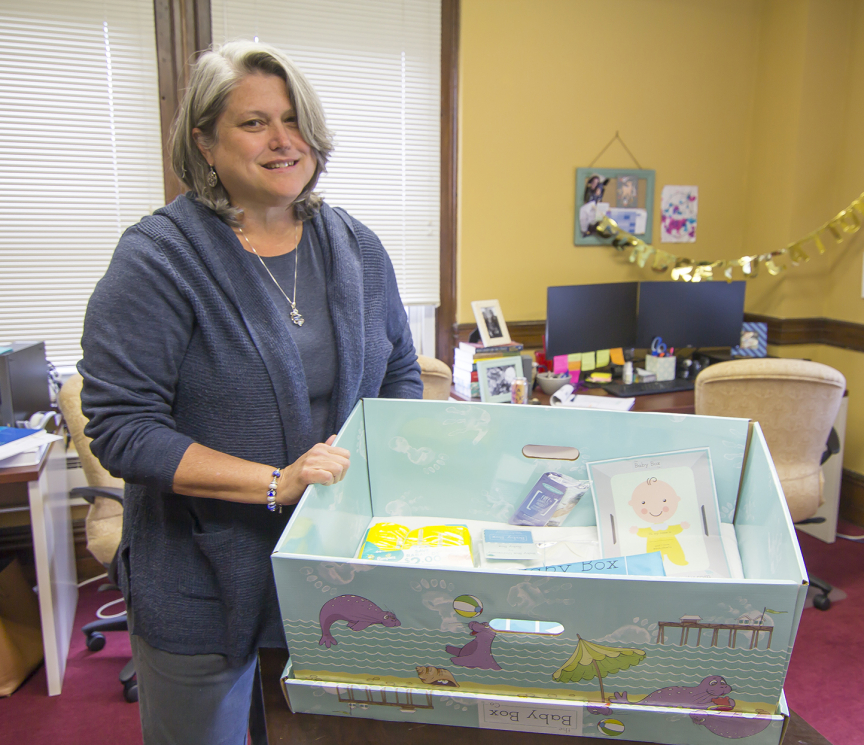 On Jan. 26 New Jersey became the first state nationwide to launch a universal baby box program for its residents. The cardboard boxes, which come with a mattress and other newborn supplies, are the newest effort on the part of the state to lower infant mortality rates from Sudden Unexpected Infant Death (SUID).
"When you review the deaths of infants under 5 months old in New Jersey, nearly 90 percent died because of unsafe sleeping environments," said Postmus, who, in addition to her role as director of the Center on Violence Against Women and Children (VAWC) at Rutgers' School of Social Work, is also vice-chair of the New Jersey Child Fatality and Near Fatality Review Board. In 2014, the latest year for which statistics are available, there were 57 deaths from SUID statewide.
"We're really excited that New Jersey decided to open this program to all state residents, and not just to a certain socioeconomic group," Postmus said. "This universal program is crucial to prevent SUIDs in all families in New Jersey."
The way the program works is any expecting parent or parents of infants younger than 3 months old in New Jersey can register for free at Baby Box University. They then watch a 15-minute online parenting education course and take a short quiz to get certification of completion, which entitles them to a sleeping box filled with newborn essentials, such as wipes, diapers, breast pads and more.
New Jersey has partnered with Baby Box Co., a California based company, which will ship boxes directly to families' homes. Parents can also pick up their boxes at one of six distribution centers in the state, including Cooper Hospital in Camden; new locations are being added every day.
The Centers for Disease Control and Prevention provided funding for the program, under the auspices of the New Jersey Child Fatality and Near Fatality Review Board, which examines deaths and near-deaths of children to identify causes and ways to prevent future deaths. The $40,000 grant is enough to supply boxes this year to each of the 105,000 women who give birth in the state.
The use of baby boxes, which can be used for the first 5 or 6 months of life, has been linked to improved health outcomes for newborns. The concept originated about 80 years ago in Finland, where the infant mortality rate is the world's lowest at 1.3 deaths per 1,000 births.
Postmus says just as important as the box is the online educational program which will help new moms and dads learn more about parenting and raises awareness around infant sleep safety.
The American Academy of Pediatrics, which updated its infant sleep guidelines last year, recommends placing babies on their backs to sleep and using a firm sleep surface, such as a bassinet with no blankets, pillows, bumpers or stuffed animals in it.
The APP also recommends that the baby's sleep area should be placed next to the parents, but parents should refrain from sharing the adult bed with their infant.
"Thirty-five of the 57 SUID cases in 2014 were from the infants sleeping in the adult bed," Postmus said.  "They need their own protected space to avoid SUID."