New Honors College at Rutgers University-New Brunswick Home to Academic Superstars
A community where dance majors interact with food science majors, future pharmacists share dorm space with tomorrow's business titans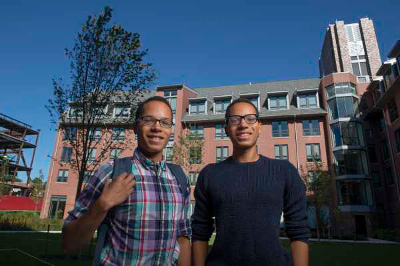 'If we can get some of our most talented students who would have left New Jersey to come to Rutgers and be part of our community, the more robust the state is going to be – not just now but in the future.'

 

– Francis Barchi, assistant professor, School of Social Work
Arielle Marie Gamboa fell hard for biomedical engineering while doing a research project on prosthetics during her freshman year in high school.
During her senior year at the International School of Chouifat in Dubai, a representative from Rutgers came to talk about the university and its soon-to-open Rutgers Honors College in New Brunswick.
Gamboa was hooked.
So were Steven and Joseph Haverlock: The Scotch Plains twins received acceptance letters from every university to which they applied, turning down all but Rutgers to become academic pioneers of sorts.
Gamboa and the Haverlocks are among 530 first-year students drawn to the Honors College by the lure of learning with a like-minded community of scholars while living under one roof.
Dance majors from Rutgers' Mason Gross School of the Arts interact with food science majors from the School of Environmental and Biological Sciences. Tomorrow's pharmacists share dorm space with tomorrow's titans of business. Classics scholars exchange ideas with budding engineers – this was what the school's organizers envisioned.
The idea of an Honors College at Rutgers-New Brunswick began some years ago, with formal planning initiated in 2012 as part of a higher education bond issue sponsored by the state.
Now complete, the Honors College officially opened its doors on Aug. 27, when the inaugural group of students hauled their belongings into the 170,000-square-foot building on Seminary Place, overlooking the Raritan River.
Bolstered by the largest incoming class in its history, including residents of the new Honors College, Rutgers University is on track to have an all-time record enrollment of 67,000 students.
"This is a once-in-a-generation opportunity to do something ambitious and grand – taking a big step to make sure all of the talents of these students are nurtured in an integrated honors experience," says Matt Matsuda, academic dean of the Honors College.
The Honors College will ultimately expand to 2,000 students across all academic years. Each of the current students scored more than 600 points higher than the state average on their SAT tests.
The college brings together students from six Rutgers units: the School of Arts and Sciences, the School of Environmental and Biological Sciences, the Ernest Mario School of Pharmacy, the Mason Gross School of the Arts, the School of Engineering and the Rutgers Business School.
"One thing that differentiates the Honors College is that Rutgers is bringing the liberal arts and the professional schools together in one place," says Paul Gilmore, administrative dean of the Honors College. "Any student who was accepted to the participating schools at Rutgers-New Brunswick was considered, and we invited students from among the highest achieving of each school."
Honors College students have access to on-site advising and administrative offices, and high-tech seminar room and lounges. Housing is on the upper four floors of the new brick residence hall on Seminary Place, with administrative offices and educational spaces below.
A café and fireside lounge, multiple lounges and outdoor spaces are designed to stimulate conversation and encourage the exchange of ideas, the deans say. So is the proximity of live-in faculty fellows, who often host dinners and discussions in their apartments.
Larissa Tobdzic of Wanaque, who was invited to enroll in the Honors College through SEBS, attended an open house earlier this year to hear to learn about the living-learning community. 
"I wasn't looking to go to Rutgers, but I was so blown away, especially with the research opportunities, that I changed my mind," says Tobdzic, who walked away from the other schools she'd applied to after hearing from Rutgers – despite offers of substantial scholarship assistance.
She will be concentrating on nutritional science at SEBS, hoping to explore ways Americans can improve their health through their dietary selections.
"This is something I hold dear," she says. "Having a chronic illness involving my gastrointestinal tract, I've had to manage my own diet and have learned a lot about how humans should be eating – and it's not how we ARE eating."
The five Advanced Placement courses he signed on for last year at Scotch Plains High School offered Joseph Haverlock a solid foundation for the rigorous academic challenges he found himself facing the first few weeks at the Honors College.
"It's early on in the semester, but I feel I can handle it," he says, noting that juggling choir, band and high school musicals – he was assistant music director last year for Grease – forced him to develop and fine-tune his heavy-duty time-management skills.
Haverlock plans to tackle a double major at Rutgers, combining cell biology and neuroscience with music and art history. His brother, Steven, is looking forward to his own double major: English and women's and gender studies.
"In a world where communication with others is growing less and less, the ability to explain yourself through words is growing more and more important," Steven Haverlock says of the English component of his academic path.
Through gender studies, he hopes to pursue a career in education or education administration. "We need to have teachers with strong feminist backgrounds if we want to change the way society thinks," Haverlock says.
Rutgers faculty and staff members see the Honors College not only as an incubator of creative ideas, but also as a boon to the state as a whole.
"If we can get some of our most talented students who would have left New Jersey to come to Rutgers and be part of our community, the more robust the state is going to be – not just now but in the future," says Francis Barchi, an assistant professor in the School of Social Work.