New Dental School Program Helps Holocaust Survivors
The program is the result of a partnership with the Jewish Federation of Greater MetroWest NJ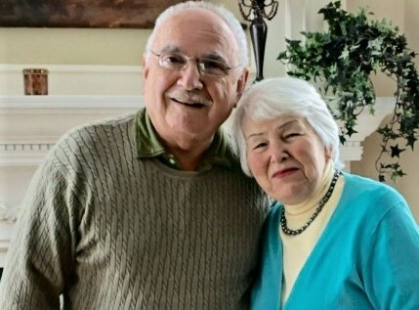 Like many Holocaust survivors, Larisa and Anatoly Rabinovich suffered from a lack of food and medical care as children. The impact on their health lasted a lifetime, including problems with their teeth and gums.
After years without proper oral health care, the Sussex County couple is receiving treatment at Rutgers School of Dental Medicine (RSDM) as part of a program for Holocaust survivors developed through a partnership between the school and the Jewish Federation of Greater MetroWest NJ.
Anatoly, 84, is having extensive work that includes dental implants. Larisa, 80, will be getting dentures.
"It's so important to have good teeth. If you can't chew right, you can't eat food properly,'' said Larisa.  "Both of us are very grateful to the staff for the excellent job that they have done and for their attention and kindness. ''
In fall 2019, the Jewish Federation of Greater MetroWest NJ put out a call to regional dentists for providers who would care for Holocaust survivors at no cost. It was important to find facilities that are suited to care for elderly patients with special needs.   
RSDM faculty Howard Drew, whose parents were Holocaust survivors, answered the call and created a fund to establish a program at RSDM.  "My wife, Ina, and I thought this program would serve two invaluable purposes: to honor the legacy of my parents – my 95-year-old mom is still alive and well – and fellow Holocaust survivors, and to give our students, residents, and faculty the chance to care for a very deserving and underserved population."
The Jewish Federations of North America estimate that there are about 80,000 Holocaust survivors nationwide. Many are 85 and older, and as many as 1 in 3 live in poverty. Social isolation, poor health, and depression are common.
At RSDM, survivors are treated by a team of dental students, residents and faculty who are being trained by the Federation and Jewish Family Service of Central NJ on Person Centered Trauma Informed care and issues that face survivors.
Each patient is assigned a "navigator" who guides them through the RSDM treatment process, in addition to a comprehensive oral exam, complete with x-rays, and a treatment plan tailored to individual needs. 
As the son of Polish Holocaust survivors, Drew has a deep understanding of both their suffering and resilience. His own parents, who met after WWII, were sent to a series of concentration camps, including Auschwitz, before they were liberated.
His mother, who was 13 when she was taken to the camps, believes bonds among herself and her sisters empowered them to survive after their mother died in the gas chambers. All of them stayed together during the Holocaust and lived to see liberation.
Throughout their lives, Drew's parents were grateful to have survived. "Despite the suffering my parents endured, they chose to see the world as a positive place. Their focus has always been family and to lead a life where you give more than you receive."
Larisa and Anatoly Rabinovich share the same sense of gratitude. As young children, they were able to flee to Kazakhstan before the Nazi occupation of Ukraine. But for years, medical attention and dental care were nonexistent and food was scarce. "I was hungry every day,'' said Anatoly.
Many Ukrainian Jews in and around the city of Kiev were unable to escape. In 1941, at least 34,000 were executed in a ravine called Babi Yar, although many historians believe the death toll was much higher.
 According to Drew, treating the survivors has been a valuable experience for faculty and students. "It's really beautiful to watch the interaction between them. One has so much wisdom to share and the other so much potential and promise to do good for our future generations."
Dental student David Dadoun said much of his time treating one of the survivors, a recent widow, involves just listening and keeping her company. "I let her speak and I know when to be quiet,'' said Dadoun.
Although she doesn't talk much about her experiences during the Holocaust, her courage and kindness inspire him. "Her strength is really remarkable,'' said Dadoun, who is also Jewish.
Working with her has also helped him become a better dentist, he said. "It's refocused me on what's important. So much of dentistry is just talking to people and listening.''
Holocaust survivors interested in treatment at RSDM can call 973-972-5304 to make an appointment.