New Brunswick Music Scene Celebrated in New Archive
An innovative multimedia archive at Rutgers Libraries collects ephemera from New Brunswick's music scene from the 1980s to today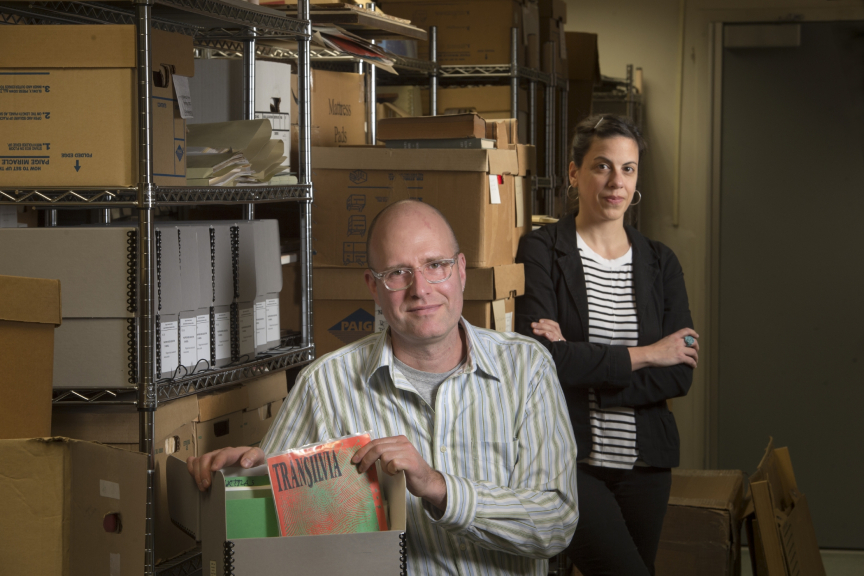 'New Brunswick is pure indie rock with a ton of subgenres. It's a fertile environment for creating the type of music you want.'

 

– Frank Bridges
Frank Bridges followed a path familiar to many Rutgers students who performed in or merely took in the New Brunswick music scene: Live and breathe it while on campus, then gradually outgrow it. 
But, he says, that experience always remains part of you. So much so that Bridges is creating a digital archive to preserve the indie rock scene from his past while he pursues a doctoral degree in media studies at Rutgers School of Communication and Information.
As an undergraduate, Bridges was a do-it-all musician. He played bass in the rock bands Duochrome, Frito Lay and kiaro skuro, while designing their promotional fliers and booking performances. Following graduation in 1992, he continued to perform locally and promote other local artists, like Transilvia, Dandelion Fire and Mr. Thumb, through his label, Well Primed Records, which he co-founded with bandmate and fellow Rutgers alumnus Brian Goad.
Then, he started a family and moved on to another phase of life.
When he stopped performing in 2001, the Highland Park resident lovingly stored the fliers, press releases and photographs from his days in the business in his basement – but continued to keep his ear to the ground. "I realized that the New Brunswick music scene didn't die when Frank Bridges left," he says. "It kept going and in some ways is better than ever."
Unlike Seattle, there's not one "New Brunswick" sound, Bridges says. "New Brunswick is pure indie rock with a ton of subgenres. It's a fertile environment for creating the type of music you want," he notes.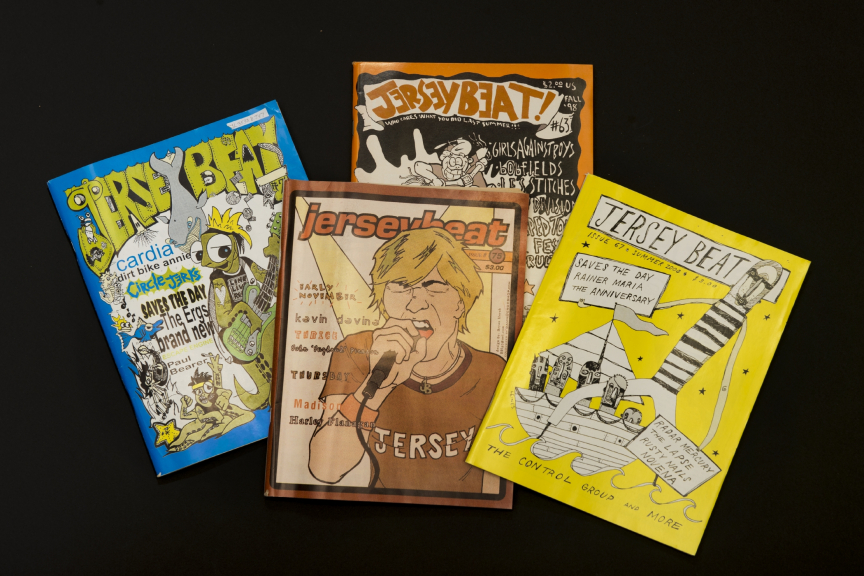 And Rutgers is at its heart. "The university is always pumping fresh blood in and sending older blood out," he says. "Every year, it brings in thousands of new young people who are ready to play or be in the audience. It's its own world."
Today, as a doctoral student at the School of Communication and Information, the beat goes on for Bridges. He has returned to the scene and can be found playing bass with Magic Mountain at various venues around New Brunswick. He also has made the indie music narrative a focus of his dissertation. His topic: the decline of vinyl and how a local music scene – New Brunswick in particular – serves as a pocket of resistance to the mainstream.
"As I spoke to people my age for my research, I learned that they, too, had big plastic bins of ephemera in their basements," he says. "I realized it was a great opportunity to gather this stuff and see if we could do something larger with it."
Bridges contacted Christie Lutz, the New Jersey regional studies librarian in Special Collections and University Archives at Rutgers University Libraries, about collaborating on an archive of material from the New Brunswick music scene from the 1980s to today.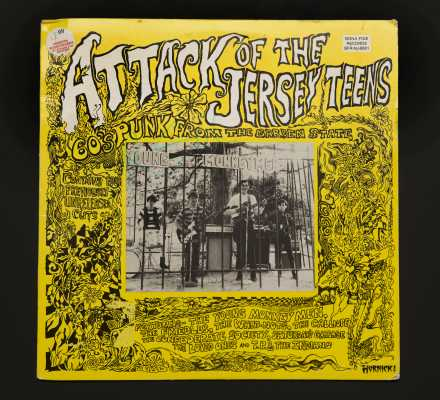 "That was the period when the business became DIY," Bridges says. "Musicians were able to cost-effectively reproduce and distribute their music by pressing their own records or creating cassettes, and the Xerox machine allowed them to make fliers for shows."
As Bridges and Lutz researched highly regarded special collections for inspiration, they discovered that they are at the forefront of a burgeoning library trend to preserve local or regional music in archives.
"There are only a handful of such collections nationwide, but it's growing, especially in academic institutions like Southern Illinois University and University of Louisville," Lutz says. "We looked to the [Washington,] D.C. Punk Archive at the D.C. Public Library, which chronicles the punk scene around our nation's capital, as a good model since it includes a wide range of materials, like fliers, zines, oral histories, recordings, photographs and posters."
Lutz and Bridges started soliciting New Brunswick material this fall through word of mouth and at events, such as a panel discussion held last month that brought together local icons such as Ronen Kauffman, author of the memoir New Brunswick, New Jersey, Goodbye; Joe Steinhardt, founder of Don Giovanni Records; Rutgers alumni Jim Testa, founder of the zine Jersey Beat, and Marissa Paternoster of the indie band Screaming Females.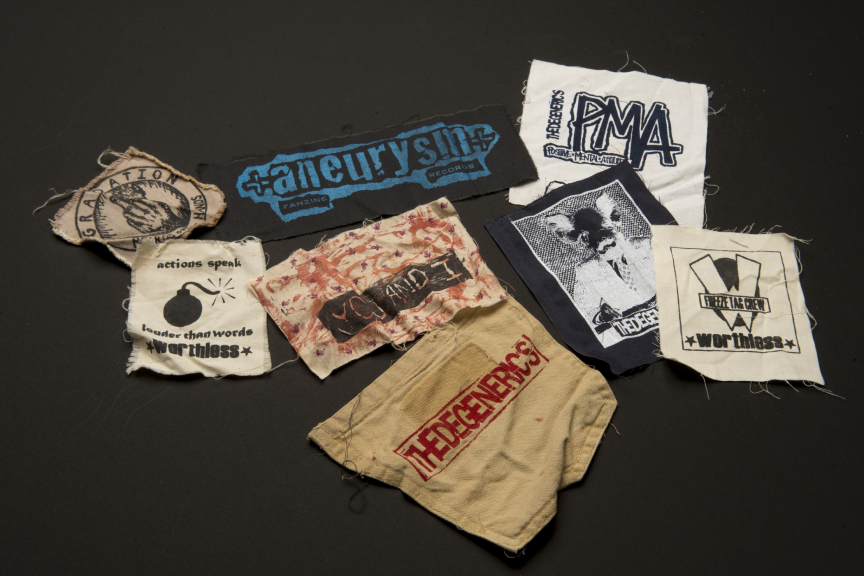 Among the materials collected so far are gems like original poster art created and donated by Paternoster, patches that Kauffman wore onstage during his hardcore punk days and a complete set of Jersey Beat, which published in print for 25 years before moving online in 2007. "Coming across unexpected items like these is pure excitement," says Lutz.
The New Brunswick Music Scene Archive will be open to the public for research. They hope to eventually digitize the archive so it can be accessed online.
As Bridges continues his interviews, he envisions using the recordings as a basis for an oral history archival component. "These items don't exist in a vacuum," he says. "They have a story: How the person got it, the friends who were with them and what they were doing when it was acquired. We are tagging each item with the owner's name to put a face behind it. Alone, the items represent one snapshot in time; together, they present a narrative of clubs and bands that have faded away."
---
People who are interested in donating to the archive can contact Christie Lutz at Rutgers University Libraries at christie.lutz@rutgers.edu or Frank Bridges at fbridges@scarletmail.rutgers.edu. For more information, contact Patti Verbanas at 848-932-0551 or verbanpa@ucm.rutgers.edu.