Rutgers Scholar Elie Honig examines the tenure of the former attorney general
Bill Barr's tenure as U.S. attorney general is under renewed scrutiny following revelations that the Department of Justice subpoenaed Apple seeking data from two Democratic House lawmakers in a crackdown on leaks early in the Trump Administration.
This follows on the heels of another bombshell report that the justice department also seized reporters' phone records at The New York Times, The Washington Post and CNN as part of criminal leak investigations.
It is this type of behavior that Rutgers scholar Elie Honig scrutinizes in his upcoming book, Hatchet Man: How Bill Barr Broke the Prosecutor's Code and Corrupted the Justice Department, which examines Barr's tenure as attorney general.
Honig, executive director of the Rutgers Institute for Secure Communities, a former New Jersey and federal prosecutor and 1997 Rutgers graduate, makes the case that Barr turned the U.S. Department of Justice into a private law firm that shielded one client – the president of the United States.
Honig, a faculty associate at the Eagleton Institute of Politics, talks to Rutgers Today about his new book, to be released July 6, and the significance of the new revelations.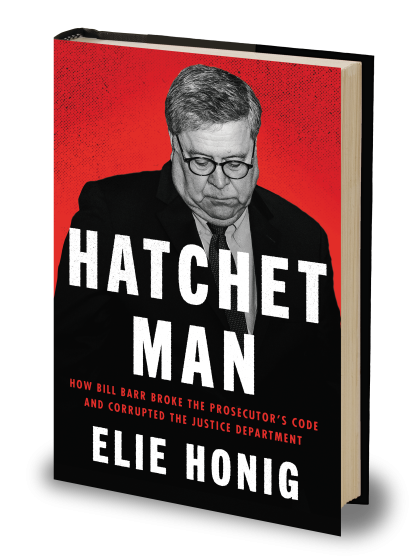 What was the inspiration behind "Hatchet Man?"
I spent almost two years working for CNN as a legal analyst, including covering Bill Barr's tenure as attorney general. During that time, it became increasingly clear that his fundamental dishonesty and abuse of power were doing serious structural damage to DOJ's most cherished principles –­ its credibility and its political independence. Having seen my on-air commentary, HarperCollins asked if I'd be interested in writing about Barr's tenure. That resulted in a very quick and enthusiastic "Yes, indeed, and when can I start?" from me. 
How did your own experience as a prosecutor at the Department of Justice inform your work?
I worked as a DOJ prosecutor in Manhattan at the Southern District of New York, where I was trained – some might even say "indoctrinated" – in the finest traditions of the justice department. I earned my stripes by handling cases on the frontlines and doing criminal trials against mobsters, human traffickers and murderers, unlike Barr, who never tried a case as a prosecutor. I learned firsthand what it really means to pursue justice and came to understand the importance of the Justice Department standing above politics. Barr, by contrast, eagerly used DOJ as a tool of political protectionism and opportunism. 
Can you tell us about how you conducted the research and the former Rutgers students who helped?
Two of my best former students at Rutgers, Anu Chugh (a 2019 graduate from the School of Arts and Sciences at Rutgers-New Brunswick who is currently a student at Columbia Law School) and Jessica Graham (a 2020 School of Arts and Sciences graduate who is studying at Harvard Law School), worked with me on the book as research assistants and performed masterfully. We dug into every aspect of Barr's work and life: his old speeches and scholarly articles, his public statements as attorney general, the cases brought during his tenure, primary documents from DOJ cases charged during his tenure and vast public reporting on his conduct as AG. Anu and Jess found everything there was to be found, including some unexpected and disturbing surprises in Barr's older work, which revealed a lot about his motivations and priorities as AG.
What do you think the recent revelations regarding Department of Justice actions during the Trump administration reveal about Barr's leadership?
The new revelation that DOJ under Barr took intrusive steps to secretly obtain private phone records of journalists and members of Congress shows us that we still don't know the full depths of his corruption and abuse of power. It appears he was willing to use DOJ not only to protect Trump but also to pursue perceived political enemies, which is even more dangerous. It's even worse than we knew when Barr left office.
What do you think needs to change at the Department of Justice?
Much of a prosecutor's work is based on the written rules set forth in statute books, rules of evidence, sentencing guidelines and DOJ policies. In the book, I suggest nine new policy reforms to remediate the damage done by Barr. But good prosecutors also live by what I call "the prosecutor's code." These are the unwritten norms, the things that a real prosecutor knows to do or not to do: Always tell the truth. If you get it wrong, own up and fix it. Never backstab your colleagues. Stay out of politics. The integrity of the criminal justice system is more important than the result of any given case. Barr never worked as a real prosecutor, so he never learned and internalized that code. Now, DOJ needs to get back to its cherished ethics and norms.