Natasha Trethewey, Former U.S. Poet Laureate, Named Rutgers University's Commencement Speaker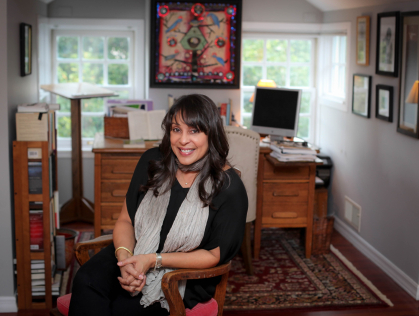 Award-winning author and two-time Poet Laureate to receive honorary doctor of letters degree; Laurie Garrett, Rush Holt Jr., and G. Willow Wilson also named honorary degree recipients
The Rutgers Board of Governors today voted to award an honorary degree to award-winning author and former U.S. Poet Laureate Natasha Trethewey when she addresses graduates at the 255th anniversary commencement of Rutgers University-New Brunswick and Rutgers Biomedical and Health Sciences on May 16, 2021.
"I am honored to have been invited to address the Rutgers University graduating class. In times of uncertainty, our academic rituals and traditions stand to remind us of our history while linking us to the future," Trethewey said. "I look forward to sharing this moment with the Class of 2021."
The board also voted to award scientist and politician Rush D. Holt Jr. an honorary doctor of laws degree; Pulitzer Prize–winning journalist Laurie Garrett an honorary doctor of science degree; and comics writer, essayist and journalist G. Willow Wilson an honorary doctor of letters degree at the ceremony.
Wendell Pierce – actor, author, radio personality and humanitarian – will deliver remarks at Rutgers University-Newark's virtual commencement ceremony on Sunday, May 16, 2021, at 6 p.m. The board also voted to award Pierce an honorary doctor of fine arts degree. He is a NAACP Image Award winner renowned for his roles on HBO's The Wire and Tremé, the landmark 2014 film Selma, and currently on the Amazon television series Tom Clancy's Jack Ryan.
An honorary doctor of laws degree from Rutgers-Newark will also be conferred upon MacArthur "Genius Grant" winner Robert Parris Moses, a civil rights hero who organized the 1964 Mississippi "Freedom Summer" project. An honorary doctor of fine arts also will be conferred on rap music pioneer and radio personality Angela "Angie" Martinez, who was the May 2020 commencement speaker at Rutgers-Newark.
Rutgers University-Camden will hold virtual graduation ceremonies for the Class of 2021 on various dates from May 26, 2021, to June 4, 2021. Rutgers-Camden will bestow honorary degrees on Judith Persichilli, commissioner of the New Jersey Department of Health, and Nikole Hannah-Jones, architect and lead author of The New York Times's landmark 1619 Project, at an in-person ceremony rescheduled for the fall.
Natasha Trethewey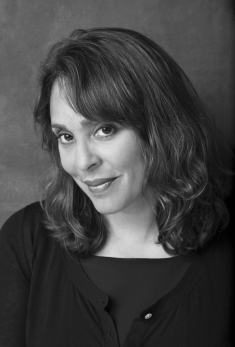 With a career focused on the intersections and contentions between public and personal history, national memorialization and forgetting, and the fraught legacy of race in America, Trethewey's work has earned her a Pulitzer Prize and a spot on The New York Times best-sellers list, among other notable achievements. The author, who served two terms as the 19th Poet Laureate of the United States (2012–2014), will receive an honorary doctor of letters degree during the virtual ceremony.
Seamlessly blending individual and collective experience, from the civil war to civil rights, Trethewey's work illuminates the history of American trauma and resilience. The author inspires readers to reflect and learn while engaging in intricate stories that captivate. During her second term as Poet Laureate, she traveled to cities and towns across the nation to seek out the ways poetry lives in American communities and reported on her findings in a feature on the PBS News Hour Poetry Series. In 2012, the New Yorker stated, "Trethewey's writing mines the cavernous isolation, brutality, and resilience of African American history, tracing its subterranean echoes to today."
Born in Mississippi to a poet/professor and a social worker, Trethewey earned a bachelor of arts degree in English at the University of Georgia, a master of arts in English and creative writing from Hollins University, and a master of fine arts in poetry from the University of Massachusetts, Amherst. She served as the Robert W. Woodruff Professor of English and Creative Writing at Emory University until 2017 and is currently the Board of Trustees Professor of English at Northwestern University. Trethewey is the author of five collections of poetry, including Native Guard (2006) – for which she was awarded the 2007 Pulitzer Prize – and, most recently, Monument: Poems New and Selected (2018); a book of nonfiction, Beyond Katrina: A Meditation on the Mississippi Gulf Coast (2010); and a memoir, Memorial Drive (2020), a New York Times best seller.
Trethewey is the recipient of fellowships from the Academy of American Poets, National Endowment for the Arts, Guggenheim Foundation, Rockefeller Foundation, Beinecke Library at Yale and Radcliffe Institute for Advanced Study at Harvard. She is a fellow of the American Academy of Arts and Sciences and the American Academy of Arts and Letters. In 2017, she received the Heinz Award for Arts and Humanities. A chancellor of the Academy of American Poets since 2019, Trethewey was awarded the 2020 Rebekah Johnson Bobbitt National Prize for Poetry for Lifetime Achievement from the Library of Congress.
Laurie Garrett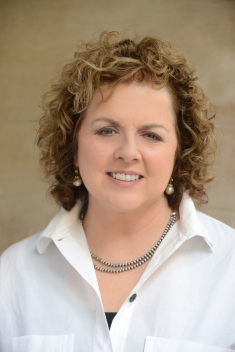 An award-winning science journalist and author, Garrett speaks with extensive knowledge of emerging diseases and epidemics and their impact on governments and societies. She is the only writer to receive all "Three P's" of journalism: The Peabody, Polk (twice) and Pulitzer Prize.
The author of three books, Garrett wrote her first best-selling book, The Coming Plague: Newly Emerging Diseases in a World Out of Balance (1994), while splitting her time between the Harvard School of Public Health and the New York newspaper Newsday. During the 1990s, Garrett continued tracking outbreaks and epidemics worldwide, noting the insufficient responses from global public health institutions around the world. This resulted in publication of her second book, Betrayal of Trust: The Collapse of Global Public Health (2000). The following year, Garrett covered the attacks on the World Trade Center and subsequent anthrax mailings, leading to her third book, I Heard the Sirens Scream: How Americans Responded to the 9/11 and Anthrax Attacks (2011).
She is a former senior fellow for global health at the Council on Foreign Relations where she focused on the national security aspects of emerging diseases and climate change. Currently, she is a member of the World Economic Forum Global Health Security Advisory Board, the Council on Foreign Relations and the National Association for Science Writers. A former science correspondent for NPR, Garrett is a columnist for Foreign Policy magazine and a frequent MSNBC contributor. She has written and reported for outlets including CNN, BBC, Vanity Fair, The Washington Post, The Los Angeles Times, the Australian Broadcasting Corporation, ABC Nightline and hundreds more.
Garrett was one of three scientific advisers for the Warner Brothers motion picture Contagion. Garrett's work in the Ebola outbreaks in Sierra Leone and Liberia was filmed as part of CNN's Unseen Enemy documentary, and her book The Coming Plague was produced as a six-part documentary series for CNN. Among her awards for her global health work and publishing are the 2014 NYU School of Medicine "Outstanding Contributions to Global Health" and the 2015 Internationalism Award from the American Women for International Understanding. In 2017, she was named one of 10 "Remarkable Women of UC" by the Board of Regents of the University of California.
A native of Los Angeles, Garrett graduated with honors in biology from the University of California, Santa Cruz. She attended graduate school in the Department of Bacteriology and Immunology at University of California, Berkeley and conducted immunology research in the Herzenberg Lab of Stanford University.
Rush Holt Jr.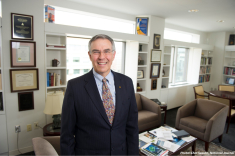 A physicist, educator and former member of the U.S. House of Representatives, Holt represented New Jersey's 12th congressional district for eight terms. He spent a brief period as director's visiting scholar at the Institute for Advanced Study in Princeton and then assumed the position of CEO of the American Association for the Advancement of Science, which he held until he retired in September 2019.
Previously, Holt was assistant director of the Princeton Plasma Physics Laboratory at Princeton University (1989–98); acting director, Nuclear and Scientific Division, Office of Strategic Forces Analysis, at the U.S. Department of State (1988–89); a member of the faculty at Swarthmore College (1980–88), where he taught courses in physics and public policy; visiting researcher at the National Center for Atmospheric Research (1984); and American Physical Society/AAAS Congressional Science Fellow (1982–83) in the office of U.S. Rep. Bob Edgar of Pennsylvania.
In Congress, Holt was active in a variety of areas including education, natural resources, civil rights and civil liberties, oversight of intelligence, voting security and election reform and science. He considers his work to restore citizens' trust in their government his most important task in office. Since leaving Congress, Holt has been especially active in attempting to restore evidence-based thinking to American culture and politics.
Holt received his bachelor of arts in physics, Phi Beta Kappa, from Carleton College, where he received the Dana Award, and master's and doctoral degree from New York University in physics. Holt has received various awards and recognitions including the John P. McGovern Award from Sigma Xi; Public Service Award from the American Chemical Society; Roger N. Baldwin Award from the American Civil Liberties Union of New Jersey; Henry T. Yost Award of the American Association of University Professors (AAUP); Edwin Cudecki Award for Support for Foreign Language Education from the American Council on the Teaching of Foreign Languages; Pick and Gavel Award of the Association of American State Geologists; Sidney B. Yates Award from the National Humanities Alliance; Wright Award of the American Society of Mechanical Engineers; William Carey and the Philip Abelson Prizes of the AAAS (2005 and 2010, respectively).
G. Willow Wilson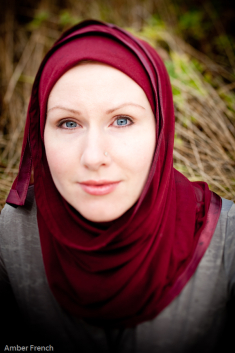 The Board of Governors also voted to award New Jersey-born author, graphic novelist, essayist and comics writer G. Willow Wilson an honorary doctor of letters degree. 
Wilson is the author of books, graphic novels, and many comic book series, including the groundbreaking Ms. Marvel, which won the Hugo Award for Best Graphic Story and an American Book Award. Her work tackles pressing issues of our time including religious pluralism and gender politics.
An American convert to Islam, Wilson has lived in both Egypt and the United States. Her memoir about life in Egypt during the waning years of the Mubarak regime, The Butterfly Mosque, is widely read on campuses across the country. Willow's latest novel, The Bird King, a fantastical journey set at the height of the Spanish Inquisition, was released in 2019 and was long-listed for the PEN/Faulkner Award.
Wilson is also the author of the critically acclaimed novel Alif the Unseen and is the recipient of several literary and professional awards, including the World Fantasy Award for Best Novel and a Graphic Literature Innovator Prize at the PEN America Literary Awards. In 2018, she became the new ongoing writer of DC's Wonder Woman series. Her most recent comic book series, Invisible Kingdom, won an Eisner Award for Best New series.