A haunting collection of 445 photobooth images of a man taken over decades is unveiled at the Zimmerli Art Museum at Rutgers, begging the question: Who is he?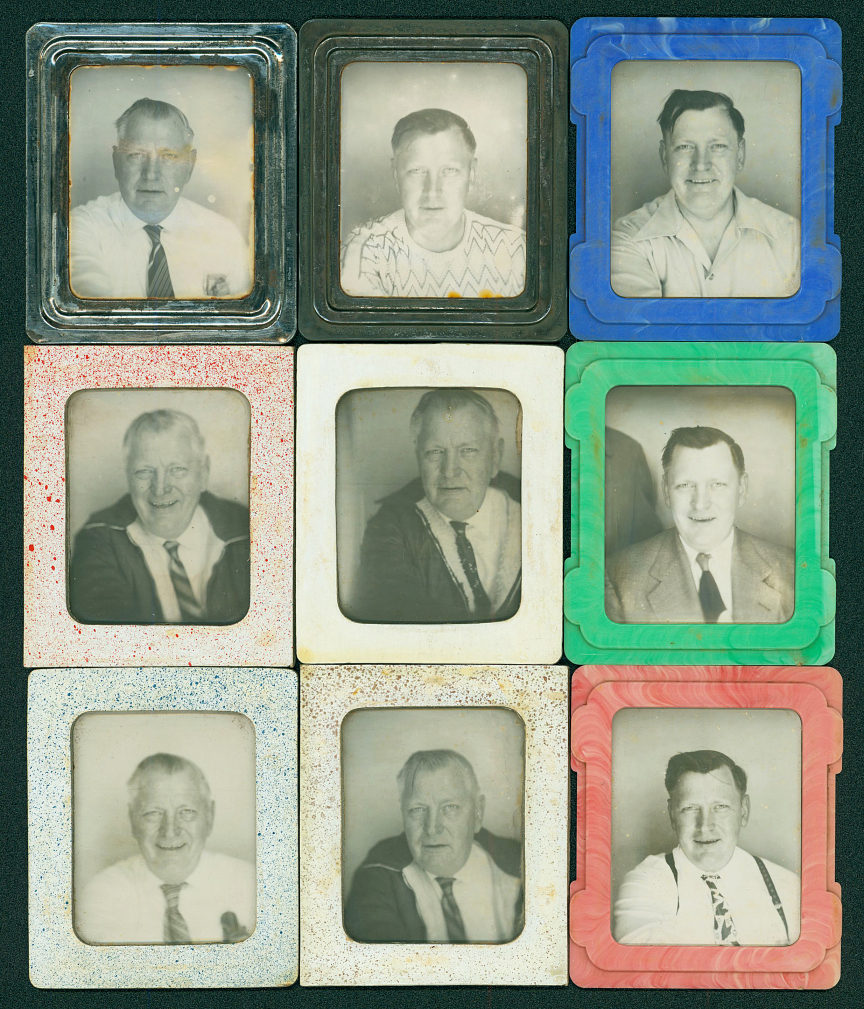 'I've seen a lot of things in my research, but this collection is very strange.'
–Näkki Goranin, photobooth historian
He likely hailed from the Midwest, sometimes sported a fedora and smoked a pipe. He dressed in casual plaids or in a suit. His demeanor ranged from jovial to pensive. His hair evolved from thick black to a thinning white widow's peak. And sometimes, a "Seasons Greetings" sign hung over his head.
We might know a lot about how this man aged, but what we don't know is his identity or why he took – and saved – more than 450 images of himself in a photobooth over the course of several decades.
This mystery has come to light with "445 Portraits of a Man," a collection being shown for the first time as part of "Striking Resemblance: The Changing Art of Portraiture," an exhibition on display through July at Rutgers' Zimmerli Art Museum in New Brunswick.
The 445 images – silver gelatin prints owned by photography historian Donald Lokuta – were taken over the three decades from the Great Depression through the swinging '60s, when the booths were most popular. "There's quite an age difference in the photos: You see him as younger man and then with a white, receding hairline and wrinkles," says Lokuta, who came across a few of these images at a New York City antiques show in 2012.
Upon learning that the antiques dealer had hundreds of these portraits of the same man, Lokuta knew he had to keep them together and purchased them all. "As a historian, I knew this was very rare, but on a deeper level, I wondered, 'Why would somebody want to take almost 500 photos of himself in a photobooth?' In appearance, they are unremarkable. They look like mugshots, but that's what makes them special: The sameness, the repetition."
Lokuta showed the collection to his friend, Zimmerli curator Donna Gustafson, as she was gathering works for the "Striking Resemblance" exhibition, which examines both the modern history of the portrait and the contemporary definitions of portraiture. "This collection of photo-portraits is very special, and the fact it had never been shown before was exciting," says Gustafson. "The concept of the series has been going on in contemporary art since the 1970s; it's a very conceptual way of thinking. But what struck me was that these portraits were taken as early as the 1930s and '40s, before many of us were thinking conceptually about photography.
"I wanted this collection in the exhibition because everyone is intrigued by photobooths, and these portraits were never intended to be shown in a museum," she continues. "These images bridge the span from photography into something really exceptional."
Lokuta's theory is that the unidentified man was testing the photobooth equipment after servicing it. But even this still begs the question: Why would he save the portraits?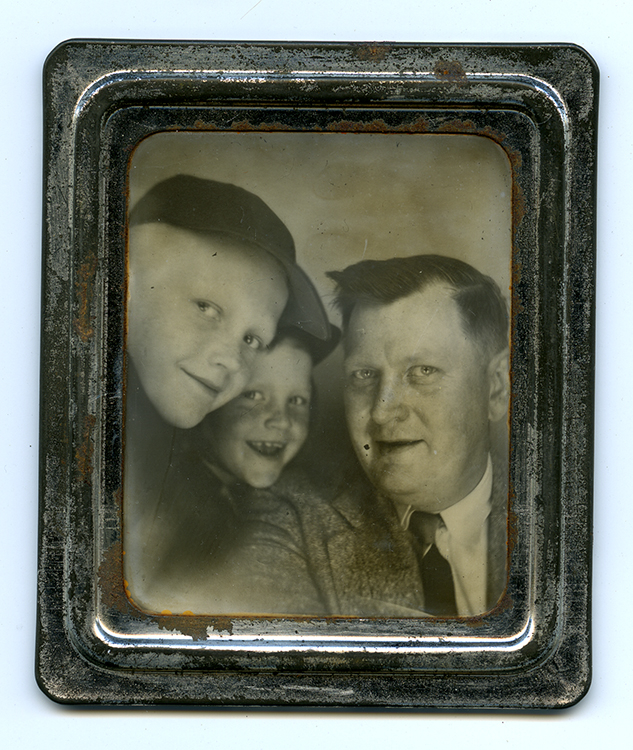 Lokuta's curiosity led him to Näkki Goranin, author of American Photobooth, for assistance in researching the man's identity. The photobooth historian was equally mystified – especially since it turned out she also owns seven images of the same man. After Lokuta and Goranin determined they had purchased the photographs from the same dealer, Goranin tracked down the previous owners and learned that the images originated at a Michigan auction. After that, the trail grows cold. "It's not a given that the guy worked for the photobooth company. It could be that he's just a quirky personality," Goranin says. "I've seen a lot of things in my research, but this collection is very strange."
Gustafson hopes that the exposure in the Zimmerli exhibition will shed new light on this individual who chronicled a significant period of his life in a photobooth. "When you look at all of the images together, it takes your breath away," says Gustafson. "And if it is true that this was a man just doing his job, he ended up creating something extraordinary."
---
Journalists who would like more information or members of public who have information to provide can contact Patti Verbanas at patti.verbanas@rutgers.edu.