Nursing and education offer Shawn and Nicole Simone a special bond
'Everyone is so inspired by what we're doing, graduating together. To me, nursing has been a lifelong dream.  To be graduating with my oldest daughter and to have her accomplish this at such a young age, I couldn't be more proud.'

 

-- Shawn Simone

 
Just as their jetliner had parked safely at the gate at Newark Liberty International Airport, the Simone family was preparing to exit when it saw a tragedy unfolding before them: an infant wasn't breathing and his panic-stricken mother was crying out for help.
Shawn Simone, an experienced nurse returning from vacation with her husband and three daughters, jumped forward. She performed chest compressions and mouth-to-mouth resuscitation until airport EMTs whisked the 3-month-old boy to an ambulance in a futile attempt to revive him, as the Simones later learned.
Though the boy's death devastated all of the Simones, the tragedy seemed to have the strongest impact on Nicole, the oldest daughter, then 21. Watching her mom attempting to save a life was a jolt that persuaded her to switch careers. 
Driving home from the airport, "Nicole said, 'That's it, I'm changing my career. I'm going to nursing school,'" her mom recalls.
"Seeing mom grab the baby and take charge was inspiring, despite the outcome," says Nicole, who was about to receive her bachelor's degree in psychology at the time. "She knew what needed to be done.  It was a defining moment for me.  I said to myself, 'I want to be able to do that.'"
Not only has Nicole, now 29, followed her mother's example by excelling as a nurse; Shawn and Nicole were each compelled to pursue advanced nursing careers. Fittingly, the Oakland residents will receive their master's degrees from Rutgers School of Nursing together this month. Each will graduate with honors, Shawn as a family nurse practitioner, Nicole as an adult gerontologist nurse practitioner.
Growing up, Shawn, 56, never questioned what her career would be. "I've always wanted to be a nurse and take care of people," she said.  "It's a calling.  Something innate."
Shawn returned to school in 2006, completing her bachelor's degree in 2010, and then immediately enrolling in her master's program.  
Beyond the pride her husband, a radiation therapist, and daughters feel at her academic accomplishments, they have always admired her drive and determination. During 36 years of nursing, she's typically held two jobs and sometimes three. Currently, she is a senior staff nurse in the recovery room at Englewood Hospital and Medical Center, where  she's worked for 29 years, and works per diem at Palisades Medical Center in North Bergen.
Shawn continues to feel the rush from helping patients recover from particularly difficult surgeries.  She says her biggest nursing challenge was mastering the transition from handwritten to digitized patient charts.  Early in the shift to electronic records, she often had to call upon her husband or Nicole to help her become comfortable with using a computer.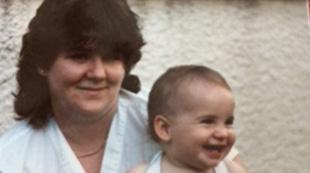 Nicole, a nurse in the intensive care unit of Hackensack University Medical Center, began as a nurse assistant at Englewood Hospital. When managing care for critically ill patients, she spends significant time supporting their families and helping them understand the options for continuing or end-of-life care, carefully explaining how to allow patients to die with dignity when hope of recovery vanishes.
On commencement day, May 18, Shawn and Nicole, will be surrounded by family to participate in their special celebration. 
"Everyone is so inspired by what we're doing, graduating together," says Shawn. "To me, nursing has been a lifelong dream.  To be graduating with my oldest daughter and to have her accomplish this at such a young age, I couldn't be more proud."  
---
Contact: Jeff Tolvin, 973-972-4501, or jeff.tolvin@rutgers.edu